The Official Minecraft Zookeeper Challenge
All the rules you need to know in order to follow along with Jared on this dangerous challenge of extreme animal preservation!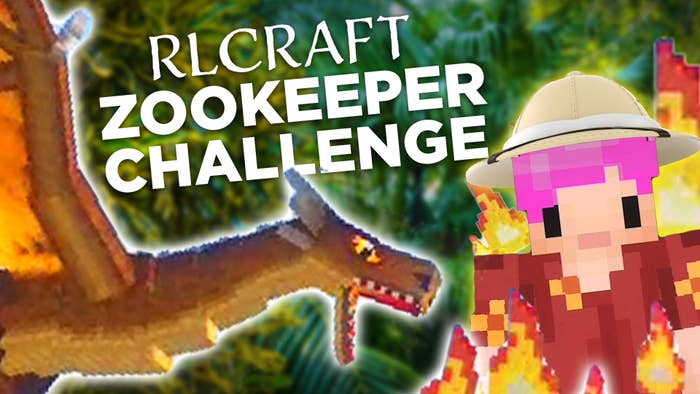 Greetings and welcome to the toughest Minecraft challenge you will EVER ENCOUNTER! Luckily, it's totally worth it in order to save the turtles (sksksksksk). This challenge has required and optional objectives, so let's get into it.

OBJECTIVE
Your objective for this challenge is to tame and capture every tameable mob in the RLCraft Modpack and build them all a zoo to live in. You can also pad out your zoo with non-tameable, passive mobs such as chickens and cows, but it's not required.
GETTING STARTED
To start off, download Minecraft Forge 12.2.2 + JourneyMap + the RLCraft modpack (we suggest Curseforge)

RLCraft has special rules and parameters, so we suggest doing research on how the world works before you start your zoo adventure.

Once you load into your RLCraft world, you'll want to immediately begin searching for a home base. Finding a bed is the best way to set your play area and stop the random spawning.
RULES
You can't use any mods other than JourneyMap + The RLCraft Modpack

Shaders + texture packs are allowed and encouraged
You must have at least 1 of each tameable mob in an enclosure for it to count towards your zoo's overall completion.

Your zoo's enclosures have to be connected with a path or boundary of some sort. You can't just find a mob, build walls around it, and call it a zoo!

Mobs of similar biomes can share an enclosure, but you must place a sign/label for each mob so your guests can easily identify them.

You must actually tame each mob with their proper items - leading a mob to an enclosure with a lead isn't good enough! We need a SAFE zoo.

Creative Mode is TOTALLY OFF LIMITS!

We want to see your zoos! Tag us with #zookeeperchallenge in your social posts!
THE MOBS
There are 7 tameable base-game mobs and 36 new mobs in RLCraft for a total of 43 required mobs.
12.2.2 TAMEABLE MOBS
Donkey

Horse

Llama

Mule

Ocelot

Parrot

Wolf
RLCRAFT TAMEABLE MOBS
Plains
Ventoraptor

Roc

Feradon

Quillbeast

Morock
Forest
Shambler

Warg
Swamp
Lurker

Eyewig
Jungle
Uvaraptor

Dawon

Cockatrice
Desert
Crusk

Erepede
Mountain
Beholder

Barghest

Wildkin
Arctic
Arix

Serpix

Maug
Freshwater
Strider

Thresher

Ioary
Saltwater
Raiko

Rao

Herma

Quetzodracl
Shadow
Chupacabra

Shade
Inferno
Afrit

Salamander

Gorger

Ignibus
Demon
Pinky

Cacodemon