Andrew Tyrie, the chair of the Commons Treasury select committee, has called on the Financial Conduct Authority (FCA) to publish its long-awaited report on Royal Bank of Scotland's treatment of small-business customers after a major leak of internal documents plunged the bank into crisis last week.
The RBS Files – revealed by by BuzzFeed News and BBC Newsnight – exposed the bank's secret plan to add billions of pounds to its balance sheet during the recession by draining businesses of cash and stripping their assets.
Tyrie has now written to the FCA's chief executive, Andrew Bailey, demanding the rapid conclusion of its investigation into allegations that the bank deliberately destroyed healthy firms for profit, which was first launched three years ago but has been repeatedly pushed back.
The powerful committee chair warned that the delays could be preventing small businesses getting redress and asked the regulator to set out a timetable for the publication of its full report. "The longer the delay in publication, the longer that many small firms may have to wait to receive compensation," he wrote.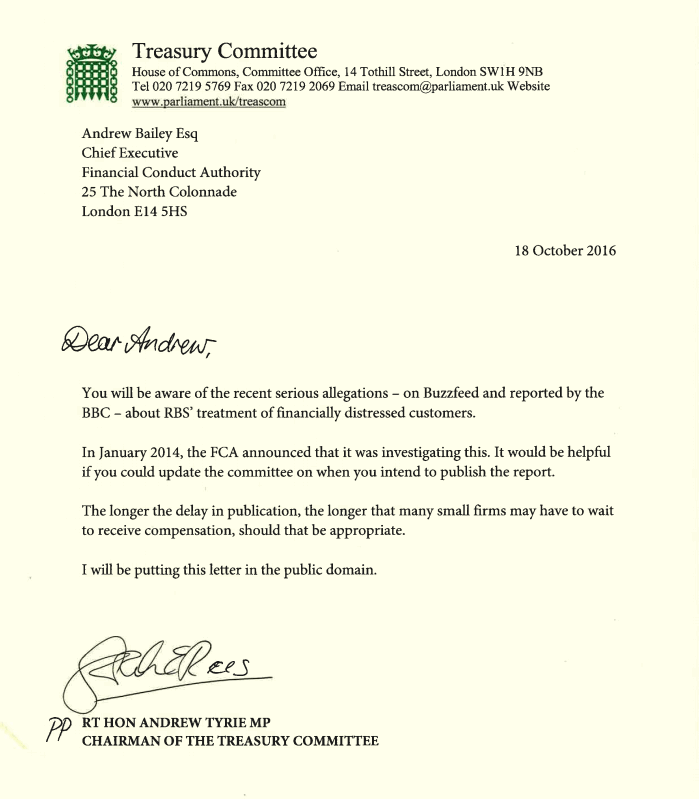 RBS has repeatedly denied allegations of profiteering via its troubled-business division, Global Restructuring Group (GRG), that were first raised in a damning report by the government enterprise adviser Lawrence Tomlinson three years ago. But the RBS Files reveal that, under pressure from the government after receiving the biggest bailout in history, the restructuring unit ran down businesses in a deliberate plan to maximise revenues.
When confronted with the leaked evidence obtained by BuzzFeed News last week, the bank made its first major admission: "In the aftermath of the financial crisis we did not always meet our own high standards and let some of our SME customers down." But it continued to deny that it had "targeted businesses to transfer them to GRG or drove them to insolvency".
Furious MPs have since demanded that RBS bosses be summoned to parliament to explain the revelations, and Labour's John Mann wrote to the Serious Fraud Office (SFO) calling for "an urgent investigation" into the bank. A petition calling on RBS to be fully "investigated for crushing small businesses" has reached more than 100,000 signatures.

The FCA announced last week that its "complex and lengthy review" into RBS was now finished but gave no details of when, or whether, its report would be published. The statement simply said: "It is important that we do not rush the final stages of this process." The regulator refused to comment on whether it would be responding to Tyrie.
The letter adds to mounting calls for the FCA to conclude its inquiry and take action. Jonathan Reynolds, Labour's shadow city minister, said last week: "The Financial Conduct Authority's investigation should be published as soon as possible and, if laws have been broken, individuals must be held responsible. Britain's small businesses should never again be treated as cash cows by a bank."

Politicians from across the Commons have also called for RBS bosses Derek Sach and Chris Sullivan to be recalled by the Treasury committee to explain why they previously told MPs that GRG did not seek profit. The bank's chair, Sir Philip Hampton, had to write to the committee to withdraw the executives' repeated assertion that GRG was "absolutely not a profit centre", claiming they had made "an honest mistake".
The RBS Files reveal that Sach, who told MPs that GRG "does not contribute to the bank's profits at all", was responsible for signing off internal documents that described GRG as "a major contributor to the Group's bottom line".
Mann, a member of the Treasury committee, said last week: "This is the biggest single scandal since the 2008 crisis. RBS executives will have to be called back to the committee to account for themselves and heads will have to roll."
The Liberal Democrats joined calls for RBS chiefs to be "hauled over the coals" at parliament to explain why they denied the allegations in front of a Westminster committee in 2014, and to begin the process of compensating those whose livelihoods were destroyed.
The Lib Dems' economic spokesperson, Susan Kramer, said: "These damning revelations confirm what we already suspected; that RBS intentionally drove small businesses into bankruptcy."
In a statement, RBS said: "Despite a number of investigations that involved a detailed review of all the evidence, including reviewing millions of pages of documents, we have seen nothing to support the allegations that the bank artificially distressed otherwise viable SME businesses or deliberately caused them to fail.
"In regard to the wider allegations raised, we have found no evidence that the bank either inappropriately targeted such businesses to transfer them to GRG or drove them to insolvency. Nor did it buy their assets at a lower than market price."