MPs Call For Change After BuzzFeed Reveals Hidden Homeless Slaves
"It's shocking that we can walk down the street and not know that this is happening, that it's hiding in plain sight."
The British government is facing calls to stop deporting foreign victims of trafficking and start monitoring the labour exploitation of the homeless after a BuzzFeed News investigation revealed how hundreds of rough sleepers have fallen victim to modern slavery in the UK.
Jeremy Corbyn, the Labour leader, last night described the support modern slavery victims get from the government as "fundamentally lacking" and demanded change after BuzzFeed News revealed how holes in Theresa May's flagship modern slavery strategy are leaving recognised victims homeless, destitute, and vulnerable to retrafficking or deportation.
"It's outrageous that homeless people are encouraged to present themselves to the authorities then face being turned away and at risk of deportation," Corbyn said in a statement to BuzzFeed News.
Meg Hillier, the chair of the powerful public accounts committee, called on the government to start keeping track of the number of homeless victims who come forward for help after being lured into slavery – and drew BuzzFeed News' findings to the attention of MPs at an inquiry by her committee on Wednesday.
"It's shocking that we can walk down the street and not know that this is happening, that it's hiding in plain sight," Hillier told BuzzFeed News in an interview. "It is absolutely vital that the government collects this data to effectively tackle this."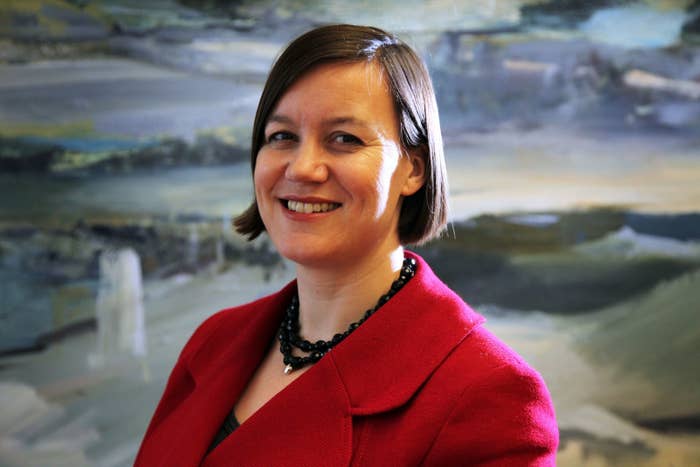 The investigation revealed how trafficking gangs – emboldened by the government's failings – are preying in growing numbers on Britain's swelling homeless population in plain sight of the authorities. As well as migrants smuggled in from abroad, the victims include British citizens, snatched from the streets in broad daylight.
Homeless slaves have been kept in fetid, rat-infested caravans, and have been chained up, beaten, and even locked in outdoor "rabbit hutches". Exclusive new data showed hundreds of cases of homeless victims being captured on the streets in the past three years — yet this is likely a vast undercount because many cases are never documented, with the government, local authorities, and many police forces failing to keep any data on the trafficking of rough sleepers.
Kevin Hyland, the government's anti-slavery commissioner, demanded an urgent response to BuzzFeed News' findings. "What's been revealed shows that this crime can happen anywhere in the UK," he said, calling on the government to start tracking the trafficking of Britain's homeless people and consider giving all recognised victims access to state welfare. Following his recommendations, a parliamentary committee also called for all recognised victims to be automatically granted one year's leave to remain.

A third Labour MP, Frank Field, tweeted that the BuzzFeed News report "highlights the importance of long-term support for victims of modern slavery" and said homeless people are being picked up by traffickers with "totally inadequate support". Earlier this month, Field launched an inquiry into support for modern slavery victims, which will also focus on homelessness.
"What do the authorities expect? Those sleeping rough must be the most vulnerable to trafficking and exploitation," Field told BuzzFeed News in an interview Thursday.
The calls come as peers debate proposed changes to the Modern Slavery Act, the landmark law passed in 2015 which the government promised would provide victims with the help and care they needed. A bill proposed by Conservative Lord McColl of Dulwich would give victims the automatic right to stay in the UK for a least one year, and provide them with a personal support plan. In a speech in the House of Lords on Wednesday, McColl cited cases of homeless and destitute victims and said that the current system is "not meeting our objectives to recover victims and protect them from further exploitation".
In order to qualify for the support offered under the Modern Slavery Act, victims must come forward to the National Crime Agency – Britain's equivalent of the FBI – and go through a rigorous assessment process to prove they have been trafficked. Telling the police about the abuses they suffered at the hands of their traffickers is, for many, a terrifying ordeal, the BuzzFeed News investigation found. While officers assess their applications, victims get placed in a safe house with medical care and counselling. But as soon as the process is over, that support quickly dries up.

If the victim receives what the NCA calls a "positive conclusion" – meaning they are formally recognised as a victim of modern slavery – they get just two more weeks of guaranteed care and safe accommodation before being turned out on the street to fend for themselves and potentially face the wrath of the traffickers they gave evidence against. Victims who are not believed have just two days to pack up and get out of the safe house.
For victims who are not British citizens, the risks of coming forward are even more grave, thanks to one of Theresa May's signature pledges as home secretary: a raft of policies designed to crack down on immigration and create what she called a "hostile environment" for illegal migrants in Britain.

In response to BuzzFeed News' findings, the government said in statements that its focus on the issue has already led to promising results — modern slavery arrests more than doubled in 2017, and there are now 500 live anti-slavery police operations around the country. The Home Office pointed to plans to extend the support period offered to victims to 90 days.

BuzzFeed News spoke with a half dozen survivors of modern slavery. One, named Kredens, had suffered through a traumatic 30-year ordeal during which his masters beat him often, and when they no longer needed his labour, they sold him on to new slave masters – shifting him from worksite to worksite, city to city. Sometimes they threw him scraps of food or a crumpled banknote. Sometimes they paid him nothing at all.
Kredens was rescued and formally recognised as a victim of modern slavery, but the Home Office denied him the right to remain in Britain. As a former slave, he could not show that he had been gainfully employed during his time in the country – rendering him an "illegal immigrant" in the government's eyes and shutting him off from any access to state welfare, including housing.
After the story was published, a Home Office official told BuzzFeed News the department would not take action to deport Kredens.
"I hope he gets the help he needs and lives a long and happy life in the UK," a Home Office official said, speaking on condition of anonymity.