The short, stooped man known as Kredens worked from dawn till dusk – laying bricks, plumbing, plastering; even sewing furs. His masters beat him often, and when they no longer needed his labour they sold him on to new slave masters – shifting him from worksite to worksite, city to city. Sometimes they threw him scraps of food or a crumpled banknote. Sometimes they paid him nothing at all.
Kredens had struggled through a 30-year ordeal as a modern slave not in some lawless failed state, but in cities across Britain. Tempted away from his Polish hometown on the promise of a good job with decent pay in the UK, he had fallen into the hands of a brutal human trafficking ring. Even when he managed to run away, with nowhere to go he was soon recaptured by slave gangs who prey on rough sleepers on Britain's streets. For decades, it seemed he was locked in a cycle of homelessness and enslavement from which there was no escape.
But then, as he neared his 60th birthday, it seemed there might be a way out. "You are not alone," the then home secretary Theresa May promised victims as she unveiled the Modern Slavery Act 2015 – a landmark law designed to stamp out human trafficking in Britain. "We are here to help you."
The pledge was simple: If Kredens plucked up the courage to come forward and tell the police about his ordeal – and if his story was believed – he would be given official recognition as a victim of modern slavery, entitling him to government protection under the new law. So Kredens came forward. Then, in the temporary shelter of a safe house, he waited to learn his fate.
The good news came on 11 October last year: An official letter congratulated Kredens on having gained victim status under the Modern Slavery Act. That entitled him to another couple of weeks in the safe house while he got himself back on his feet. But, just as he was beginning to contemplate his new life as a free man, the bad news hit.
The Home Office had denied Kredens the right to remain in Britain. As a former slave, he could not show that he had been gainfully employed during his time in the country – rendering him an "illegal immigrant" in the government's eyes and shutting him off from any access to state welfare, including housing. Without a roof over his head, he would once again be at the mercy of the trafficking gangs targeting rough sleepers. Because of the very nature of the exploitation the government had just officially recognised, he was being denied help and cast back into danger.
A BuzzFeed News investigation today exposes how gaping holes in the government's flagship modern slavery strategy are leaving victims like Kredens homeless, destitute, and vulnerable to re-trafficking or deportation – even after they have been officially granted government protection. The investigation reveals how trafficking gangs – emboldened by the government's failings – are preying in growing numbers on Britain's swelling homeless population in plain sight of the authorities. As well as migrants smuggled in from abroad, the victims include British citizens, snatched from the streets in broad daylight.
To expose the scale of the problem, BuzzFeed News has surveyed 75 homelessness and trafficking charities; interviewed dozens of police officers, government advisers, lawyers, charity workers, and rough sleepers; conducted weeks of surveillance to gather secret footage of "suspected traffickers"; visited "tent cities" where exploited workers are sleeping overnight; and interviewed six victims – including the first media interview with a victim of the notorious Rooney family gang, who held 18 homeless and disabled slaves captive for over a decade, and two victims of a prolific trafficking gangmaster who enslaved scores of workers in the UK.
It can today be revealed:
● Exclusive data shows hundreds of homeless people have been captured by slave gangs in the UK in the past three years – but that is likely a fraction of the total because many cases are never documented, with the government, local authorities, and many police forces failing to keep any data on the trafficking of rough sleepers.
● In one case currently under investigation, BuzzFeed News has learned a trafficking network is suspected of controlling up to 250 victims in Britain, many of whom were homeless.
● Britain's slaves have been kept in fetid, rat-infested caravans, sometimes without heating, bedding, or running water; chained up; beaten; and even locked in outdoor "rabbit hutches". Their captors steal their ID documents, often using them to commit fraud and other crimes, and extract trumped-up "debts" from their illegally low wages.
● Traffickers are approaching homeless people at soup kitchens, shelters, and rough-sleeping sites across the UK and luring them into slavery with the promise of cash, drugs, or alcohol.
● BuzzFeed News identified seven suspected trafficking hotspots in London, Birmingham, and Bradford and obtained secret surveillance footage of vans picking up destitute and homeless men from street corners and taking them to local worksites.
● Victims who approach the Home Office for help are often rounded up and deported as part of the government's policy of making Britain a "hostile environment" for "illegal immigrants" – making many afraid to come forward.
In response to questions from BuzzFeed News, the Home Office issued a statement calling modern slavery "a barbaric crime" that "remains a top priority". The government's focus on the issue has already led to promising results, the statement said — modern slavery arrests more than doubled in 2017, and there are now 500 live anti-slavery police operations around the country.

"We are also taking action to significantly improve the system for identifying victims and supporting them to leave situations of exploitation and begin to recover and rebuild their lives," the statement said, pointing to plans to extend the support period offered to victims to 90 days. The Home Office declined to discuss the case of Kredens or any other victim, saying it does not "routinely comment on individual cases."
The revelations come as the government faces mounting pressure to get to grips with the crisis of homelessness sweeping Britain, following a public outcry over the death of a rough sleeper outside the entrance to the House of Commons last week. The Home Office's policy of rounding up and deporting homeless foreigners was ruled illegal by the High Court at the end of last year, and the installation of spikes to stop people sleeping rough in several British cities has been met with widespread criticism.


"The greatest human rights issue of our time"
Trafficking of homeless people sits at the crux of two grave and growing emergencies facing the government. The number of rough sleepers in the UK has more than doubled amid a housing crisis and sweeping welfare cuts since the Conservative government came to power in 2010, and the number of modern slavery cases soared to an estimated 10,000 to 13,000 victims nationwide.
While prime minister Theresa May has called human trafficking "the greatest human rights issue of our time," major flaws in her Modern Slavery Act are rendering survivors defenseless and allowing slave masters to escape unpunished.
In order to qualify for the support offered under the Modern Slavery Act, victims must come forward to the National Crime Agency – Britain's equivalent of the FBI – and go through a rigorous assessment process to prove they have been trafficked. Telling the police about the abuses they suffered at the hands of their traffickers is, for many, a terrifying ordeal. While officers assess their applications, victims get placed in a safe house with medical care and counselling. But as soon as the process is over, that support quickly dries up.
If the victim receives what the NCA calls a "positive conclusion" – meaning they are granted formal recognition as a victim of modern slavery – they get just two more weeks of guaranteed care and safe accommodation before being turned out on the street to fend for themselves and potentially face the wrath of the traffickers they gave evidence against. For victims who are not believed, they have just two days to pack up and get out of the safe house. In a statement to BuzzFeed News, the NCA noted that the government recently promised to make a series of tweaks to the system, including offering victims a longer period of support. "We welcome any measures taken to improve the welfare of victims of modern slavery," a spokesperson said.

Many victims of modern slavery are too afraid to come forward for assessment, officials, charity workers, and victims told BuzzFeed News, because they are afforded little protection after being asked to give evidence against their traffickers. And the Modern Slavery Act has fallen short of its aim to make it easy to prosecute slave masters: The number of convictions against perpetrators has remained low since the law was passed.
For victims who are not British citizens, like Kredens, the risks of coming forward are even more grave, thanks to another of Theresa May's signature pledges as home secretary: a raft of policies designed to crack down on immigration and create what she called a "hostile environment" for illegal migrants in Britain. Under these policies, foreigners in the UK – including those from EU countries – are shut off from any access to state welfare and risk deportation unless they can show that they are formally employed and earning at least £153 per week. BuzzFeed News has reviewed evidence showing that foreign trafficking victims who approach the authorities asking for help are being locked in immigration detention centres or deported – even after being granted formal recognition as trafficking victims.
In one case, a Home Office official wrote to a charity working with a victim of child sex trafficking who had been brought to the country as an infant and sold to a paedophile ring. In the email, the Home Office announced that the victim – now in his forties – had been granted formal recognition as a victim of modern slavery, but was still being slated for deportation.
"I hope [the victim] will be pleased with the positive decision," the official wrote.
But even those who do not face deportation are far from being out of the woods. Because they have no right to public funds, many fall quickly into homelessness and destitution – leaving them acutely vulnerable to the trafficking gangs targeting rough sleepers.
Last week, the Court of Appeal ruled that the government was wrong to refuse the right to remain to a Ghanaian man who had lived in Britain as a slave for 20 years – raising the prospect that foreign victims of trafficking could appeal against attempts to drive them out of the country. But for many it is too late.
"Some of the conditions these people have been kept in – if you kept an animal in those, you'd be committing an offence."
There is no government requirement to track any of the potential slavery victims processed through its assessment system – meaning that most simply drop off the radar as soon as the support period ends – and no data is gathered on the number of homeless people who have been enslaved by traffickers in Britain.
BuzzFeed News surveyed 75 charities and submitted Freedom of Information requests to all of the country's police forces to gather its own data on the trafficking of homeless people in Britain. The exclusive dataset found 278 offences had been recorded by police in the past year, while 254 cases had been tracked by charities over the past three years. But this is "the tip of the iceberg", said Caroline Haughey, a barrister on the prime minister's modern slavery task force.
While there is likely to be some overlap in the two sets of figures, only the London database for homelessness and five charities tracked how many homeless trafficking cases they had seen, even though 69% of organisations surveyed nationwide said they had come across such cases. More than a dozen of Britain's 49 police forces either declined BuzzFeed News' requests or said they did not keep such data.
In a single case against a trafficking network only just busted, BuzzFeed News has learned that 150 victims, many of them homeless, have been interviewed by police and a further 100 potential victims have been identified.
The government's own independent anti-slavery commissioner, Kevin Hyland, said the victim assessment system was "failing" because "people are falling through the gaps" and called for an urgent response to BuzzFeed News' findings. "What's been revealed shows that this crime can happen anywhere in the UK," Hyland said. He has called on the government to start tracking the trafficking of Britain's homeless people and consider giving all recognised victims access to state welfare. Following his recommendations, a parliamentary committee also called for all recognised victims to be automatically granted one year's leave to remain.
Rough sleepers are natural targets for the traffickers: easy to find on street corners or in shelters, often desperate, lacking supportive family or friends, and frequently suffering from mental illnesses or substance abuse. "If they're an alcoholic, they'll feed them with alcohol; if they're into drugs, it's drugs; if they're mentally unwell, they'll take psychological advantage," said Haughey, the barrister on the prime minister's modern slavery task force.
While some may return from gruelling work in harsh conditions with a pittance in their pockets, many others are forced to work inhumane hours tarmacking driveways, renovating homes, laying paving, or operating factory machinery, then made to sleep in metal cabins, packed caravans, or single-family homes crammed with 40 or 50 others.
"If you look at some of the conditions these people have been kept in, if you kept an animal in those, you'd be committing an offence," Hyland told BuzzFeed News. In one case, 25 people were found living in the garden of a terraced home in "what can only be described as rabbit hutches", said Helen Gordosk, a National Crime Agency officer who specialises in busting trafficking rings.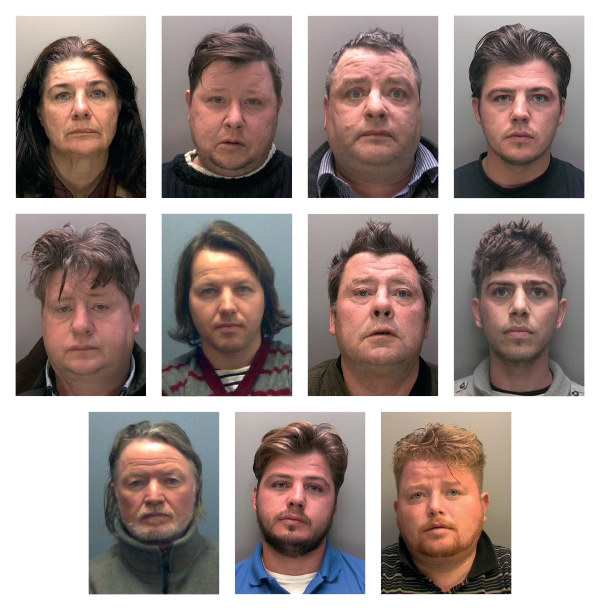 In one of the few cases that has come to light in recent years, nine members of the Rooney family in Lincolnshire enslaved 18 people – many of them homeless – for up to 26 years. BuzzFeed News obtained the first interview with one of the Rooneys' victims since the family's conviction for modern slavery offences last year. The survivor, Fred, told how he was bundled into a van while visiting a soup kitchen.
The police missed two opportunities to save him and other victims before 2014, when officers finally raided the site where the slaves were being held. In one instance, an officer actually returned Fred to captivity after he had been arrested for working on the Rooneys' cannabis farm. After the Rooneys' slaves were freed, the three who were not British citizens fell into destitution, with one sleeping in a bus shelter and another in a cemetery because they no longer qualified for state welfare, following the introduction of Theresa May's new "hostile environment" laws.
The stories of Fred, Kredens, and the four other victims interviewed for this story are corroborated by government records, court proceedings, and the testimony of charity workers and lawyers involved in their cases. The victims' full names are being withheld to protect them from retaliation.
Their stories paint a Dickensian picture of a modern Britain in which those who fall through the cracks of society can be brutally exploited in plain sight. In Fred's case, the ordeal ended when he was rescued and a new life began. For Kredens, there is no such happy ending.

Losing control
In 1986, when Poland still lay behind the Iron Curtain, Kredens was a young plumber living in a small village. An uncle made it to England and promised to help him find work if he followed. His plane touched down at Heathrow airport that September.
Kredens was short, square-jawed, and so sturdily built that his friends back home had nicknamed him after a bulky kind of Polish cabinet. His uncle's promise of work didn't come good, and an Iranian man named Hamid offered the unemployed Kredens a job building a new hotel for what sounded like decent money. But when he got to work he found the hours were long and the pay was a fraction of what he had been promised. Then Hamid confiscated his identification documents – and that was when Kredens realised he was trapped.
When Hamid no longer had any use for him, he found Kredens another employer. The new boss paid Hamid £700 for the connection and, when none of the cash came his way, it dawned on Kredens that he had been sold. The man put him to work sewing furs.
Bit by bit, Kredens was losing control over his life. Short on cash for so long, he was now homeless. His new boss had an extra room in his home, and let him stay there – informing him that his weekly wage would cover the rent, meaning that he would be paid nothing at all. At the weekend he worked night shifts for another employer, but when he returned with extra cash in his front pocket, it was confiscated.
Over the years, Kredens would be sold from one boss to another – working as a labourer, plumber, electrician, plasterer, security guard, cleaner, and hotel receptionist – sometimes paid pitifully low wages, other times compensated only with shelter or food.
Kredens told BuzzFeed News his story as he sat hunched over a steaming mug of tea in a safe house. "It's not just about me, there are more people in a similar situation," he said. "They are desperate to survive."
Kredens' fall into the hands of traffickers was gradual, but other victims saw their freedom slip from their grasp from the very moment they set out for the UK. In 2015, two men named Charles and Mariusz were approached separately in their respective Polish hometowns and presented with a job opportunity in Britain. Charles was given 30 minutes to make a decision. They both said yes, and soon both were in convoys barreling west through the night. Once in the UK — Charles by Eurotunnel, Mariusz by ferry at Calais — they were whisked up north. And that's where they would meet one of Britain's most prolific trafficking gangmasters.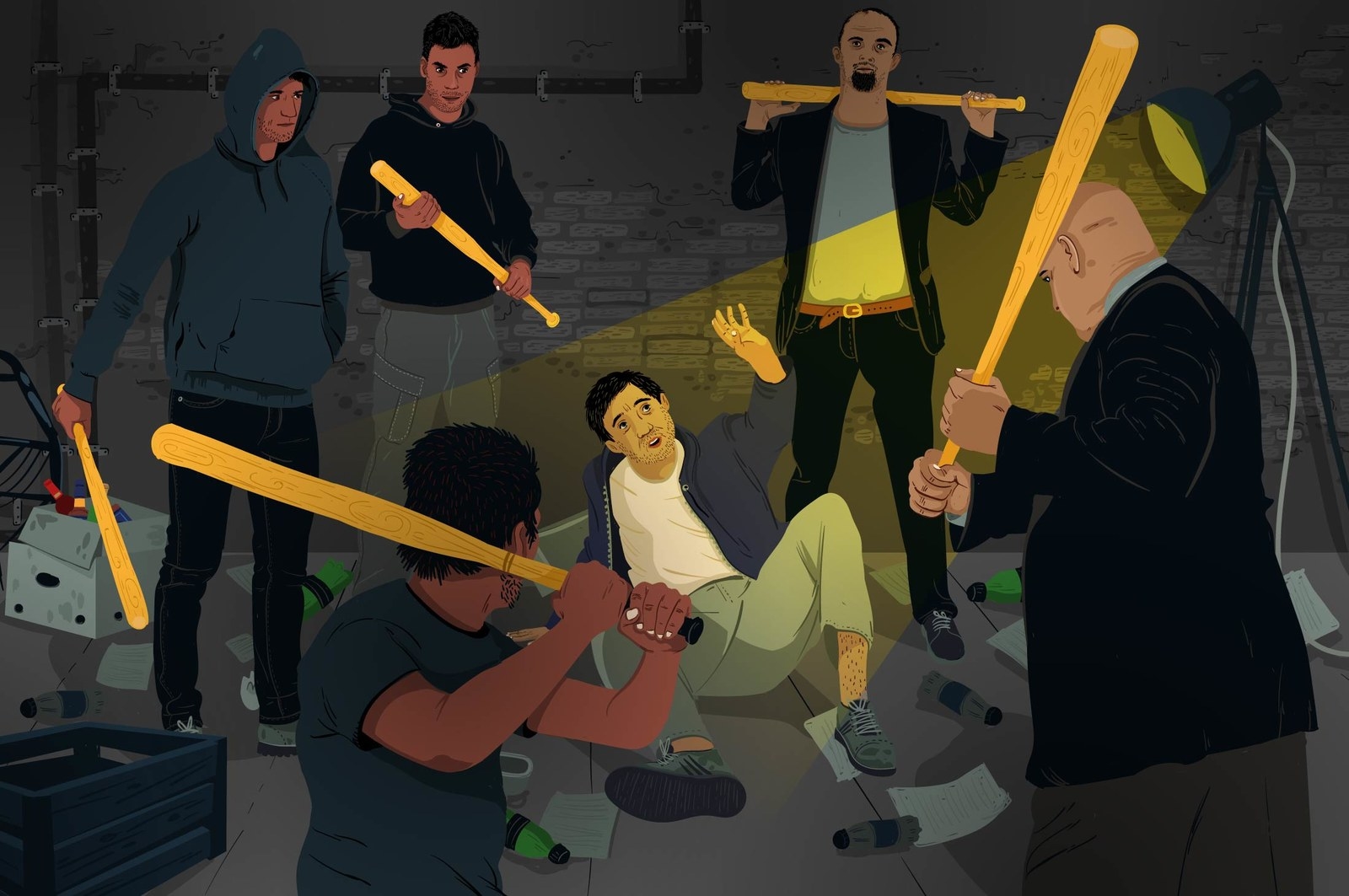 "I was threatened with death"
The gangmaster ruled over a trafficking empire. He decided where his subjects would sleep and who they would work for, and he controlled their wages. He wore a daily uniform of tracksuit bottoms and a sweatshirt over his muscular frame.
Charles saw what happened when workers acted out and the gangmaster slid into a fit of rage. He poured scalding hot coffee on one of Charles' colleagues. He ripped off another's shirt and then tied it around his neck, temporarily strangling him. He took a broomstick to another's back, swinging with enough force to break the broomstick and make the worker fall down the stairs. Charles learned not to ruffle feathers, so he told BuzzFeed News the worst he got from the gangmaster was vicious verbal abuse: "You're rubbish, fuck off, fuck yourself, why are you here?"
Charles stayed in a two-storey home with about a dozen other workers. When they arrived it was strewn with rubbish. There were mattresses but no bedding, and they slept two or three to a bedroom. They worked 12-hour shifts, five or six days a week, mainly at a local crisp factory. The most Charles remembers receiving in pay for a week was £120 — no more than £2 per hour. Other weeks it was more like £80.
Instead of the money going directly from the crisp factory to the workers, it all went through the gangmaster. Mariusz, the other worker lured from Poland, told BuzzFeed News that the gangmaster confiscated his identification documents and used them to open a bank account for which only the gangmaster knew the PIN.
Mariusz said he was "threatened with death" if he pushed back against the gangmaster and his associates. "They told me they have got my ID, they know my family in Poland." But one day, Mariusz snapped and complained about pay. The gangmaster summoned a crew of five men who beat him with baseball bats.
"We got it wrong. There was such a lack of understanding around modern slavery."
Mariusz and Charles both eventually escaped, but Mariusz became homeless and fell into the hands of a second trafficking gang, before escaping again. The gangmaster cannot be named for legal reasons.
The kind of control he exerted is commonplace, experts told BuzzFeed News. The more traffickers are able to isolate and terrorise their homeless labourers, the less able they will be to escape.
Charles said he was acutely aware of how stuck he was. "We were not actually physically imprisoned; doors were not locked," he said. But if he left the gangmaster, "I wouldn't have work, I wouldn't have accommodation."
Kredens felt trapped, too, as the years passed and he fell further into the grip of his traffickers. With no place to stay, he became more and more dependent upon his masters. And his masters, who continued to pass him around to each other depending on who needed his labour, became more and more organised, and more and more ruthless.
He found himself living in a streetside caravan, working 12-hour overnight security shifts for £10 a day. One day, his employer there got it in his head that Kredens had ratted him out to the police. He doled out a beating so bad that Kredens couldn't walk for a week. Unlike with his other bosses, this time Kredens summoned the courage to run away. But with no shelter, Kredens immediately became homeless — and rough sleepers are acutely vulnerable to trafficking gangs that patrol the streets hunting for victims. Within a few days out in the cold, he had been approached by new slave masters and lured back into a life of servitude.

Street corners all over Britain
Frontline staff at shelters and charities around Britain described a common scene: white vans pulling up and their drivers tempting rough sleepers by offering of some combination of pay, food, drugs, drink, or housing. Since for many the alternative is another night on the street, it's often an easy sell.
Some traffickers are brazen enough to make their approaches in broad daylight, even in view of charity employees and volunteers working nearby. "Sometimes they would say, 'Well, you should be pleased with this – this is giving people jobs," said Mick Clarke, chief executive of Passage, which runs homeless shelters across London. "Then when you'd say, 'Well, shall we call the police?' they'd tend to move on." Some charities even reported gangmasters infiltrating their shelters to find recruits by posing as volunteers and rough sleepers.
Some of those making such approaches are simply looking for cheap day-labourers who they can drop off at the end of the day. If they know where to go, they will find people in droves. At soup kitchens and shopping centres, car parks and industrial street corners, the homeless and the destitute line up for work. BuzzFeed News identified seven such hotspots using intelligence gathered from a handful of charities and rough sleepers in London, Birmingham, and Bradford, and conducted surveillance at one Bradford street corner over several weeks.
Here are the trafficking hotspots BuzzFeed News identified: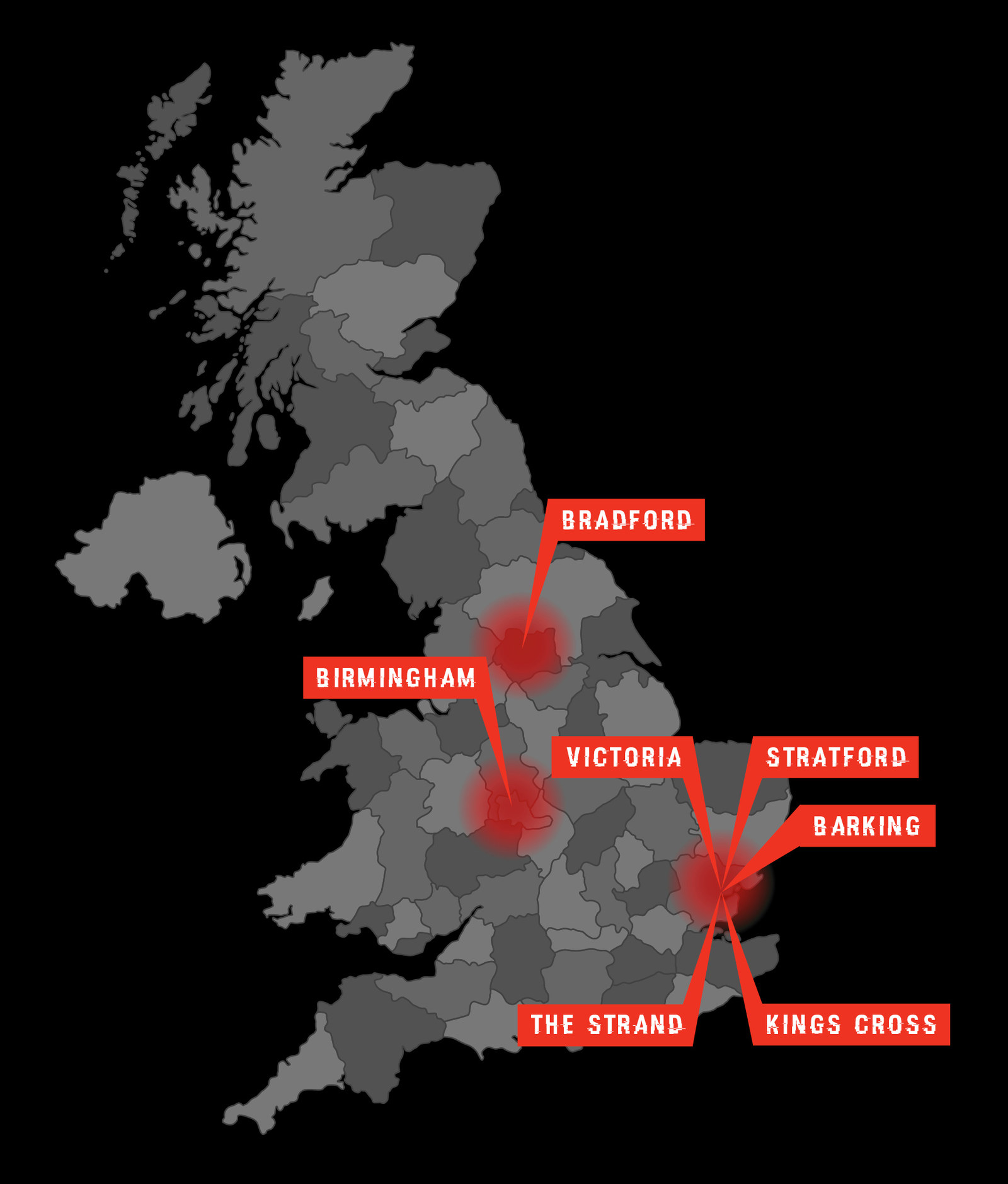 Every morning, starting at 7am, upwards of 15 men would stand outside waiting, often in freezing cold or driving rain. They wore thin jumpers and clutched plastic carrier bags; they were almost always wearing the same clothes as the day or week before.
Joel Green, a former police officer and lead investigations officer for the trafficking charity Hope for Justice, told BuzzFeed News that the organisation had received intelligence from the police and local community that some of the people standing on this street corner might be victims of trafficking getting paid as a little as £20 a day, well below the legal minimum wage in the UK.
The scene resembled a red-light district. Cars and vans would slow down and approach, a window would come down, and a would-be worker would lean in, then get inside. The vehicles took the men to local building companies, a charity clothing bank, solicitors' offices, industrial estates, and construction sites at houses in affluent neighbourhoods.
When BuzzFeed News approached the workers standing on the corner to ask about the pay and conditions, most did not speak English and mistook the approach as an offer of work – crowding around and offering their services. One of the few workers with better English said that they did all kinds of labouring, painting, building work, and clearing rubbish. He said they always got paid cash in hand – declining to say how much – and usually did eight-hour shifts around Bradford. Another said he turned up on the corner nearly every day because it was the only way for him to get work.
Staff at the companies where the men were being taken gave varying accounts of how they used the workers and what they paid them. One admitted using a homeless man for labour but said he paid him fairly. Another acknowledged that he didn't always pay above minimum wage. A third said he didn't know of anyone being picked up from street corners to work on the construction project he managed, but said he didn't pay close attention to the recruitment practices of his subcontractors. Yet he was well aware of the street corner where BuzzFeed News had seen workers picked up and taken to his construction site. "Nobody forces them to stand there, do they?" he said. "They go by their own choice."
Some of the rough sleepers queuing up at street corners across the country will be taken to a worksite for a day and return with a small amount of cash in their pockets. But other gigs promise full-time work and shelter – and those proposals often bear the most risk.
A man named Geoff told BuzzFeed News how he was approached outside a soup kitchen near London's Vauxhall station for a gig promising £40 per day plus accommodation. He got in the van, which brought him and others to a "crappy, stinky, cold" caravan outside the city.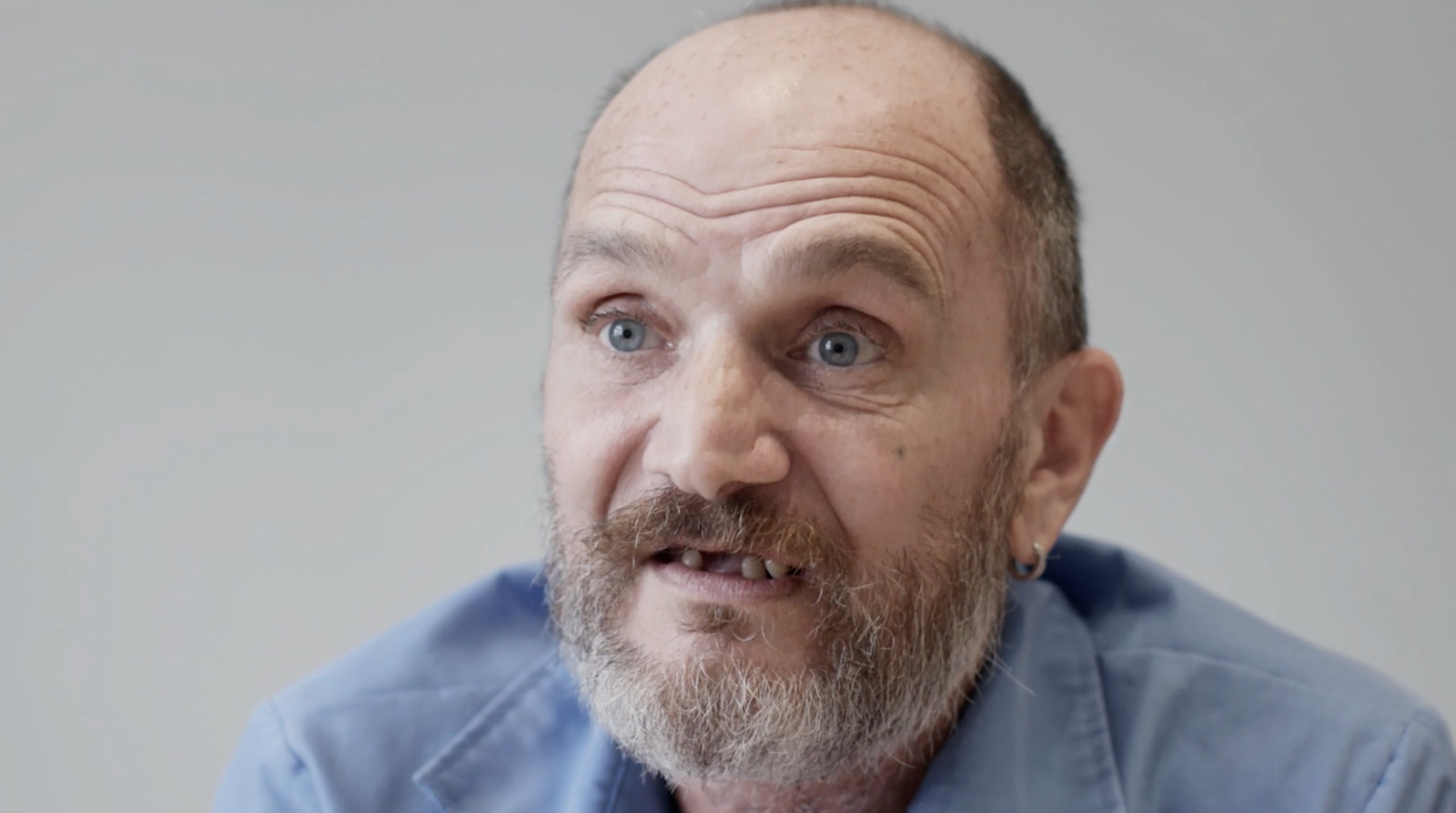 "I wouldn't put a dog in the caravan, you know what I mean – that's how dirty it was," Geoff said. After one long day of tarmacking, and no sign of pay or even food, Geoff became suspicious and fled back to London.
Many others have not been so lucky.

Twelve years a slave
Fred had stopped for a cup of tea and a hot meal in a homeless shelter on a cloudy spring day in Reading when a man walked in off the street and asked for help moving his broken-down van. Fred, who has learning difficulties, followed the man outside. Before he knew what was happening, the man grabbed him and bundled him into the back of the van. Locked in the dark as the vehicle sped away, Fred had no idea where he was being taken. "I was scared," he told BuzzFeed News.
Hours later, the van pulled to a stop and Fred climbed out to find himself on a traveller site in rural Lincolnshire. This was the heartland of the Rooney family – a prolific human trafficking gang who prowled the streets hunting vulnerable homeless people to use as domestic slaves. He would be held prisoner here for the next 12 years.
The Rooney family exerted utter dominance over their victims, working them from sunrise to sunset laying paving, maintaining the site, and tarmacking roads. They were promised £20 a week, but in reality got paid in bottles of cider, and were subjected to regular lashings. Their only toilet was a tree, and they were forced to hunt rabbits and raid bins for food.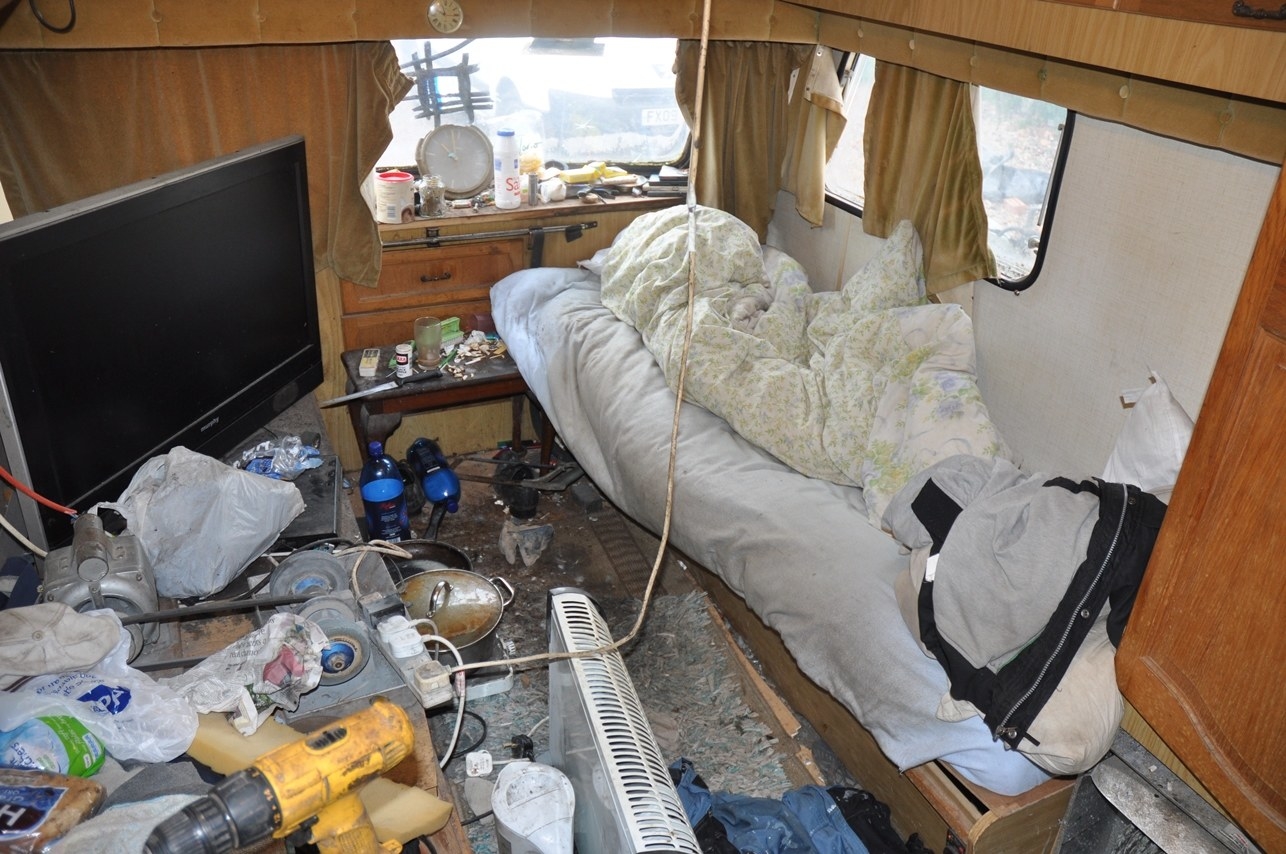 Fred pointed to two long, pale scars, one on either temple. The head of the family, Martin Rooney Sr, "used to hit me every time he got the chance," Fred said, "mainly with a hammer or his fists". Fred wanted to flee, but he didn't know the surroundings in rural Lincolnshire, and he didn't know what he'd do if Martin Sr followed him.
Among their many business endeavours, the Rooneys grew cannabis. In 2003 and again in 2013, police raided the site – but failed to realise that they had stumbled into a slave encampment. The second time, they arrested Fred and, failing to detect the signs that he was a victim, returned him to captivity by dropping him off at the Rooneys' front gate when they released him.
A year later, police finally gathered intelligence about the Rooneys' slave encampment and raided the compound a third time to free the captives. Last year, nine members of the Rooney family were convicted of modern slavery offences. But Fred said he still lives in fear of them. "I hope when they get released there's no homeless people on the street, because if there are they'll find them and the same thing's gonna happen all over again," he said. "Homeless people are easy to pick on."
Even though the police had taken the Rooneys down, the investigating officer on the case rued missed opportunities. "We got it wrong," the officer told BuzzFeed News, on condition of anonymity because of ongoing operations. "There was such a lack of understanding around modern slavery."
Today, Fred has a new life. He has completed a college course and has a small flat. But most important of all, he has his freedom back: "When I went in I was miserable," he said. "Now I'm out, everything has brightened up."
But three of the Rooney family's 18 victims were from abroad. They received formal recognition as modern slavery victims, entitling them 45 days in a temporary safe house. When that came to an end, the officers were dismayed to learn that Theresa May's new "hostile environment" immigration policies meant the three survivors had "no recourse to public funds" and therefore no longer qualified for state welfare or housing benefit.
The officers scrambled to help them – but still two of the victims fell through the cracks and became homeless in the dead of winter, one living in a bus shelter and another sleeping in a graveyard. With no government support available, the officers felt they had to step in and find room in a hostel. "We ended up paying," the investigating officer said.
When Kredens finally escaped his long nightmare once and for all, he too would find himself at risk of deportation.

An officially certified victim of modern slavery
Last spring, Kredens was squatting in a derelict building that used to be known as the Robin Hood Hotel, behind tall, rusted iron gates on the outskirts of Manchester. One day, a car pulled up alongside him in the street.
He had been approached this way so many times in the 30 years since he arrived from Poland. But inside this car was a volunteer from a local homeless charity ­– the Palm Cove Society. He drove Kredens to a nearby shelter where he was introduced to a manager named Emma Stocks. "He was unkempt, dirty, looked like he had been homeless for a long time," she told BuzzFeed News. "And he was very grateful to be helped."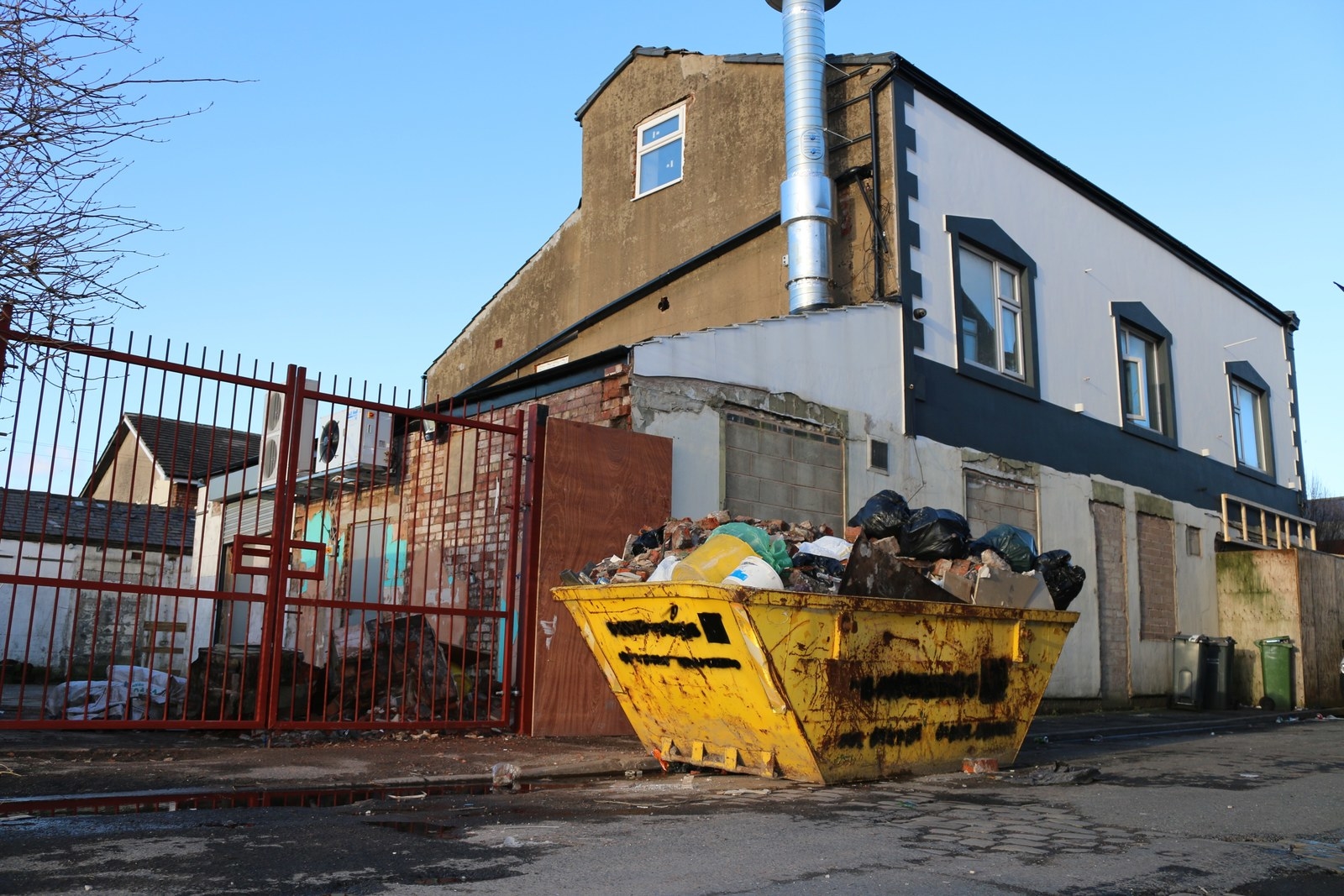 Kredens had no bank account and no tax receipts, Stocks said. Palm Cove had a flat available for shelter, so he stayed there as he applied for formal recognition as a modern slavery victim.
Kredens quickly cleaned up, and discovered he needed surgery for a hernia and heart condition. He became a favourite at Palm Cove. He loved cracking risqué jokes – some too bawdy for the Polish interpreters to translate – and the staff soon began calling him "Grandad" because he loved telling stories.
Kredens and his helpers at Palm Cove knew that formal recognition under the Modern Slavery Act would only be a start. When it finally came – after seven months, much longer than expected – they moved as quickly as they could to apply for "discretionary leave to remain", an immigration status that gives people a temporary right to stay in the UK if they have suffered extreme hardship.
Despite everything he had been through, his odds were not good. Recent figures show that the Home Office has granted that status to only about 12% of recognised modern slavery victims. Last week's Court of Appeal ruling found that the government was interpreting the Council of Europe's anti-trafficking convention too narrowly in determining whether the hardship suffered by victims like Kredens was sufficient to warrant granting them leave to remain. That may mean that more victims are allowed to stay in Britain in future – but, for him, it was too late.
The Home Office rejected Kredens' application for temporary leave to remain – informing him that he will be required to leave the country as soon as he has recovered from his heart and hernia surgery. Even if he is not immediately deported, he will have no recourse to public funds, meaning that he will likely face homelessness again.
He and Palm Cove are considering appealing against the decision, but, Stocks said, the Home Office has told them that he has little chance of success.
Despite everything he has suffered here in the UK, Kredens is still hoping to find a way to stay. "He's been here most of his adult life," Stocks said. "It's his home now."
UPDATE
After this story was published, a Home Office official called BuzzFeed News to say that, despite the decision to deny him discretionary leave to remain, the department would not take any enforcement action to deport Kredens. "I hope he gets the help he needs and lives a long and happy life in the UK," the official said, speaking on condition of anonymity.