Young Labour Conference Marred By Infighting And Bullying Accusations
The Unite union has strongly denied allegations that its staff piled pressure on young activists into voting for its preferred candidate.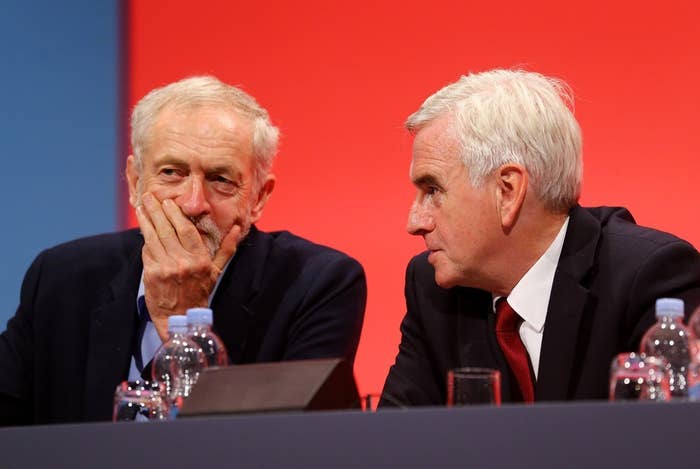 This weekend's Young Labour Conference has been marred by allegations of bitter infighting and voter intimidation in the ballot to elect a young member to the party's National Executive Committee.
The conference, which took place in Scarborough on Saturday and Sunday, saw Jasmin Beckett elected to the position on the Labour party's powerful administrative group in a narrow victory over trade union Unite's favoured candidate James Elliot.
The youth conference saw squabbles between new left-wing pro-Jeremy Corbyn members and more centrist Young Labour members. Supporters of Corbyn had coveted the NEC seat as it would help them take control of the party's rule-making body away from the centrists – but Beckett unexpectedly beat Elliot by a handful of votes.
Zac Harvey, a member for Welsh Young Labour, claimed on Saturday that Unite staff had "intimidated" him into showing his ballot paper after they suspected he planned to vote for Beckett instead of Elliot.
He posted a screengrab of what appeared to be a Whatsapp conversation between him and Unite representative Charlotte Upton in which he was told it was "not acceptable" to avoid showing his ballot paper completed with a vote for Elliot.
Labour councillor Jade Botterill later claimed Harvey was made to leave the hotel he was staying in which is understood to have been paid for by Unite.
The trade union strongly deny the allegation that Harvey was forced to leave the hotel.
Botterill said she left the conference early due to the bad atmosphere and claimed she was told her friends were "Blairite nonces".
She added that she believed the behaviour from Unite staff was bullying.
Several delegates from the conference claimed to BuzzFeed News that Unite staff have left young members in tears, attempted to block people from receiving their ballot papers, and chased people into toilets to pile pressure on them to vote for Elliot.
It is understood a complaint was made on behalf of Harvey to Labour party staff who told Unite staff to leave him alone. Despite the warning, it is claimed they continued to send him texts asking to see his completed ballot paper and other members had to intervene after they confronted Harvey in a bathroom.
Beckett went on to win the ballot, which makes her Young Labour's voice on the party's powerful administrative body, the NEC, by a very narrow margin.
Supporters of Elliot said a request for a recount was turned down, but it is understood the votes had already been manually reviewed at the time of the request.
Young Labour's international officer Jack Storry told Lansman, the editor of left-wing blog Left Futures, that the ballot papers were kept secure.
But there were complaints that the decision was "undemocratic".
A Unite spokesperson strongly denied any wrongdoing by its staff and called the accusations "deliberately misleading and malicious", and pointed to a story from Saturday which stated Beckett had attempted to smear Elliot as an anti-semite.
"There is not a shred of truth in the claim that a delegate was asked to leave his hotel accommodation, nor that there was any wrongdoing by the Unite delegation co-chair who acted with propriety at all times," said the spokesperson. "Claims to the contrary are deliberately misleading and malicious, intended for no other reason than to bring this union into disrepute.
"The Labour party is due to examine the Young Labour elections including some concerning allegations of a smear campaign organised by one candidate against a rival. Unite urges that a full and independent look at these elections is agreed, and we will happily cooperate fully in this process."
Labour MP Jess Phillips commented on the accusations saying she'll "kick off" if any of her volunteers at the conference return from it upset.