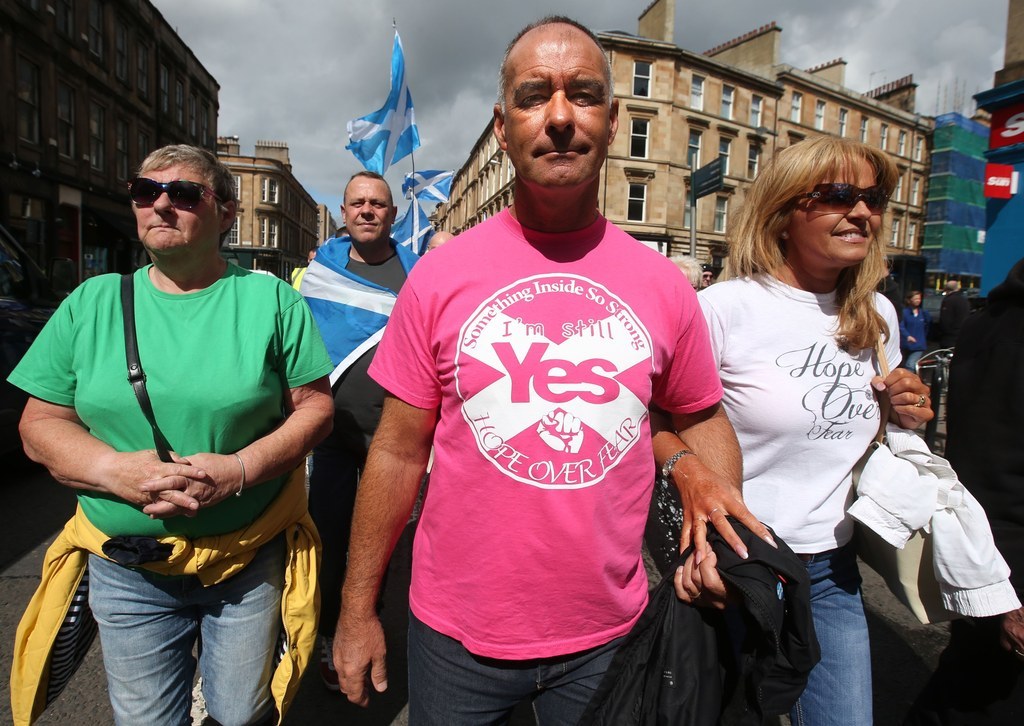 Tommy Sheridan, the notorious Scottish socialist, has said he believes Robert the Bruce would probably have voted for him because the warrior king was "tactically aware".
Sheridan, the leader of the left-wing Solidarity party, which launched its Scottish election manifesto in Glasgow on Thursday, said he wanted Scotland to become independent on 6 April 2020 – exactly 700 years after Bruce signed the Declaration of Arbroath, which asserted Scotland's independence.
He said, in the event he is elected to the Scottish parliament in next week's election, his first act would be to introduce a bill for a second referendum in 2018, which he predicted would result in a huge 65% Yes victory and lead to the country becoming independent two years later.
Forecasts using the latest polling suggest neither Sheridan nor any other Solidarity candidate is likely to win a seat in the Scottish parliament, where Sheridan was an MSP between 1999 and 2007 before being sent to prison for perjury in 2010.
At the event, where Bruce and fellow Scottish patriot William Wallace were referenced during a song called "Independence Day" performed ahead of Sheridan's speech, BuzzFeed News asked the party leader why he drew inspiration from Bruce and if he thinks the medieval knight would have voted for his party.
"I didn't know Robert personally but I think, as he grew, Robert the Bruce became more tactically aware of how to secure Scotland's independence," said Sheridan. "I would appeal to those within the Yes family, the wider Yes family, to consider the tactics of this election.
"This is not an election with one vote, this is an election with two votes. It was right last year to concentrate all votes on the SNP to maximise the independence vote, this time around giving both votes to the SNP actually helps the unionist parties."
Solidarity is only standing in the list vote in next week's Scottish election – a proportional system which runs alongside a Westminster-style first-past-the-post system to top up some parties' MSPs – and is urging people to vote SNP with one vote and their party with the other.
Elsewhere in the manifesto, Solidarity pledged to "ban nuclear weapons", punish "latter-day Dick Turpins who have ripped off the public purse", and to form a "council of war" against Tory austerity.
"We want to be elected to the Scottish parliament to convene a council of war," said Sheridan. "A council of war that unites the 32 local authorities, that unites the local authority trade unions, community groups all across Scotland, the senior citizen groups, the disabled groups. Unite us in a war against Tory austerity.
"They have no mandate whatsoever to impose their austerity in Scotland: We say defiance not compliance with these austerity cuts."