How Scotland Became The Strangest And Most Important Place In British Politics
A story of medieval knights, drama on the streets, and the obliteration of the Labour party.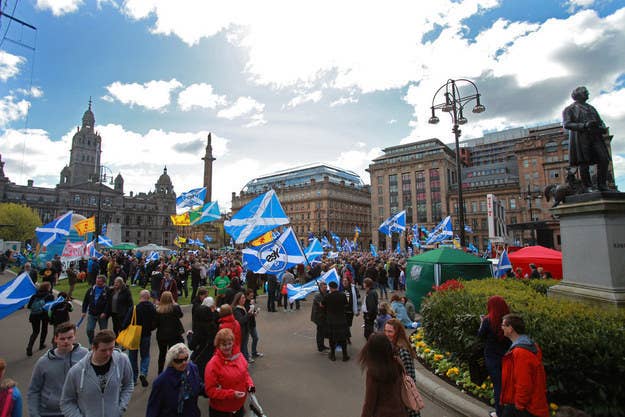 A few weeks ago, a man in Edinburgh became so angry about a leaflet being posted through his letterbox that he kicked down his door from the inside. He objected so strongly to being given an SNP leaflet that he literally attacked his own house.
Elsewhere in Scotland, a candidate dressed up in a full suit of medieval armour to attend a hustings event. Someone brought a loudspeaker to an Ed Miliband speech to blast out the Muppets theme at him. Eddie Izzard was chased off the streets of Glasgow. And the leader of a group that calls itself "the Scottish Resistance" was crapped on by a bird he then accused of being a unionist.
You may ask, quite justifiably, what in the absolute hell is going on in Scotland as this bizarre general election reaches its climax – and in particular, how the SNP can be on course to increase its current tally of six seats to something closer to 50.
It's difficult to explain, but Scotland has simultaneously become the most engaging, infuriating, mature, infantile, entertaining, and depressing political scene in the UK.
There's the entertaining, engaging part of Scottish politics which makes it such fun to cover. The side which allows SNP leader Nicola Sturgeon to address genuinely excited crowds of thousands, sees people debating fiscal policy in pubs, and leads to Scottish Conservative leader Ruth Davidson feeling comfortable feeding Soleros to journalists.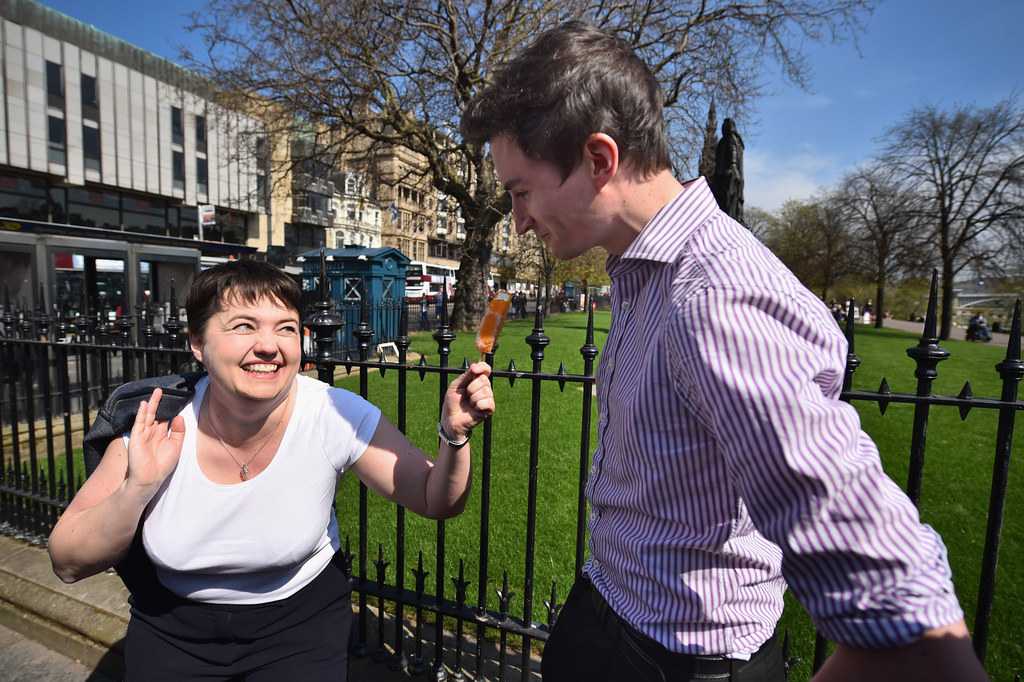 And when you ask people about politics, almost everyone in Scotland has something interesting to say. They produce answers like: "My mother was No and we fell out about [the referendum], but I had to go back cos she makes the best soup in the world." Or, when asked about the difference between Labour and the Conservatives: "It's just a different shade of shite."
Even more incredibly, people actually choose to spend their weekends getting involved in politics. Two weeks ago, a rally of about 2,000 people in Glasgow's George Square – now known as "Freedom Square" to pro-independence Scots – saw Yes voters take teacup rides and giggle as they slid down an inflatable slide. It was a fun event attended by thousands of jolly, friendly people talking about politics.
But this level of passion has another side as well. At the same event, a mention of Jim Murphy, the Scottish Labour leader, was met with screams of "Bastard!" One speaker told a cheering audience that a Labour government would be a government of paedophiles. When I approached people to ask them questions, some were only happy to talk after making sure that I wasn't from the "biased BBC".
Indeed, as enjoyable as this campaign has been for some in Scotland, it's been a misery for others – particularly inside the Scottish Labour party.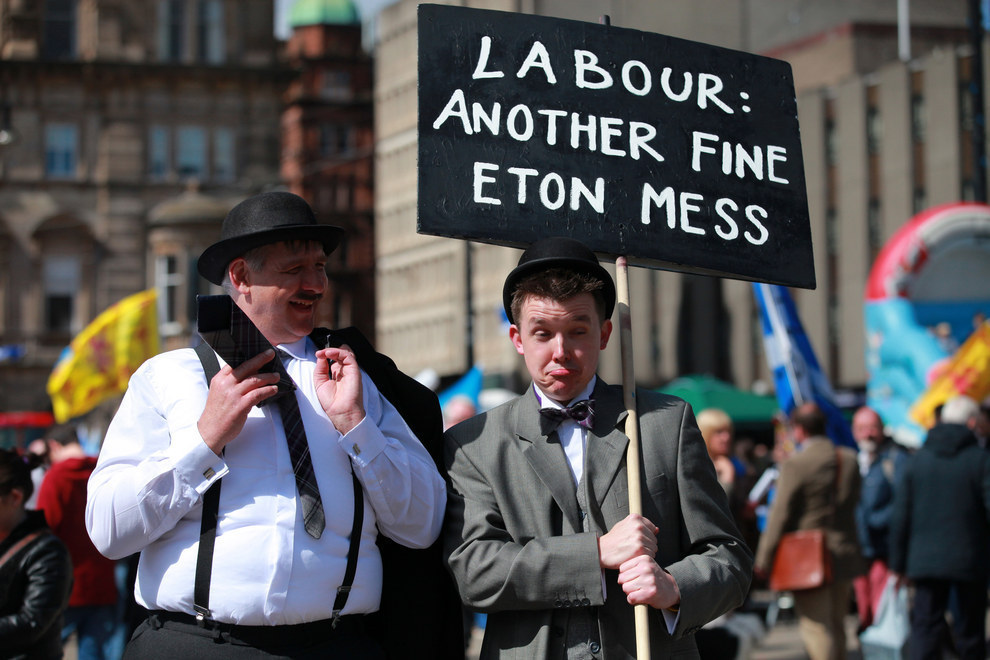 The headlines have inevitably focused on high-profile Labour figures such as Murphy and Eddie Izzard being jostled about in Glasgow. But the brunt of the unpleasantness has been directed at on-the-street activists.
While delivering leaflets and knocking on doors, activists told BuzzFeed News, they have been shouted at, spat at, and threatened with kneecappings. One Labour activist said that some occupants of houses with SNP posters up in the windows had taken to banging on the windows as Labour leafleters walked past in an attempt to intimidate them.
Then there are the despondent Labour candidates, many of whom are working around the clock just to keep their election defeat respectable. Many face humiliation at the ballot box – a humiliation which hundreds of thousands of Scots will celebrate.
Outgoing Labour MPs have talked about how desperate their campaigns have become. One says he can't keep up with the level of misinformation spread about him online, and is shocked by some of the accusations levelled at him when he hits the doorsteps. He says unchecked rumours spread so fast online, particularly among the pro-independence groups, that he feels completely unable to combat them.
Murphy seems unshakeable, but even he must find it a little bit wearying to be followed around Scotland by people who hate him and be called "a fucking bastard" while attempting to buy a lollipop from an Edinburgh ice cream van, as he was two weeks ago.
Tom Harris, the longstanding Labour MP for Glasgow South, appeared to give up completely this week, telling people in a YouTube video he was "bored with politics" before proceeding to drag his dog around a living-room carpet for 44 seconds.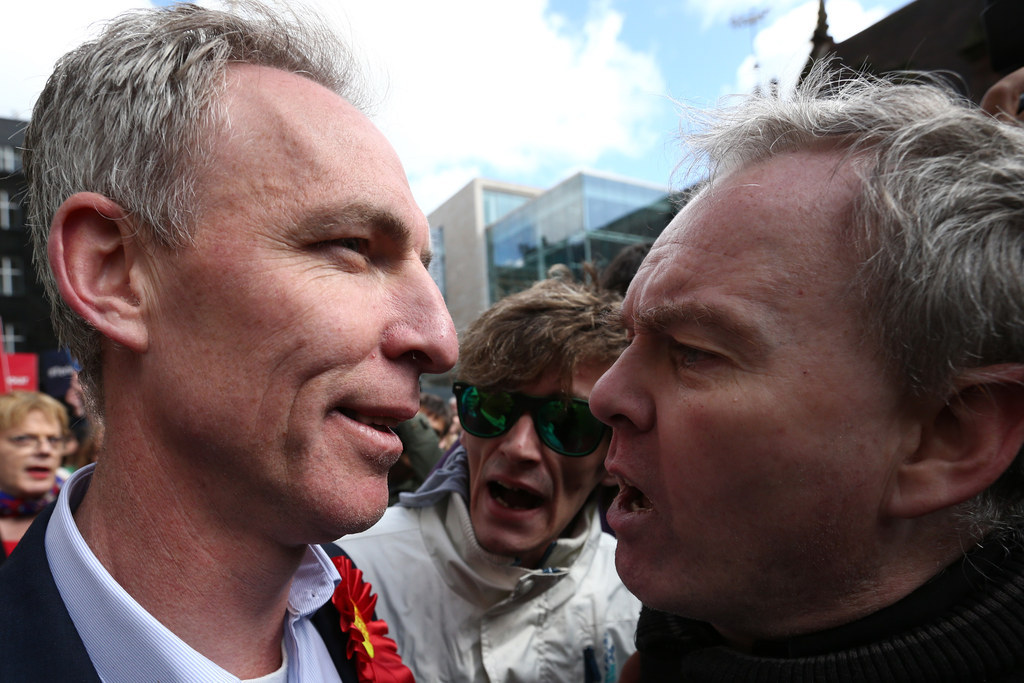 Whatever the size of the SNP victory on Thursday, there's a definite feeling that Labour has lost Scotland. Not just politically, but culturally – and on a scale and at a speed that remain breathtaking.
Yellow-and-black SNP posters are everywhere. In areas where voting Labour used to be a natural reflex, the party's voters are genuinely difficult to find. The election story in Paisley is so far-fetched it feels like a film plot: Student Mhairi Black is on course to beat the shadow foreign secretary Douglas Alexander, who got 60% of the vote in 2010. At 20 years old, she would be the youngest MP since the 17th century, and the first non-Labour MP in Paisley since 1924.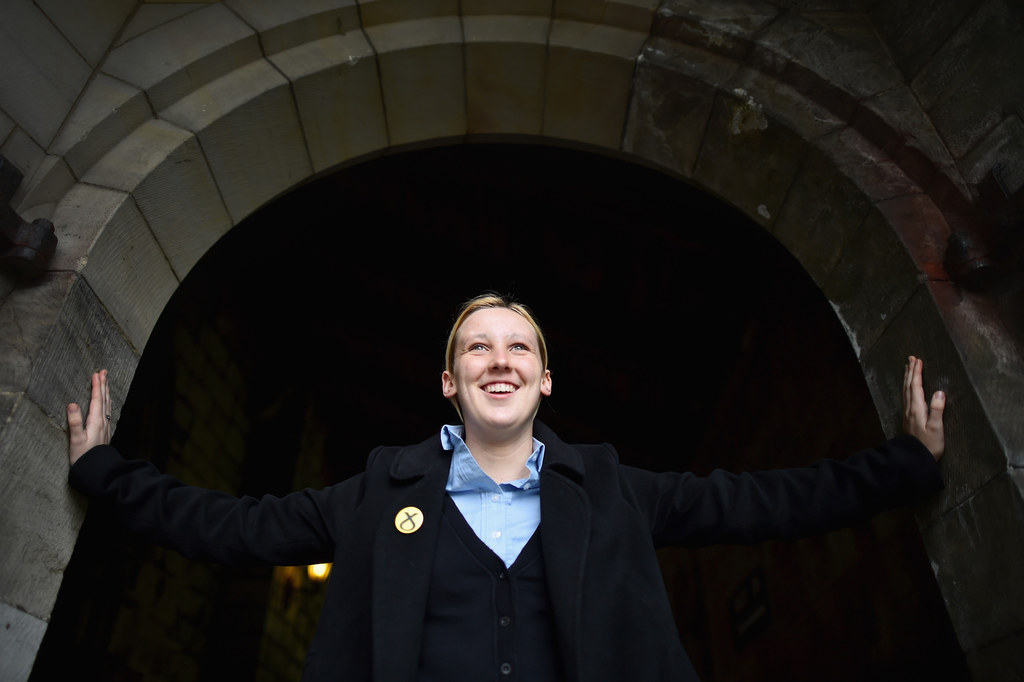 Black – who's lived in Paisley all her life – has seen her home town, and even her own family, change from Labour to SNP in the space of one parliament. How does she explain this unbelievable change? "People in Scotland have woken up" she told BuzzFeed News, and they have "broken out of the cycle" of voting Labour to keep out the Conservatives.
Others appear to agree. While just five years ago general elections in Scotland were about Labour and the Conservatives, person after person has told me it's now about pro-independence against anti-independence, or the SNP against "the red Tories and the blue Tories and the yellow Tories", as socialist activist Tommy Sheridan put it.
When I went canvassing on the doorstep in Glasgow with Margaret Curran, the shadow Scottish secretary, a woman who said she has voted Labour for all her life claimed the party had become "too similar to the Conservatives" during the referendum, when they were allies in the Better Together campaign, and she'll never go back to them.
If such voters no longer care which party leader becomes prime minister of a United Kingdom they no longer want to be a part of, then they have also lost the main incentive to vote for any party other than the SNP.
Most SNP members, especially the ones who have joined since the referendum, have their eyes firmly focused on independence – and they want it sooner rather than later. In Glasgow, at the pro-independence rally, nearly 500 people signed an immediate demand for independence known as a "unilateral declaration of independence" (UDI).
"Most of the new members are UDI-minded," claimed new SNP member Iain Tough, who signed the declaration. "I love Alex Salmond, and I love Nicola Sturgeon even more, but there's so many new members that we're in control now."
The message from SNP supporters to Westminster is, roughly speaking: "You wanted Scotland, now you're getting us." The SNP are coming, in numbers, and will use those numbers to influence policy – and the choice of prime minister – as best they can.
For Scottish Labour, the election postmortem already seems to be underway, with some outgoing MPs calling on Murphy to resign if the result is as bad as the polls say it will be. That's if he can even hold on to his seat on Thursday: He may well be swept away in what Ruth Davidson called an "SNP tsunami".
If so, the future of Scottish Labour – and of the union – will be more precarious than ever.