This Scottish Politician Is Looking For Your Support On Tinder
"I was just tremendously confused," said one Tinder user who saw Richard Leonard MSP pop up while she was searching for a date.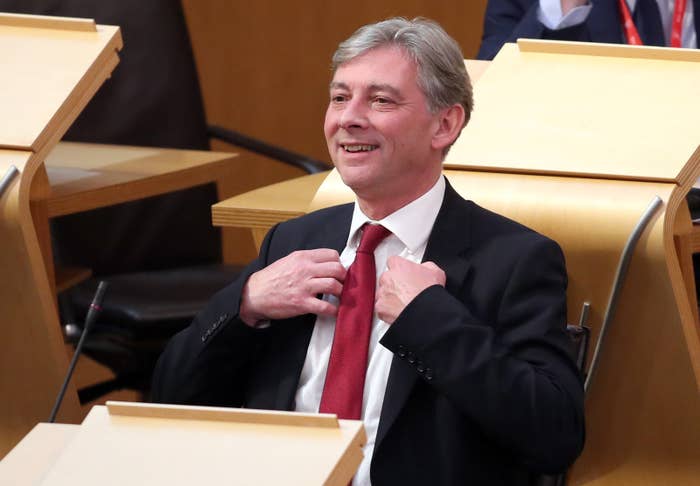 Richard Leonard, one of two contenders to become the next leader of Scottish Labour, is searching for support on Tinder.
The MSP, who's up against Anas Sarwar in the election to replace Kezia Dugdale, has been surprising Tinder users across Scotland by popping up on the dating app to encourage them to sign up as Scottish Labour members and back him.
Alice Eyre from Glasgow told BuzzFeed News she was "tremendously confused" when she saw the trade unionist appear on her Tinder app while she was looking for a date, but said the bold advertising move worked.
"I was just tremendously confused," said Eyre. "Like, Richard Leonard doesn't strike me as a man looking for support on Tinder so seeing his campaign advertise him on there was definitely odd.
"I can confirm I did swipe right. I used to vote Conservative but will happily vote Labour if he were to become leader – he seems honourable and fair."
However, she added: "The person I was speaking to saw I posted [about Leonard] and has now stopped talking to me because I was on Tinder while we were talking. So Richard Leonard has ruined a potential relationship."
When contacted by BuzzFeed News, the Leonard campaign said: "We have paid for Facebook advertising, this automatically places the ads onto the apps that people are most likely to see it, including Instagram and Messenger.
"It shows our campaign is firing up plenty of enthusiasm, with the majority of Labour CLPs [constituency Labour parties] swiping right to choose Richard as the next leader of Scottish Labour."
A source on the Anas Sarwar campaign said: "The only date we're interested in is the date we remove Nicola Sturgeon from office and elect a Scottish Labour government that will rescue our NHS, lift 50,000 kids out of poverty, and fight to keep the UK in the single market."