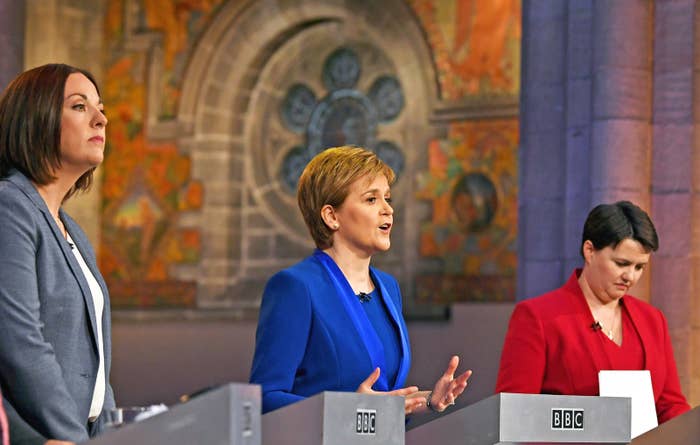 A nurse has strongly criticised Nicola Sturgeon from the audience of the first Scottish leaders' TV debate, telling the first minister that she's been forced to feed her family with the help of a food bank.
The debate saw Sturgeon clash with Scottish Labour leader Kezia Dugdale, Tory Ruth Davidson, Lib Dem Willie Rennie, Scottish Green leader Patrick Harvie, and the leader of UKIP Scotland David Coburn.
The leaders clashed over topics including another independence referendum, the position the UK government should take in Brexit negotiations, and the decline in standards of education in Scotland.
However, the most dramatic moment of the night came when nurse Clare Austin delivered a sustained attack on Sturgeon and the Scottish government.
Austin asked the first minister how many years nurses' pay rises have been restricted to 1%, to which the first minister replied that the policy has been in place for nine years, since 2008.
"How do you expect someone to live off that?" the nurse asked the first minister. "We are now having to strike – do you think that's what nurses go into nursing for? I'm telling you now, I'd rather leave nursing – as would many more of my colleagues – than have to strike.
"You have no idea how demoralising it is to work within the NHS. Don't come on your announced visits – come in on the middle of any day to any ward, to any A&E department, come on in and see what we're up against."
Austin had earlier told Sturgeon that she "could not manage" on her salary, that she relies on food banks to feed her family, and that she is struggling to pay her bills. She asked the first minister why nurses are seeing no investments "on the ground floor".
Sturgeon told the woman that her own sister works in the NHS and she tells the first minister "exactly what she thinks" about standards in the health service frequently.
"If you listen to me, I'm actually agreeing with you," Sturgeon replied. "We've had a really difficult period with public spending so we've had that policy in place."
Following the debate, rumours surfaced on social media that Austin was the wife of a Conservative councillor, which were then repeated by SNP MP Joanna Cherry. Cherry later apologised to the nurse on Twitter.
Sturgeon opened the debate by saying a vote for the SNP would be a vote against Conservative government cuts and a way to keep Theresa May "in check" during the upcoming Brexit negotiations.
"A vote for the SNP will back our plan to end the Tory cuts that are holding our economy back, damaging our public services, and pushing more people into poverty," said Sturgeon.
"A vote for the SNP will strengthen Scotland's hand against an extreme Brexit. And a vote for the SNP will protect Scotland's right to make our own decisions. Now, more than ever, it is vital to have strong SNP voices standing up for Scotland."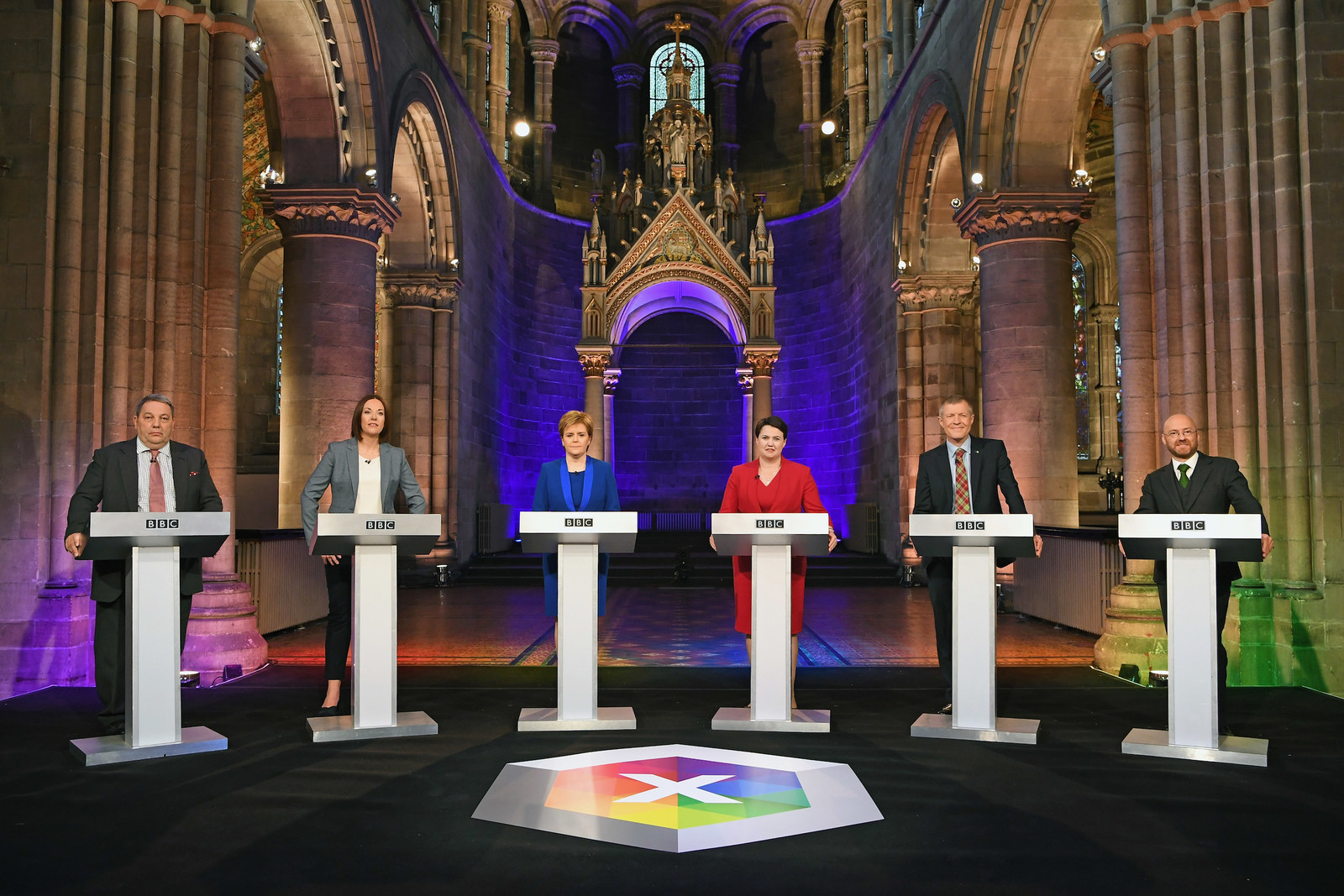 Speaking after the debate, Scottish Labour election campaign manager James Kelly said the first minister had had a "nightmare night" after the attacks from the nurse and a further complaint from a teacher.
"Nicola Sturgeon had a nightmare night as she found herself heckled by teachers and nurses on her catastrophic record running our schools and hospitals," said Kelly.
"Ruth Davidson was silent on the UK government's record – the rape clause, the bedroom tax, and hard Brexit. Just like Nicola Sturgeon, all she has to offer Scotland is an extreme form of nationalism."