This Is What It's Like To Be Standing In The Way Of The SNP Juggernaut
It's difficult to win a seat in Scotland if you're not in the SNP, and practically impossible if you're standing against Nicola Sturgeon. BuzzFeed News spoke to candidates with the unenviable task of trying to unseat the first minister.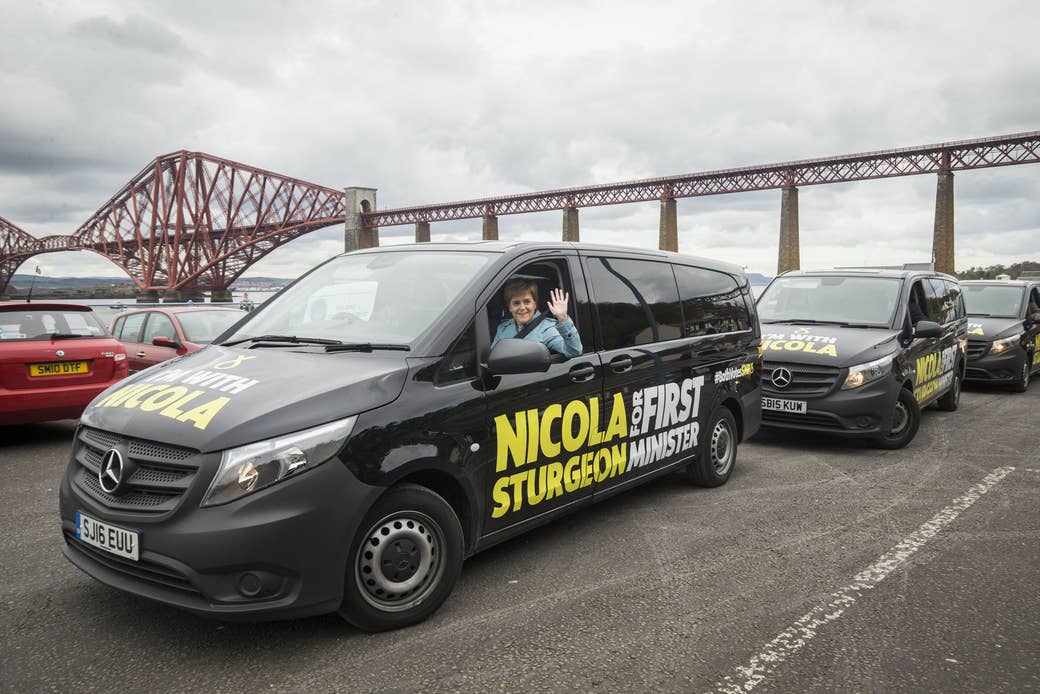 "Let's face it, the odds of me getting elected are a lot less than the odds you could have got on Leicester City winning the Premier League," concedes Graham Hutchison, Nicola Sturgeon's Tory opponent in her Glasgow Southside seat. "But if we come out of this campaign having given the first minister a hard time and she starts paying attention to what's happening here, then that's a victory for me."
Hutchison is one of hundreds of candidates standing in Thursday's Scottish election who knew they had lost long before the campaign began. His fate is particularly certain because he was chosen to stand against Sturgeon, the part politician, part rock star SNP leader who receives wild adulation wherever she goes. But throughout Scotland, the majority of candidates know that if they aren't wearing a yellow-and-black SNP rosette, they're not on the way to Holyrood.
Nine years after the SNP first assumed power, candidates from Labour and the Conservatives can reel off a list of the Scottish government's failings until they're red (or blue) in the face. They argue the SNP's single-minded focus on independence has left Scotland's education system unequal and in decline, accuse the Scottish government of having a poor record on civil liberties, and ask why life expectancy in Scotland remains two years lower than in England.
In the microcosm of Sturgeon's Glasgow Southside constituency, local residents at a hustings event last month voiced their anger at the deprivation and neglect in the area, with one calling it "a shitehole". Serious violent crime is 159% higher in Govanhill than in the rest of Scotland, alcohol-related hospitalisation is 153% higher, and "income deprivation" is 85% higher.
"The SNP feel they have the working-class vote sewn up – Labour don't look like making a comeback – so it feels like they've moved on," says Tory candidate Hutchison. "People here couldn't hope to have a higher-profile advocate to speak up for them, and she's not done it at all. It's the same questions locally as nationally: The SNP is saying if you want a better future, vote for one – why haven't they implemented all these changes in the past nine years?"
The Labour candidate in Glasgow Southside, local councillor Fariha Thomas, says many residents are disillusioned by Sturgeon and that the first minister has avoided all but one hustings event during the campaign. "I'm sure there are lots of people who think she's been a good MSP," Thomas says, "but I get a lot of people who say she'd promised this or that, to improve people's lives, and not delivered."
Labour candidate Fariha Thomas and Conservative candidate Graham Hutchison.
Thomas continues: "She takes credit for things which aren't in her remit, things that fall to the council but she takes credit for them. We're being massively hampered by the cuts that she's visited on Glasgow – the decrease in local authority funding – which are completely disproportionate to what has come from Westminster, so she is to blame."

But, try as they might, the SNP's opponents can do nothing to dent the party. Sturgeon is all but certain to be re-elected as Glasgow Southside MSP, and nationwide SNP support has remained at around 50% from beginning to end of this campaign, despite the frenetic efforts of Scottish Conservative leader Ruth Davidson and Scottish Labour leader Kezia Dugdale, meaning Sturgeon will almost certainly be sworn in as first minister again after the election.
During this campaign, Labour has attempted to outflank the SNP from the left by proposing a 50p tax rate for the highest earners using the Scottish parliament's new powers, while the Conservatives have tried to make the most of the 55% No vote by boasting of their pro-union credentials and opposing a second referendum. Neither strategy has had a significant impact on either party's poll ratings, which have been fluttering around from the high teens to 20%.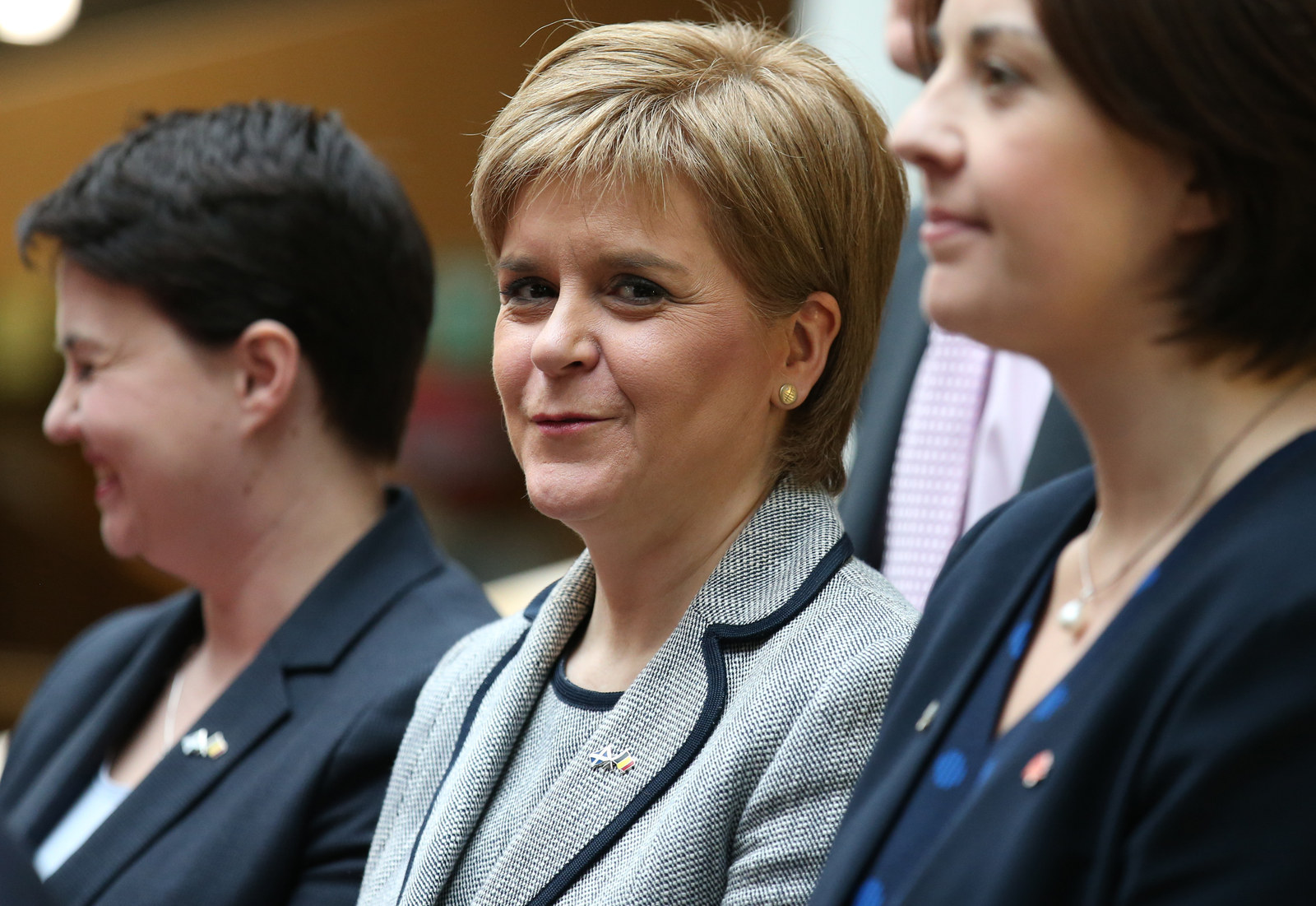 What has happened, according to leading psephologist Professor John Curtice, is that the SNP has locked in the vote of the vast majority of people who backed independence in 2014. According to Curtice, 83% of those who voted Yes will be voting SNP on Thursday, even though around 80% of SNP voters prefer Labour's 50p income tax plan for high earners to the SNP's 45p rate.
As was the case in last year's general election, people are largely voting along the same lines they did in 2014 rather than on policy details, an effect increasingly being referred to as the "Ulsterisation" of Scottish politics, where the main thing that decides how you vote is whether you feel the country should break away from the union or not.
"I think it's moving in that direction," said Hutchison. "I think that's been important in this election – everyone knows what the SNP stand for but Labour and the Lib Dems have been a bit woolly. It's left us standing alone as defenders of the union. That demarcation has been put in by the electorate rather than us, but it's definitely getting to a point where it's along unionist and nationalist lines."
Thomas says some people who have taken Labour posters to put up over the years are now frightened to do so in case they "get their windows panned in" by independence supporters: "I was speaking to someone the other day who said she no longer speaks to her sister because of the referendum issue – they haven't spoken for a year and a half."
"It's a big part of the debate, and some people who are strongly unionist think Labour isn't hard enough because we've said this is about Labour politics and socialism and not the referendum," Thomas says. "The Yes/No thing is definitely impacting on this election – it's obvious when you walk around and you still see people with 'Nicola Yes' posters all over the place."
The same pattern is being repeated all over the country, and it's not out of the question that the SNP could win all but a couple of 73 Scottish parliament constituencies. Labour, the Conservatives, and smaller parties such as the Greens, the Lib Dems, UKIP, and RISE, have largely been left to fight it out for seats on the proportional "regional list" system, which runs alongside the first-past-the-post constituency vote and requires much less of a vote share for a party to get an MSP.
In the face of what will almost certainly be another SNP majority, with little chance of rivals making any serious dent in the party that's been in government for nearly a decade and shows no signs of slowing down, doesn't it all feel a bit hopeless for those standing against Sturgeon's party?
"It's frustrating," says Hutchison. "But, and it might take another term in government, people are beginning to see through all the smoke and mirrors of it. What are the SNP doing for Scotland? Blaming Westminster for everything that's going wrong and papering over how bad they've been in government for the past nine years."
Thomas says: "Well, it's up to the electorate. I still think it's very important to get the Labour message across here, the message that we can use the powers to create the Scotland we want to have, and that we don't need these cuts in services brought in by the SNP. We have to keep arguing."
Scotland has been somewhat spoiled for era-defining and expectation-shattering moments of democracy in recent years. First, the SNP did what was thought to be impossible by winning a Holyrood majority in 2011; that success allowed them to hold the "once in a generation" independence referendum three years later in 2014; and then the subsequent Yes/No divide in Scottish politics allowed them to swallow the opposition in last May's general election.

It's now almost exactly a year since voters in Scotland created history by electing 56 SNP MPs out of a possible 59, causing former party leader Alex Salmond, with his chest even more puffed up than usual, to proclaim: "The Scottish lion has roared tonight."
In Thursday's Holyrood election, "the Scottish lion" – whatever it is – will only pause for a moment of quiet reflection before returning to business as usual to vote in another SNP government. No one knows when, or if, that new normal in Scottish politics will change.