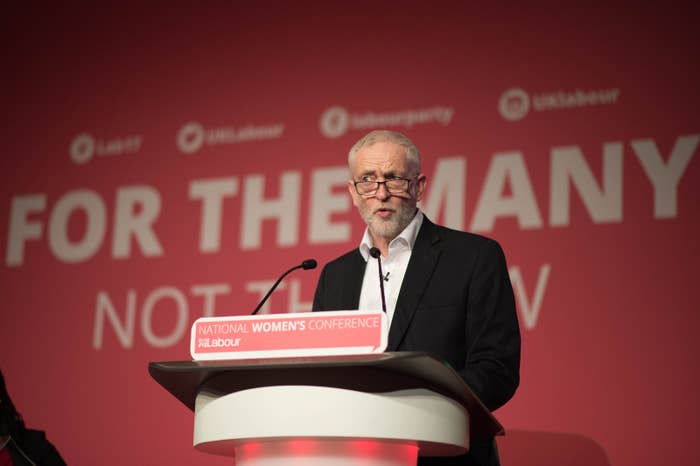 A row has broken out on the first day of the Labour conference in Brighton after some MPs reacted with incredulity that Brexit wasn't selected as one of the topics to vote upon at the three-day event in Brighton.
Delegates at the Labour conference agreed on Sunday afternoon not to hold a potentially awkward vote on Brexit amid continuing confusion over whether or not the party at large wants to back staying in the European single market.

Earlier on Sunday, Corbyn told The Andrew Marr Show that he would listen to those in the party who wanted to remain in the single market, saying he "understands" the Labour members who wanted to remain part of it after leaving the EU.
After it became clear that Brexit would not be one of the eight issues to go up for a vote, known as a contemporary motion, pro-single-market MPs reacted with fury and accused the Corbyn pressure group Momentum of blocking debate.
In an email to members ahead of the conference, Momentum encouraged people to choose topics other than Brexit, calling it "a potentially time-consuming cul-de-sac and a topic that will be covered elsewhere", according to The Guardian.
"This is a Momentum and Campaign for Labour Democracy stitch-up," Labour MP for Edinburgh South Ian Murray told BuzzFeed News. "They talk about party democracy but stop the debate on the biggest issue our country has faced in generations."
Other Labour MPs, including Chuka Umunna, Heidi Alexander, and Stephen Doughty, tweeted their confusion as to why Brexit wasn't involved, with Umunna accusing the party of "ducking the debate" instead of leading it.
Labour MEP for the North East of England Jude Kirton-Darling said she wouldn't normally "break rank" but that the decision not to have a vote on Brexit policy was a "terrible decision" by the conference.
Labour MPs Chris Leslie, Ben Bradshaw, and Alison McGovern also joined in with the criticism, saying members would be "shocked" that there had been "manoeuvring" to stop Brexit being discussed.
The move was also criticised by people from other parties, including the first minister of Scotland, Nicola Sturgeon, who said the failure to vote on Brexit policy was an "abdication of responsibility" from Labour.
A spokesperson for Momentum said the group chose to prioritise housing, the NHS, social care, and railways over Brexit for the contemporary motions, and pointed out that there would be a debate on Brexit scheduled for Monday morning – although that will not see a vote on the contentious single market issue.
A Momentum spokesperson said: "Brexit is set to be debated and voted on at conference on Monday, so it is not true to say it is being ignored at conference. Housing, the NHS, social care, and our railways are crucially important issues for the country which deserve to be discussed at conference, so for that reason we supported them in the priorities ballot.
"Clearly there are a range of other critical issues which deserve to be discussed but we know both the public and Labour members care a lot about these issues, and it is vital Labour sets out a genuinely progressive vision on them in order to win the next election, which is why we supported them in the ballot."