Theresa May Just Claimed The Snap Election Saved The Union Between Scotland And The UK
"Together we saved the Union," said the prime minister, holding Ruth Davidson's arm aloft.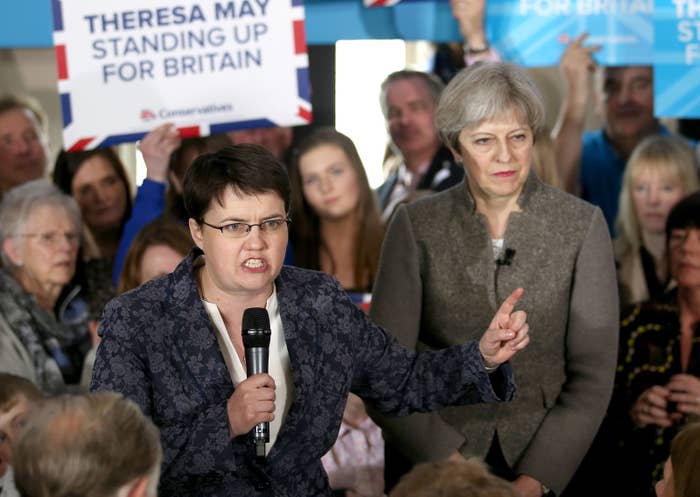 Theresa May has claimed that holding the election in which she lost her overall majority in the House of Commons has saved the Union between Scotland and the rest of the United Kingdom.
The beleaguered prime minister, talking at the Scottish reception at the Conservative party's conference in Manchester, held Ruth Davidson's arm aloft and said that, together, they had made the United Kingdom safe.
"I want to say something else about the results that took place at the general election in Scotland," said the Theresa May, taking the Scottish Conservative leader's hand and dragging Davidson towards her.
"Yes, prime minister?" said Davidson, while May continued to a cheering crowd: "We didn't have the overall result that we wanted – but together we saved the Union."
The prime minister was referencing the 12 seats which the Scottish Conservatives gained from the SNP in June, after which the first minister of Scotland Nicola Sturgeon postponed her plan to hold a second referendum on independence.
"Elections can be strange things – you get 42.4%, you get 2.3 million more votes, the highest share for over 40 years, 12 more elected MPs in Scotland," said the prime minister.
"But there we are. All I can tell you is those 12 MPs along with David [Mundell] – David has been fighting a lonely battle from Scotland and has been doing a fantastic job, but those 12 Scottish Conservative MPs are doing more in the House of Commons to give the voice of Scotland in Westminster than all the SNP MPs put together."
May added: "The SNP in Scotland now have to answer the question what they are doing in the government in Scotland, and there is no better woman than Ruth to hold them to account."
The event also saw Davidson leading the room in a chorus of "Happy Birthday" for the prime minister, who turned 61 today.
An SNP spokesperson said: "We would rather they focus on saving Scotland from a Brexit outcome it neither wants nor voted for."