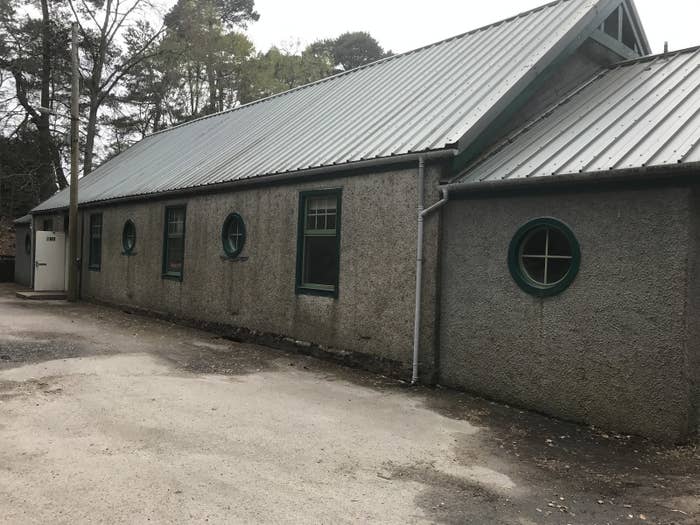 Theresa May has held an election campaign rally in a small hall in a Scottish wood which was so remote that no TV news channels were able to provide live coverage of the event due to a lack of reception.
The prime minister appeared alongside Scottish Conservative leader Ruth Davidson to talk about how her "strong and stable leadership" – a phrase which she repeated nine times – would strengthen the United Kingdom.
The event, held at Crathes Town Hall on the outskirts of the small village of Banchory in Aberdeenshire, was attended by around two hundred party activists and candidates crammed into the tiny venue.
The Conservative election campaign has been criticised by the opposition parties for being overly-staged managed and keeping the prime minister away from the public in tightly-controlled venues and workplaces.
The rally was held in the West Aberdeenshire and Kincardine seat which is currently held by the SNP but which the Conservatives have singled out as one of their top four priority target seats in June.

Davidson's party is currently on a polling high with some polls during the week projected that the Scottish Conservatives will take around 30% of the vote in Scotland with around nine seats compared to their current one.
After a short introduction by Davidson, the prime minister delivered a speech which has quickly become familiar to those following the election campaign, in which she contrasted her leadership against Labour's "coalition of chaos".
Broadcast journalists complained that they would be unable to show the event live on their respective channels, and journalists from pre-selected newspapers were allowed to ask questions after the speech.
Speaking specifically about the election in Scotland, the prime minister warned that every vote for the SNP would "undermine" her Brexit negotiations and help Labour leader Jeremy Corbyn to become prime minister.
"At this election, people will have a clear choice between five years of strong and strong a stable leadership with me and my team or a coalition of chaos led by Jeremy Corbyn," said May.
"That's what's on offer of course, if you look at the other parties, they're lining up to prop up Jeremy Corbyn – we see it from the Liberal Democrats and we see it from Nicola Sturgeon's Scottish nationalists."
The crowd of activists booed the mentions of Corbyn and Sturgeon to which, in a rare bit of audience interaction, the prime minister laughed and cupped her ear towards the audience as they jeered.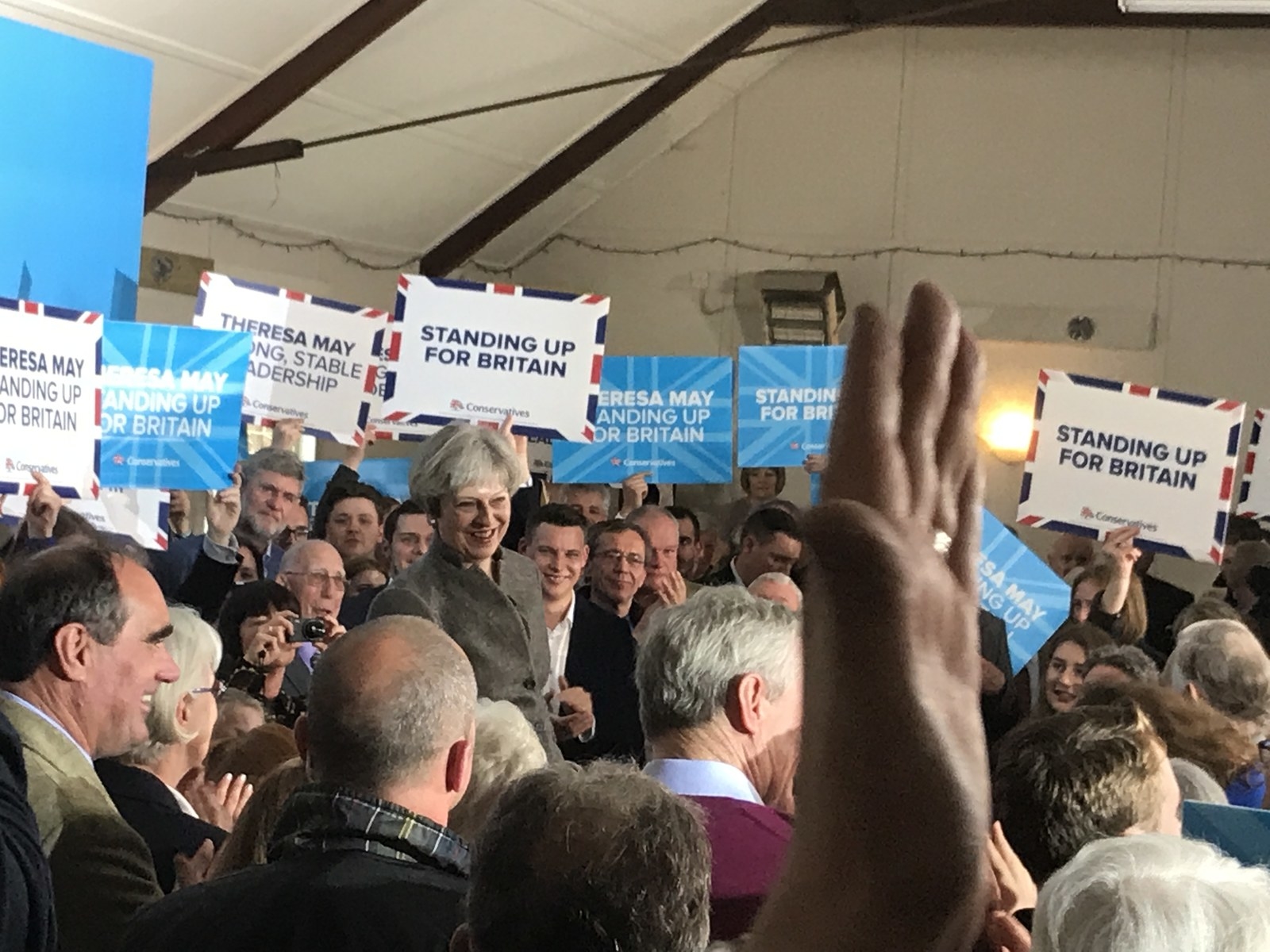 May added: "What they're doing is they want to disrupt our Brexit negotiations and stop us from taking Britain forward. Every SNP MP that's elected to Westminster puts a step closer Jeremy Corbyn getting into Downing Street."

The prime minister also grouped together "extremists" with Sturgeon's party, saying the only way to ensure a "secure and united nation" was by "taking action against the extremists who would divide us and standing up against the separatists who want to break up our country".
May concluded: "There is only one party that is committed to the union. There is only one candidate for prime minister who will stand up to defend the United Kingdom."
Commenting, Scottish Labour general election campaign manager James Kelly said: "It's laughable for Theresa May to claim the Union is safe in her hands. The Tories' reckless Brexit gamble has given the Nationalists the excuse they have been looking for to try to force another independence referendum on the people of Scotland. Only Labour can bring our country together and give everybody a fair chance in life."
Stuart Donaldson, the SNP MP for West Aberdeenshire and Kincardine, said: "The prime minister's speech from Aberdeenshire could not be broadcast due to signalling issues – an irony which will not be lost on people living in rural areas who wish the UK government would do more to support connectivity."
He added: "I know the village hall well – unfortunately it wouldn't be big enough for one of our meetings."