There Have Been Huge #ScotlandAgainstTrump Protests Across The Country
"We are a polite people, but we are a firm people, and we show our resistance," a local MSP told BuzzFeed News. "We see no Scottish values in the actions of Donald Trump."
Thousands of people in Scotland have taken to the streets in cities and towns across the country to protest against President Donald Trump's crackdown on immigration from seven predominantly Muslim countries.
In Glasgow, Edinburgh, Dundee, St Andrews, and Aberdeen, huge crowds united to send a message to the President of the United States that there is massive opposition to his executive order, which included the suspension of the US refugee program.
The protests came on Monday night after over 1 million people in the UK signed a petition to rescind Trump's invitation for a meeting with the Queen in what's known as a state visit.
BuzzFeed News attended the protest in Edinburgh where a crowd of over 5,000 protesters, according to the local police, brought the city centre to a standstill by taking over the main city thoroughfare of Princes Street on a march to the Holyrood parliament.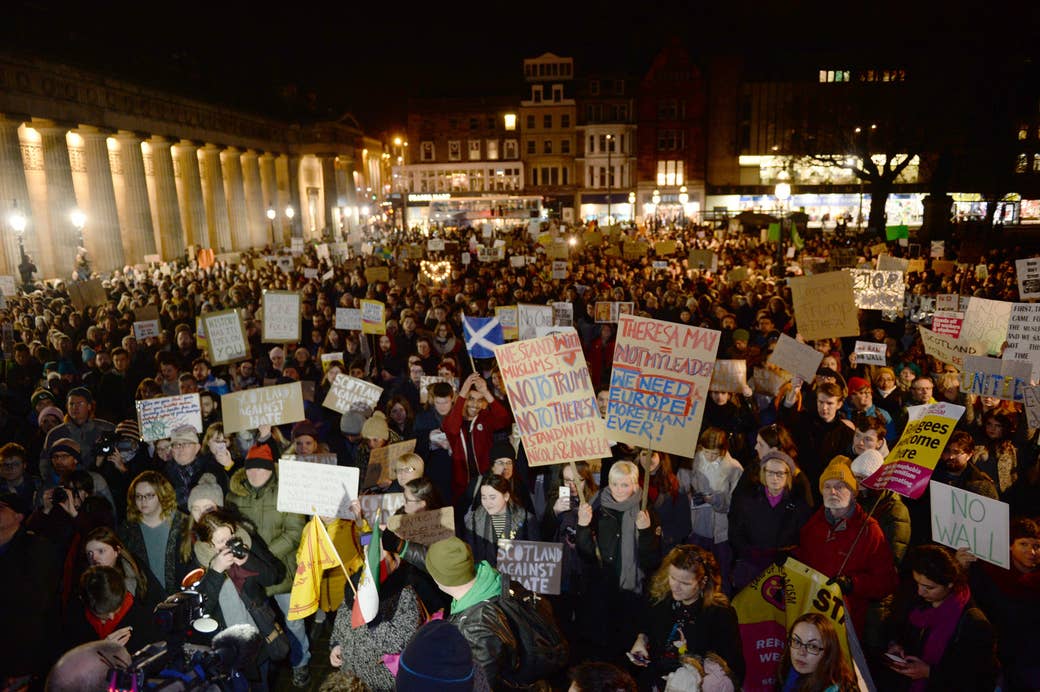 Speakers from across Scotland's main political parties were in attendance at the march and told BuzzFeed News that Trump is not welcome in Scotland – the country his mother came from – as long as his immigration policies remain the same.
"The scenes over the weekend have given us pause for thought about our own values," said Liberal Democrat MSP Alex Cole-Hamilton. "People don't recognise this America. Theresa May must grow a backbone, she needs to show strong and reasoned opposition in the face of draconian policies."
The MSP added: "While Trump is playing these fascist games, he will have no comfort in this country. The last time he visited, Scotland treated him with a healthy irreverence. We are a polite people, but a firm people, and we would show our resistance. We see no Scottish values in the actions of Donald Trump."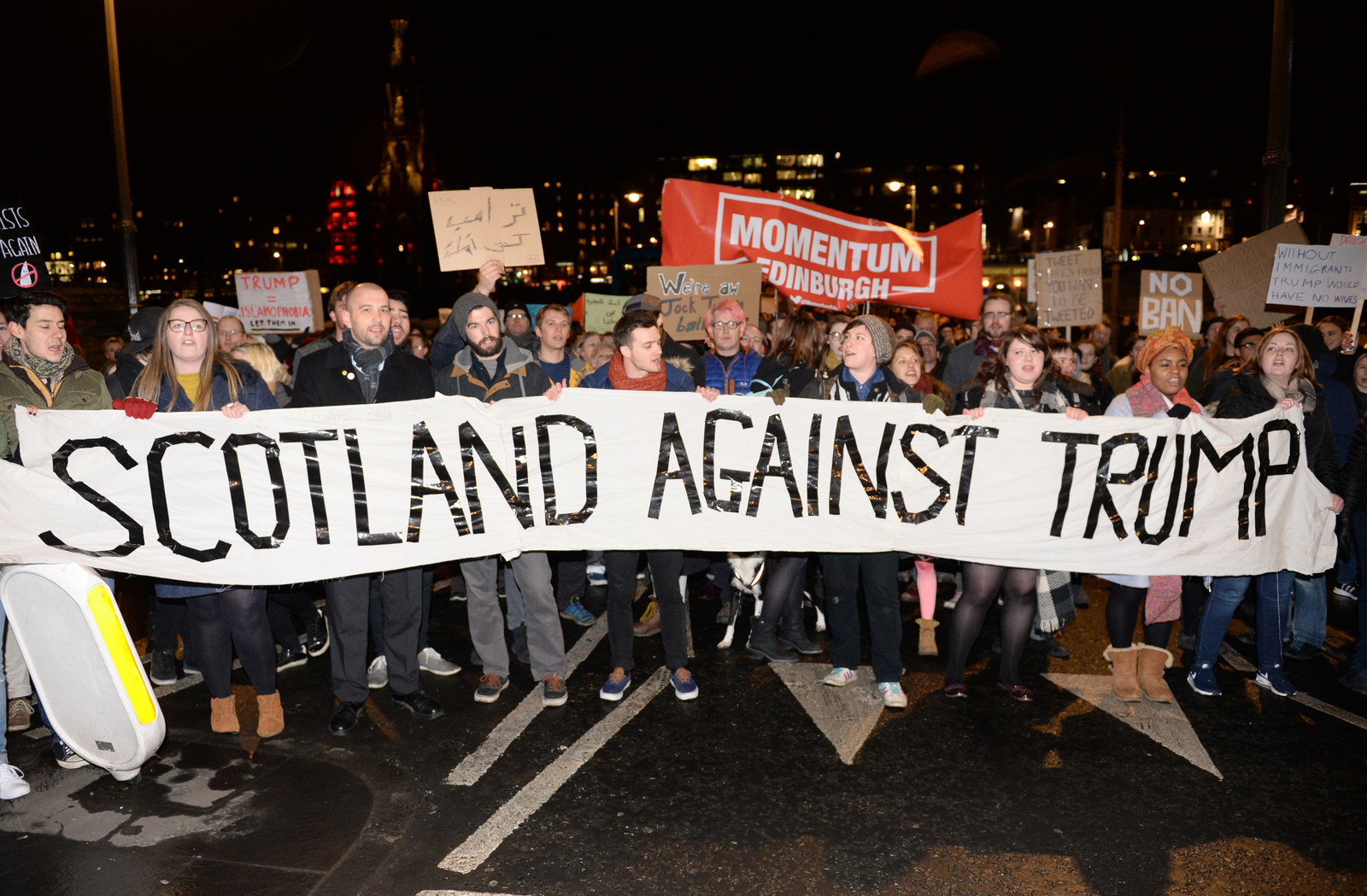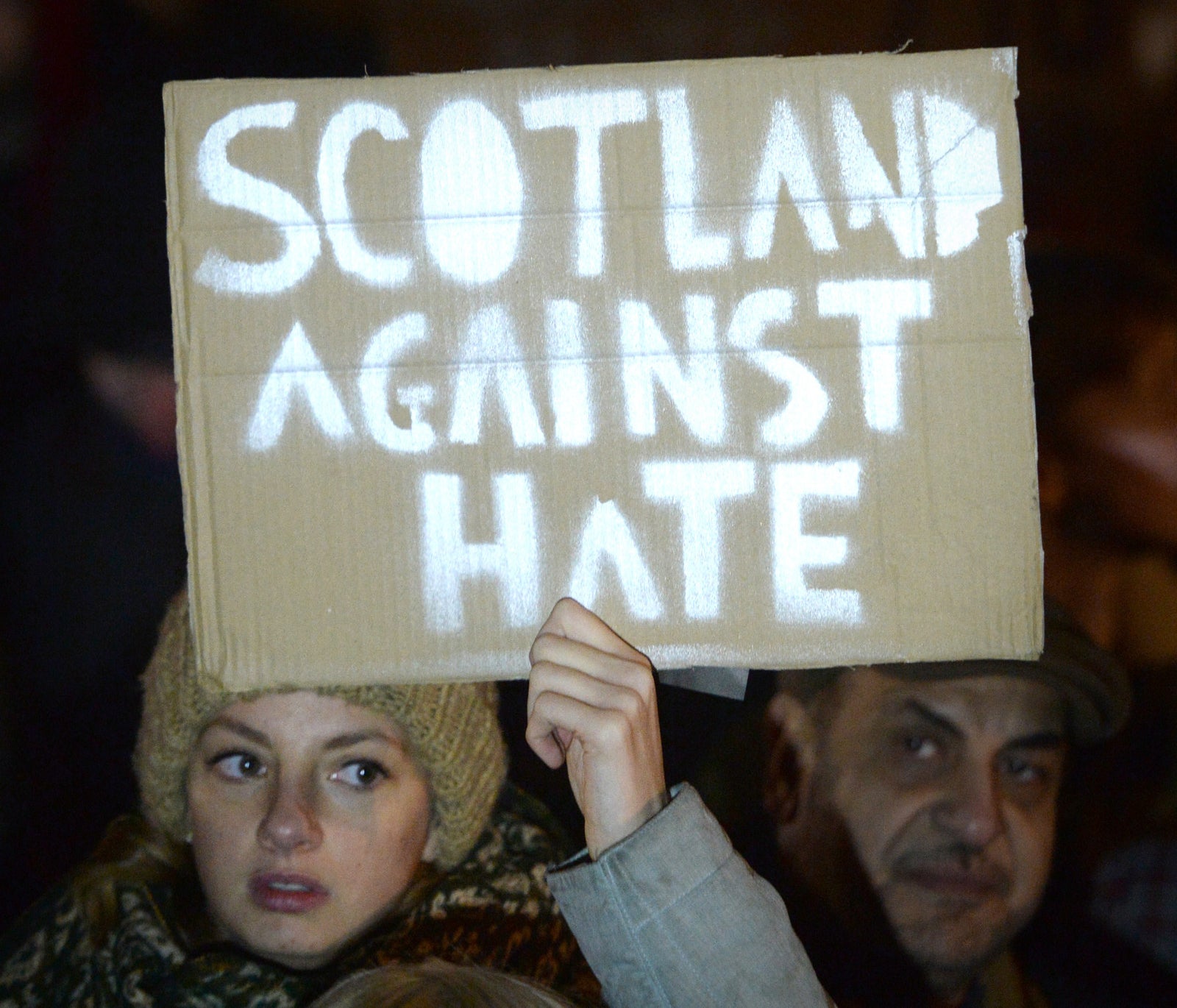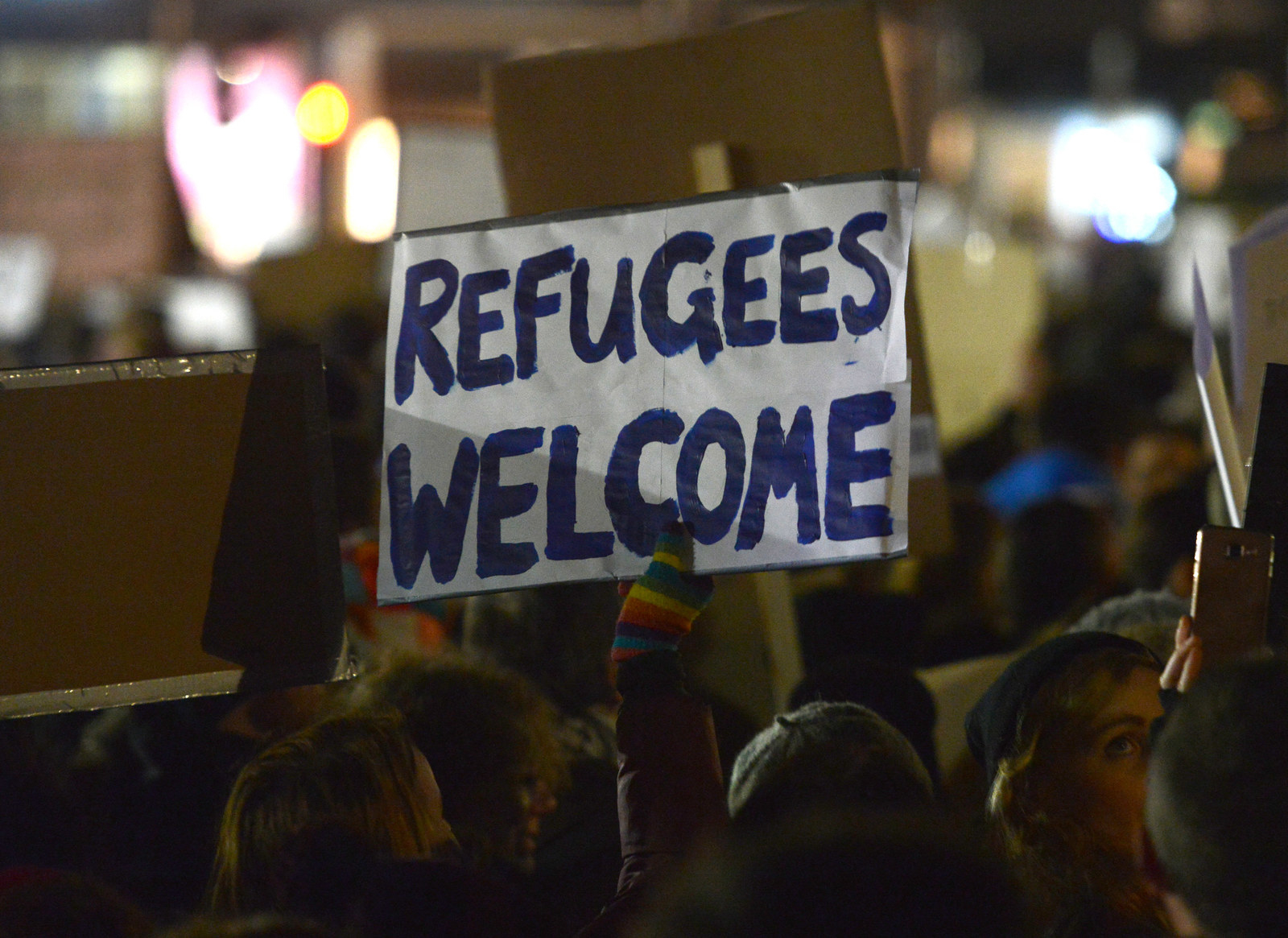 Trump, who visited Scotland during his presidential campaign on the day after the UK voted to leave the EU, is reportedly keen to visit his ancestral homeland when he embarks on his state visit to the UK in the future.
The US president owns two golf courses in the country and frequently discusses his Scottish mother, joking in an interview with The Sunday Times that his Scottish roots means he likes to "watch after [his] pennies".
However, Maggie Chapman, the co-convener of the Scottish Green party who immigrated to Scotland from Zimbabwe, told BuzzFeed News Trump will not be welcome in the country until he changes his immigration policies, and added that the president will face hostile resistance if he tried to visit.
"I'm here at this protest against Trump as a woman and an immigrant," said Chapman. "The things he does and stands for are abhorrent. I find it obscene, and we have to come together in protest. We will stand up to this, his fascism is not welcome here."
She added: "He would face huge opposition if he tried to come here. I'd be interested to see how the security infrastructure were mobilised to either support a peaceful protest or squash our right to protest. Regardless, I will be there with many many others if he sets foot in Scotland."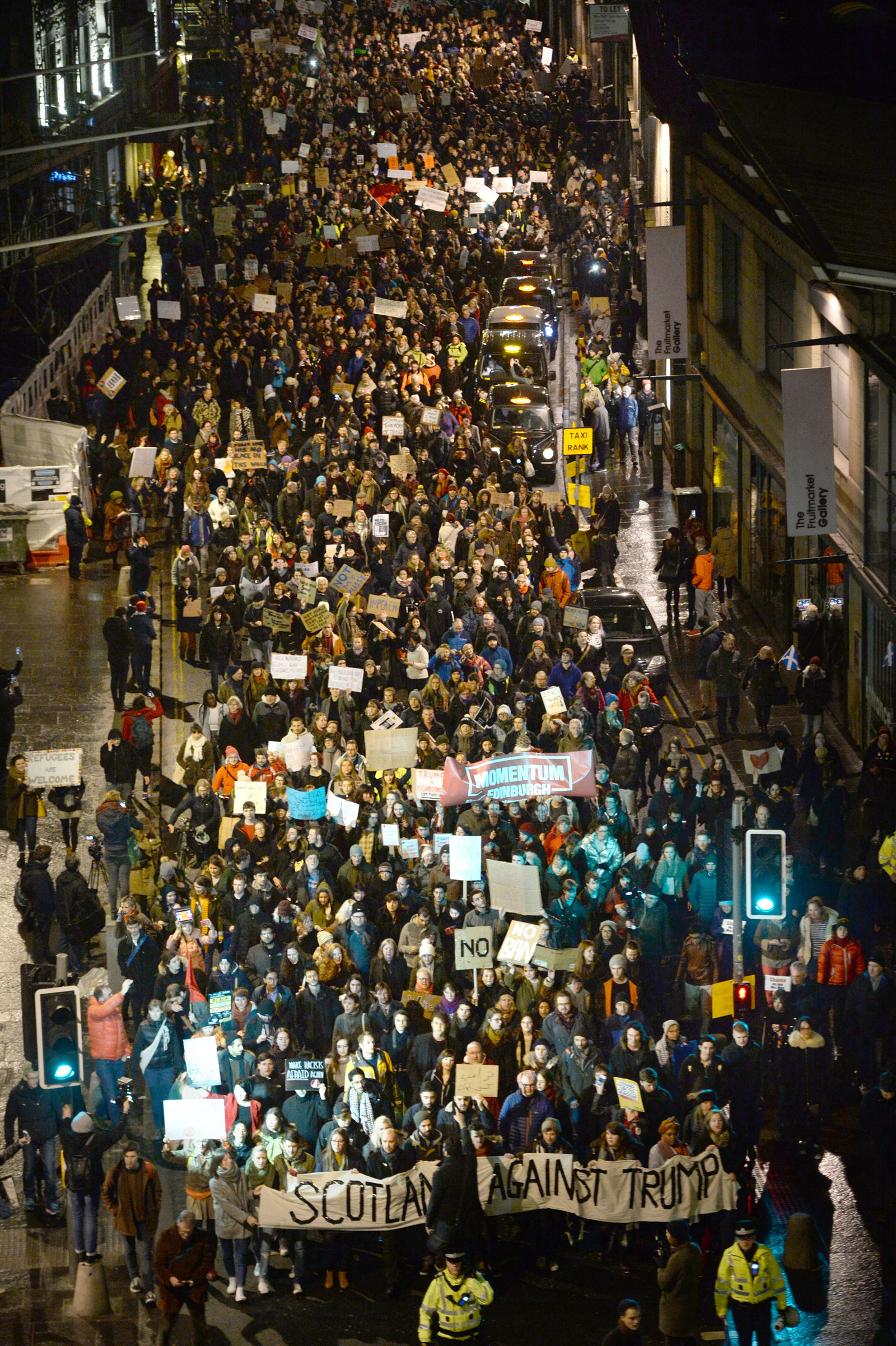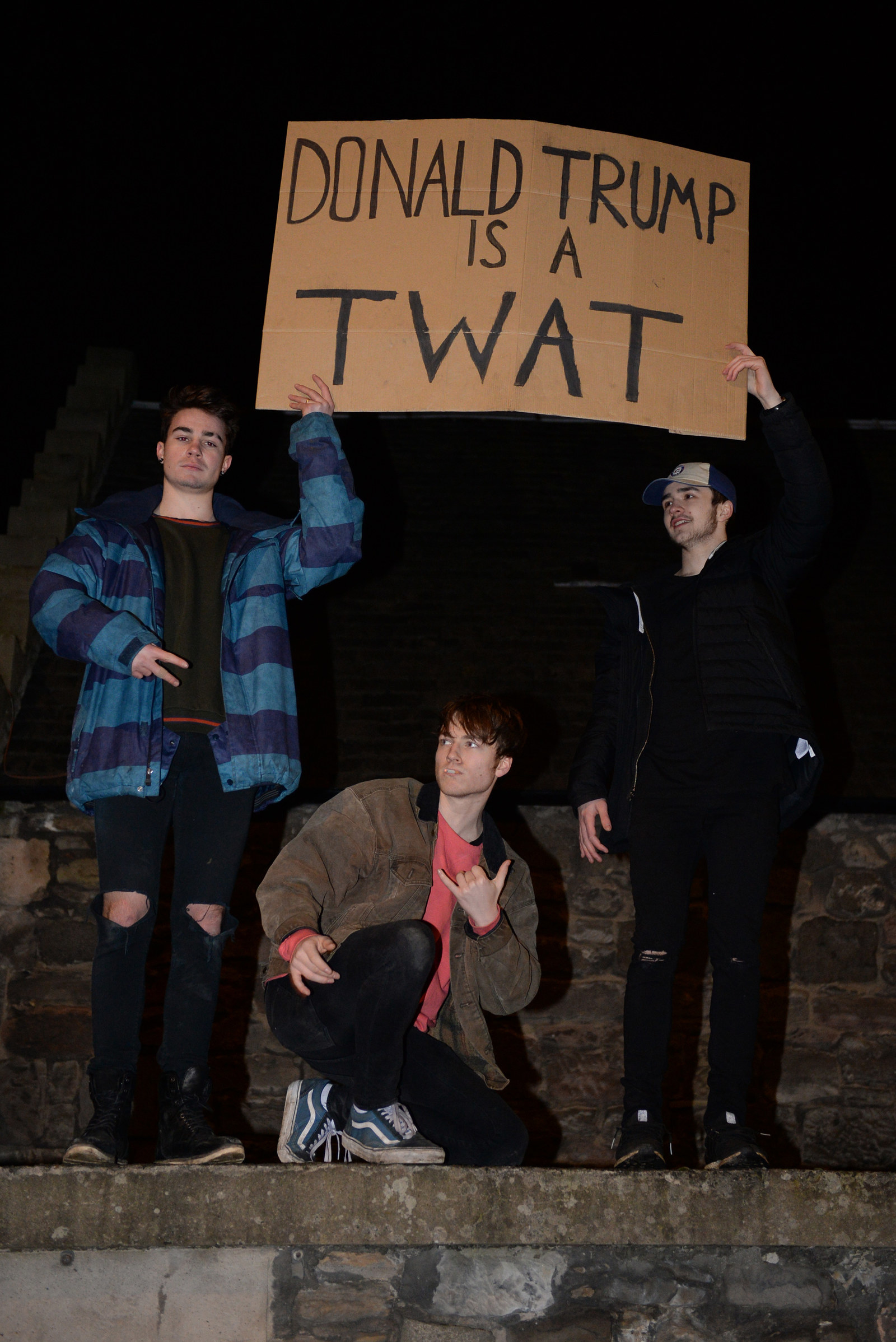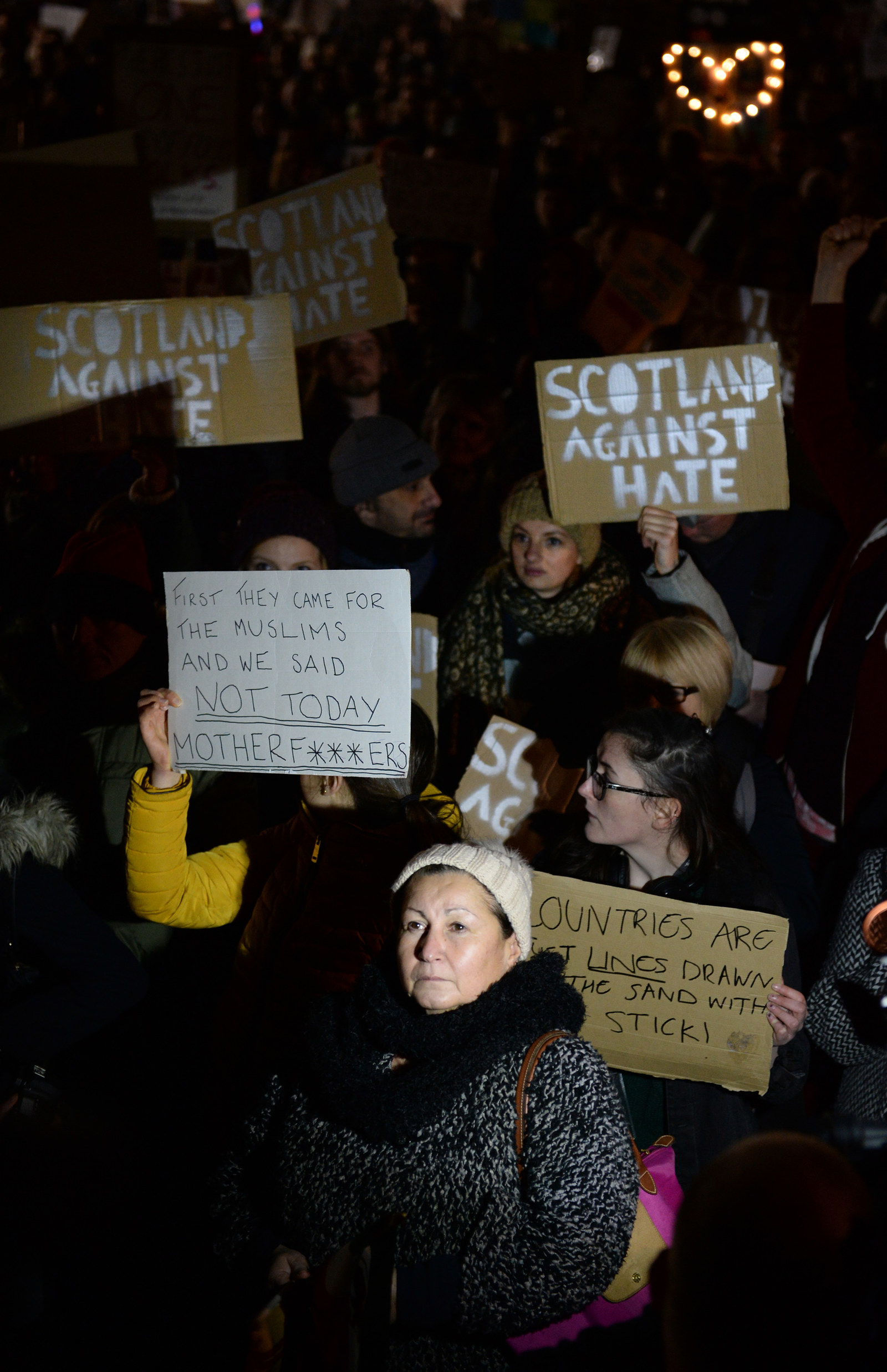 The peaceful protest marched roughly a mile from The Mound in Edinburgh's city centre to Holyrood where the devolved Scottish parliament meets, although the grounds of the parliament struggled to hold the huge numbers of protesters.
At the parliament, there were further speeches from the cross-party Scotland Against Trump group, including from a member of Labour's national executive committee and the chairperson of Scottish Labour's Young Socialists, Rhea Wolfson.
"I'm here for three reasons; the first is to say to Donald Trump that the world is watching you, we see what you're doing and we stand with those who you are hurting," said Wolfson. "The second is to show that we stand with our brothers and sisters internationally, and the third is to call on Theresa May to stop enabling Trump and this administration. She is shaming us, herself, and Britain."

Wolfson added: "There would be a very hostile reaction if Trump tried to visit Scotland. It would be the same across Britain – people would be up in arms and that would be the right reaction."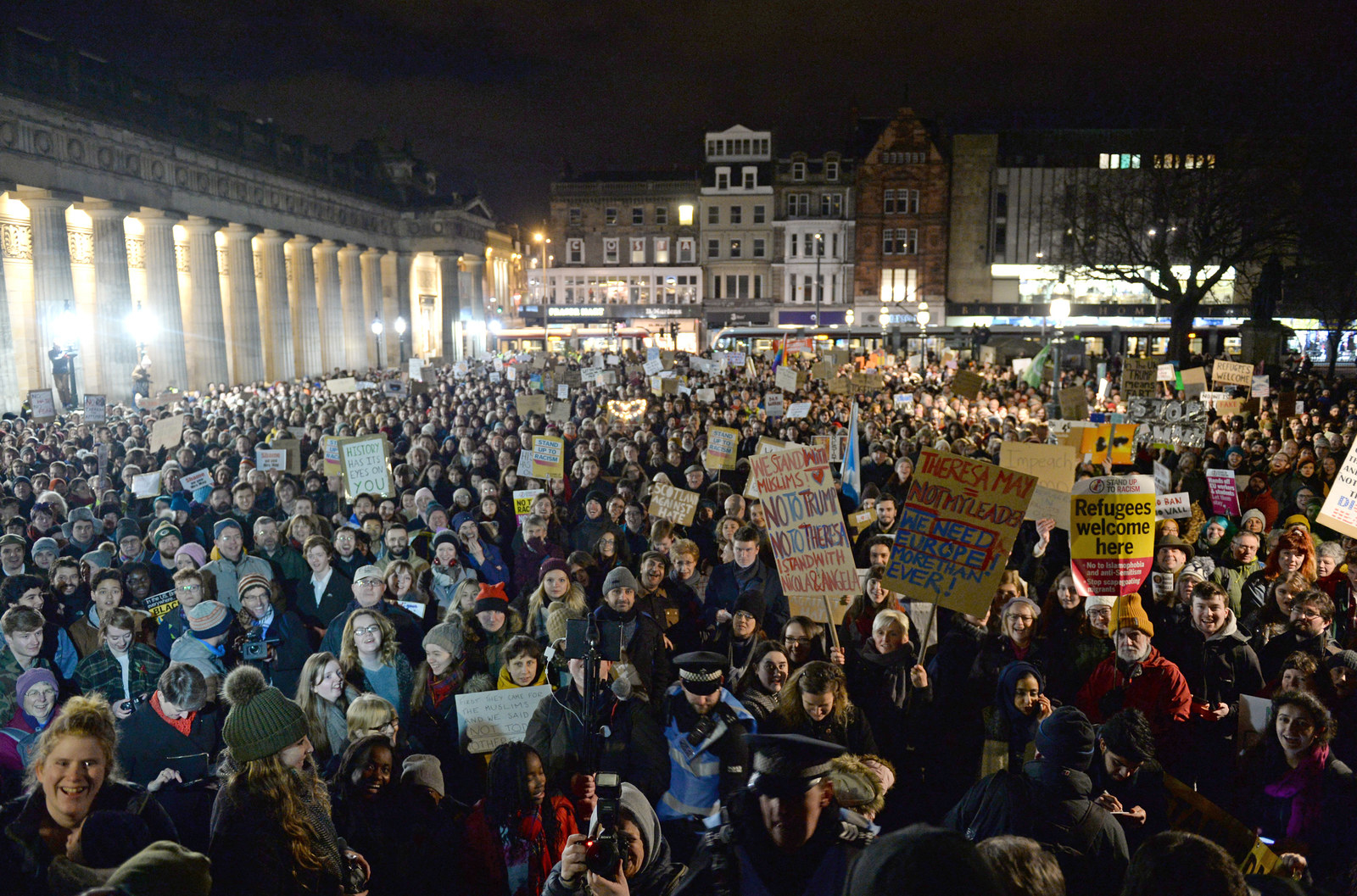 An MSP from Scotland's governing party, the SNP, told BuzzFeed News he had been speaking to representatives from Edinburgh's Muslim community who had told him they were heartened by the support they were getting from the locals.
"This was organised in 24 hours and it's astonishing how many people have come out on a cold Monday night to say this is wrong," said Ben Macpherson. "Trump needs to reflect that this executive order is an act of discrimination and the world will not sit by and say this is tolerable.
"This is wrong."