Today, 12,000 SNP members packed themselves into a stadium in Glasgow to celebrate referendum defeat.
Alex Salmond called it "the greatest political conference ever in these islands", BuzzFeed News calls it the strangest political event in Scotland since Robert the Bruce felt it was appropriate to take leadership advice from a spider.
It was strange enough that a stage which has hosted Lady Gaga, Beyonce, and One Direction was now home to Stewart Hosie, MP for Dundee East.
Stranger still, however, is how relentlessly triumphant it was. The SNP doesn't feel like a party which just lost a referendum – no party feeling sorry for itself hires a pair of glitter cannons.
But that's exactly what the SNP did today. Their 12,000-strong audience – mainly made up of new members gained since the referendum – sang, cheered, whooped, danced, waggled foam fingers and had golden glitter shot at their faces.
When Alex Salmond appeared, they went absolutely nuts. When Nicola Sturgeon spoke, grown men burst into tears. When anyone who didn't support the Yes vote was mentioned, like pantomime oddballs The Krankies, they were roundly hissed at by the faithful 12,000.
Kilted men wearing saltire capes and foam fingers on both hands danced in the aisles as "The Red Hot Chilli Pipers" played a bagpipe version of Don't Stop Believing.
A man called Stanley Odd performed a rap called Son, I Voted Yes, which is "a personal favourite of Nicola Sturgeon's", and the crowd weren't even dispirited when Eddi Reader sang about heather or hills or something.
To cap it all off, Dougie MacLean sang his song, Caledonia, as Alex Salmond and Nicola Sturgeon held a saltire aloft in front of a tearful, euphoric crowd.
Now, you might, quite rightfully, be asking what in the absolute hell is going on here. The SNP lost the referendum, why aren't they licking their wounds rather than smearing them in glitter and pretending they won?
The secret is that they think they did win, in a way. Sturgeon said the No side "look like losers, and what bad losers too". (Reminder: they aren't losers).
But the SNP have gained over 60,000 new members since the referendum as the 45% of people who voted Yes have rallied behind the party and its new leader, Nicola Sturgeon.
Their positivity has been even further compounded by the collapse of their rivals, Scottish Labour, who would, at the moment, struggle to sell out a bath-tub. The future looks relatively rosy for the SNP.
However, they still can't resist a dig at some people. Salmond once again attacked the BBC, calling for a "true public service broadcaster for this nation", and whined about the lack of Yes-supporting newspapers.
Some criticism must also be reserved for the moment when Sturgeon said "right here, right now, democracy rocks" – BuzzFeed News is still attempting to de-cringe.
But, having created a world in which Stewart Hosie – a relatively obscure MP who few fancied to win deputy leadership of his party last week – can be screamed at by a stadium full of adoring fans, the SNP is clearly doing something right.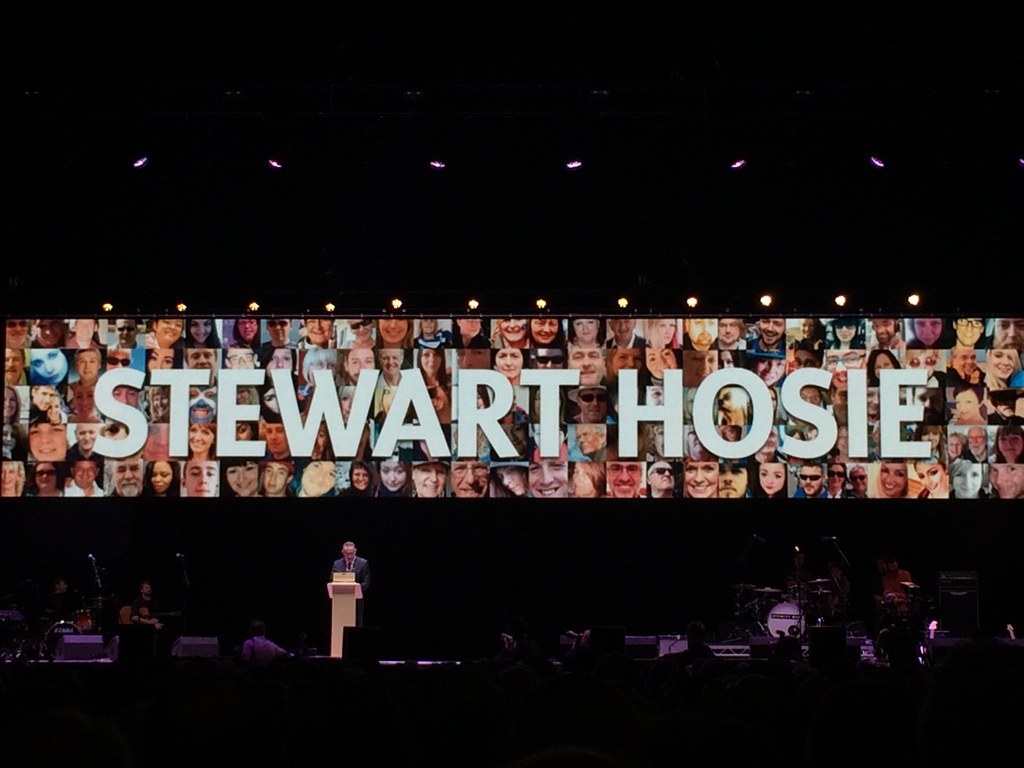 This is 2014, when people are pre-programmed to hate politicians. In Scotland, it's in equal parts encouraging and disconcerting that one party, at least, is capable of holding an event where 12,000 people are even willing to turn up.
As one SNP member joked as the arena was emptying: "David Cameron could only attract an audience like this if he was being hanged."
Looks like there are no comments yet.
Be the first to comment!