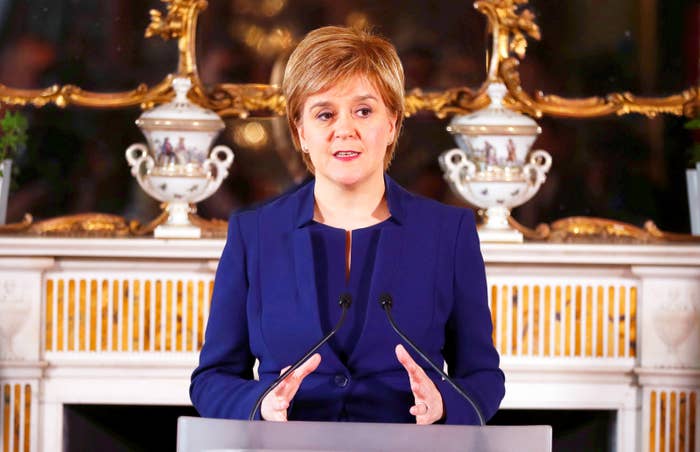 The SNP's drive to raise £1 million for a second independence referendum campaign appears to have been quietly shut down in the wake of the party losing 21 seats in the general election last week.
When Nicola Sturgeon announced her push for a second referendum in March, the party launched a site for information about independence, a page to pledge support, and another page to donate money for the campaign.
The SNP has insisted the donation page was shut down so the party could focus on raising funds for the general election, but analysis from BuzzFeed News suggests the page was live as recently as last Thursday – the day of the election.
The party has not denied this and did not respond to repeated questions from BuzzFeed News on when the page was taken offline.

The SNP also did not respond to a question from BuzzFeed News on whether, now the general election is over, the fund will be reactivated to allow supporters of a second referendum to donate money to the efforts.

However, the party has indicated that the fund – which raised around £480,000 – was due to close down shortly regardless of the election result and said: "The page was taken down because our fundraising efforts were focused on the election."
BuzzFeed News understands the page was originally intended to stay live until June 20, but was brought down early.
The SNP suffered losses at the election, including the seats of former first minister Alex Salmond and deputy leader Angus Robertson, and Sturgeon has been urged to shelve plans for another referendum.

On Friday, the day after the election, the first minister told journalists at her official residence, Bute House in Edinburgh, that she would take time to "reflect" on what the election result meant for the fate of another independence vote.
Scottish Labour said it had contacted the Electoral Commission about what it has called a potentially "major scandal" over the donations, if it transpired the SNP had misled people about what it would use the referendum funds for.

The SNP, however, said any money raised had not been used for election purposes, and that it was still available for the campaign in any future referendum on independence.
"Money raised on ref.scot is ringfenced for the purpose stated on the website – and we haven't been actively raising money on that website since the election was called in April," said an SNP spokesperson.
But Scottish Labour business manager James Kelly MSP said: "This is a major scandal engulfing the nationalists, which could have lasting consequences. They need to come clean on this, and fast.

"It was perfectly clear that their fundraising was for a second independence referendum. If they are now claiming it was for general election fundraising then they have misled the public, and that is incredibly serious.
"This requires an urgent statement from SNP bosses, and I have written to the Electoral Commission to call for an investigation."