The UK should disarm to prevent Donald Trump from having de facto control over its nuclear weapons, an SNP MP has said.
The staunchly anti-nuclear SNP led a debate in parliament on Tuesday to argue that Trident, the UK's nuclear weapons programme, should not be renewed, for a range of moral and financial reasons.
Brendan O'Hara MP went a step further and warned that if the decision is taken to renew the UK's nuclear weapons in a vote next year, they could soon be under the de-facto control of US presidential candidate Trump.
"The UK's independent nuclear deterrent isn't, I believe, all that independent," said SNP defence spokesman O'Hara.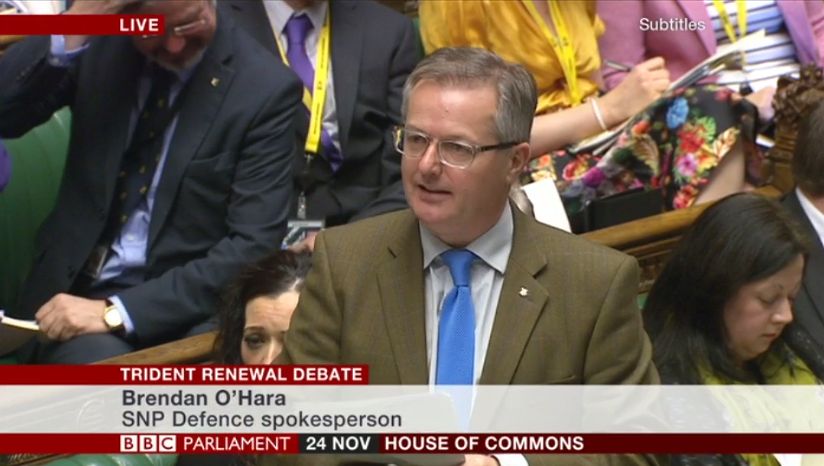 "I refer you to the defence select committee report of 30 June 2006, which said: 'In theory, the British prime minister could give the order to fire Trident without getting prior approval from the White House – this has allowed the UK to maintain a façade of being a global military power. In practice, though, it is difficult to conceive of any situation in which a prime minister would fire Trident without prior US approval.'
"In reality, it will be an American US commander-in-chief who will ultimately decide, and in 18 months' time that commander-in-chief could be President Donald Trump.
"Does anyone seriously think that Trident makes the world a safer place?"
The SNP's symbolic vote on Trident on Tuesday is likely to expose divisions within the Labour party on the issue, particularly after the election as leader of CND campaigner Jeremy Corbyn, who has asked his party's MPs to abstain from voting.
The vote comes after it was revealed on Monday that the cost of Trident renewal has soared from £25 billion to £31 billion, with David Cameron describing it as the "ultimate insurance policy".
Like BuzzFeed UK Politics on Facebook