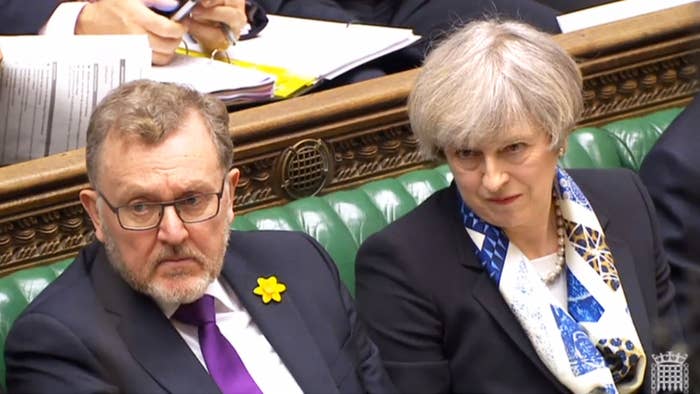 A second referendum on Scottish independence is still not inevitable despite Monday's announcement from Nicola Sturgeon that she will be seeking permission for one, according to the UK government's secretary of state for Scotland.
David Mundell told BuzzFeed News that, although Scotland's first minister will win the backing of the Scottish parliament to pursue another referendum, he still doesn't think it's certain to take place.
"I still don't think it's inevitable," said Mundell. "It's a threat Nicola Sturgeon is bandying around. There's still an opportunity to take a step back as it hasn't landed well in Scotland.
"If you look at today's media, it's landed very badly with the business community who have pointed out the uncertainty the threat does to the Scottish economy."
The Scottish secretary refused to say whether the UK government would block another referendum on independence, but went as far as to say that there "could" be another vote – hinting that Theresa May will grant the power for one.
Sturgeon announced at a press conference on Monday morning that she will be seeking the Scottish parliament's permission to begin discussions with the UK government over the terms of the next referendum.
The prime minister technically has the power to block granting the first minister the power to hold another referendum. Ahead of 2014's vote, David Cameron temporarily transferred the necessary powers to Holyrood.

While Mundell refused to be drawn directly on whether it was feasible that May could block the Scottish government's bid for a second referendum either in 2018 or 2019, he did say a referendum could happen.
"What I've said and continue to say is of course there could be another independence referendum," said Mundell. "That's a process issue, it would require the equivalent of the Edinburgh agreement. It would require legislation at Westminster.
"But that to me remains a process argument, and what we're continuing to do is argue that there shouldn't be another independence referendum."

Asked again if he would rule out the UK government blocking a second independence referendum, Mundell added: "We're not getting into that process argument – these are the arguments the SNP loves.
"They don't want an argument about why there should be a referendum when the people of Scotland don't want one, and the time scale is one in which you wouldn't know what the outcome of the negotiations are."

Elsewhere on Tuesday morning, the SNP's deputy leader, Angus Robertson, told the BBC that he couldn't see how it would be acceptable for the UK government to block a second referendum.