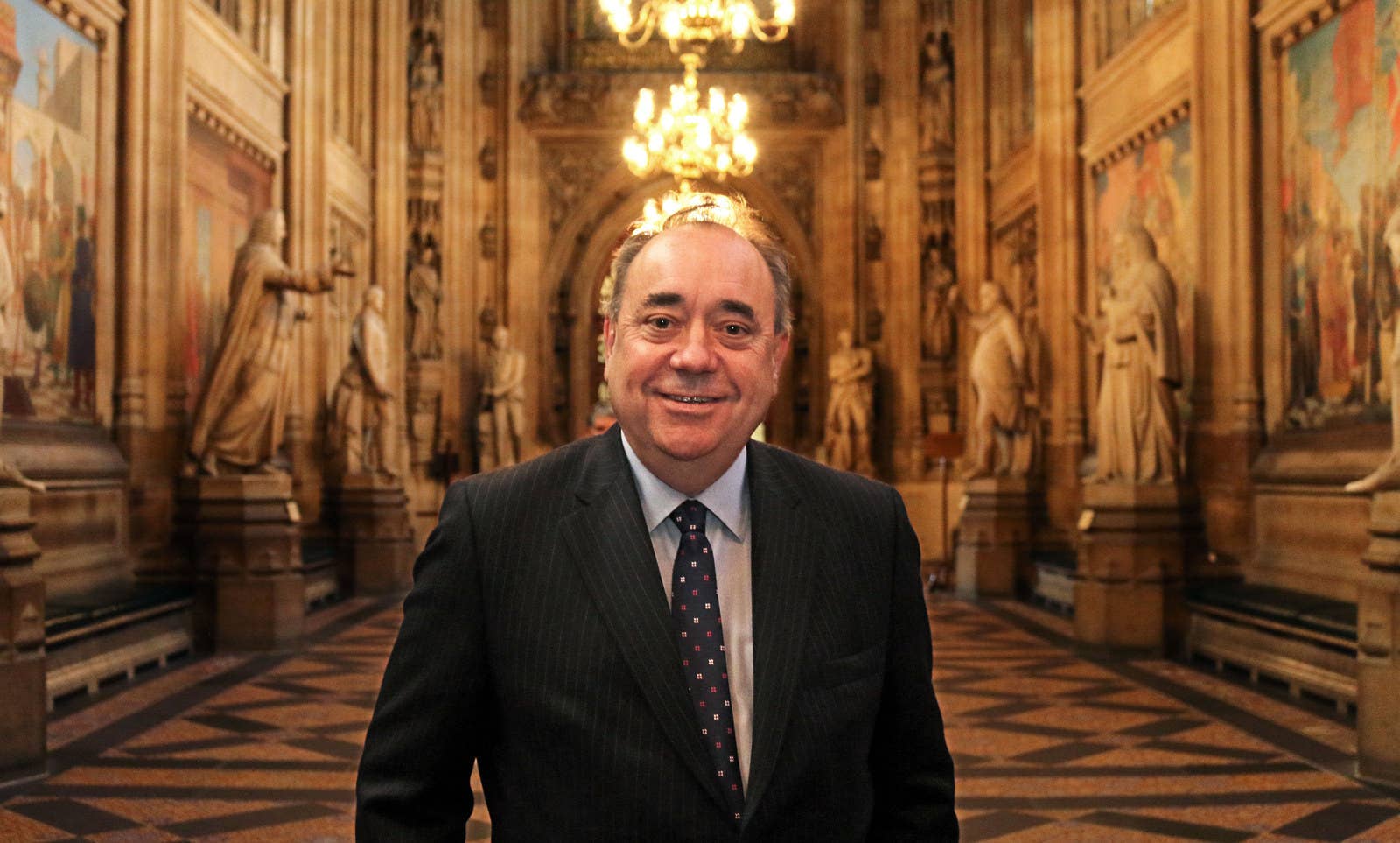 Alex Salmond is telling a story about how ordinary Londoners have taken to him since his return to Westminster. "I walked into a restaurant in London two weeks ago, and half the tables clapped when I came in," he explains. "Half didn't, to be fair, but that's not a bad ratio. I've always got good reactions from the public, especially here in London."

For a man who's dedicated his life to ending the United Kingdom, Alex Salmond is surprisingly at ease in its capital city as he settles in to his new role at the heart of the British establishment. "Westminster" may have become the catch-all term for everything wrong with the UK during the independence referendum campaign, but Salmond seems strangely fond of the crumbling old palace he first entered as an MP in 1987.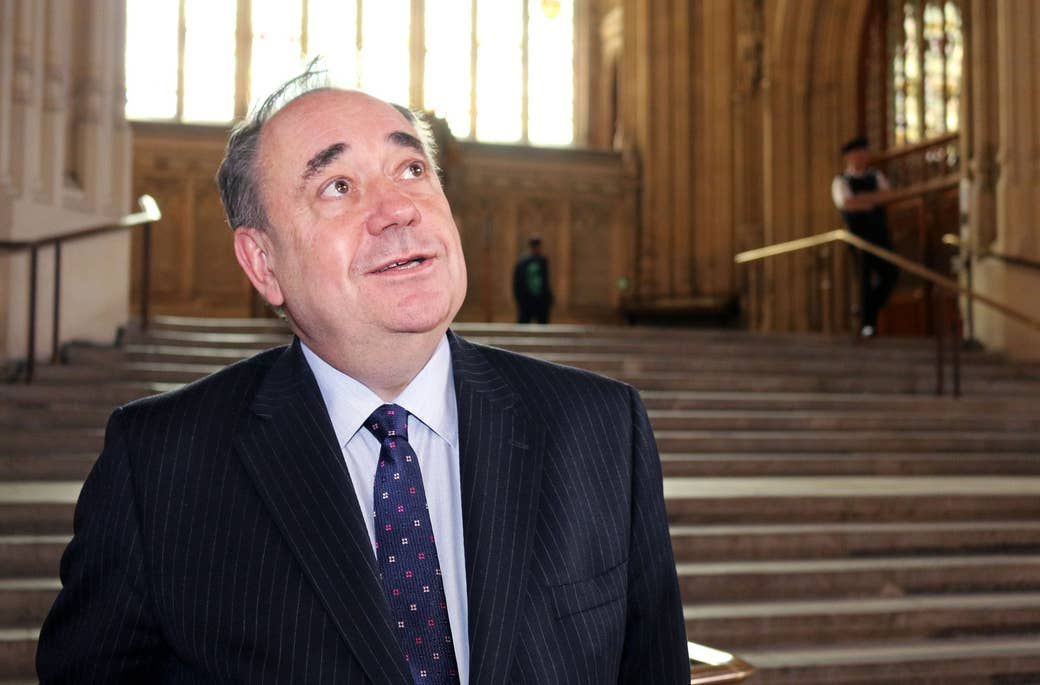 As he gives BuzzFeed News a guided tour around his favourite spots in the Commons, Salmond is relaxed and unguarded – although finishing a conversation with him proves difficult due to the number people stopping the self-proclaimed "bogeyman" of Westminster to welcome him back.

"Aye, I'm in wae the bricks now," says Salmond as we stroll through the busy central lobby. "I get nothing but Tory and Labour MPs coming up to me to ask me my opinions." He has been enduring weeks of opposition MPs courting SNP votes for internal elections to parliament's select committees. "It's quite funny, they sidle up to me and say how wonderful my speech was yesterday – it's happened three or four times just today."

In Portcullis House we bump into a former Labour MP. "Alex, how are you getting on anyway?" the ex-politician asks. "I have the whole world under my tutelage now," Salmond replies.
Salmond, who admits he's "never been short of self-confidence" and made his first speech in the House of Commons without notes, somehow seems to have acquired an extra swagger since the election. After an extraordinary election victory last month, the former first minister – one of three SNP MPs when he was first elected – is now part of a group he's dubbed "the feisty 56".
Striding through Westminster's maze of corridors, he quickly becomes the centre of attention in each room we enter. His right arm has recovered from the damage it incurred by shaking thousands of hands during the referendum campaign, and he stops to greet a new well-wisher after every 10 paces.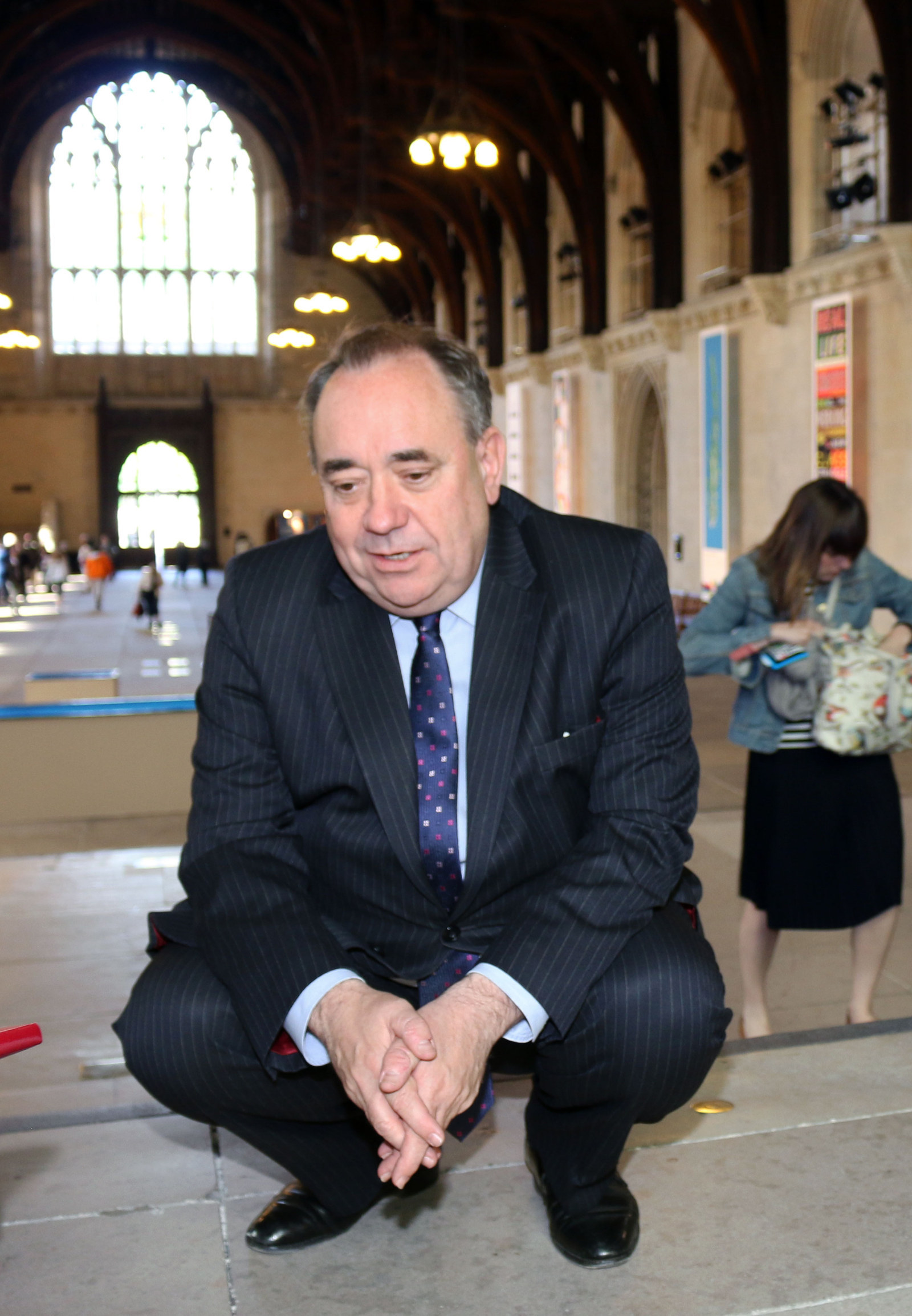 In the Commons tearoom – where Salmond purchases his second slice of fruitcake that day – the staff behind the counter tell him to visit more often. In the lobby, a UN undersecretary invites Salmond to talk business in New York. In Westminster Hall, where he crouches down to pay homage to a plaque commemorating William Wallace, tourists point and whisper "Do you see who that is?"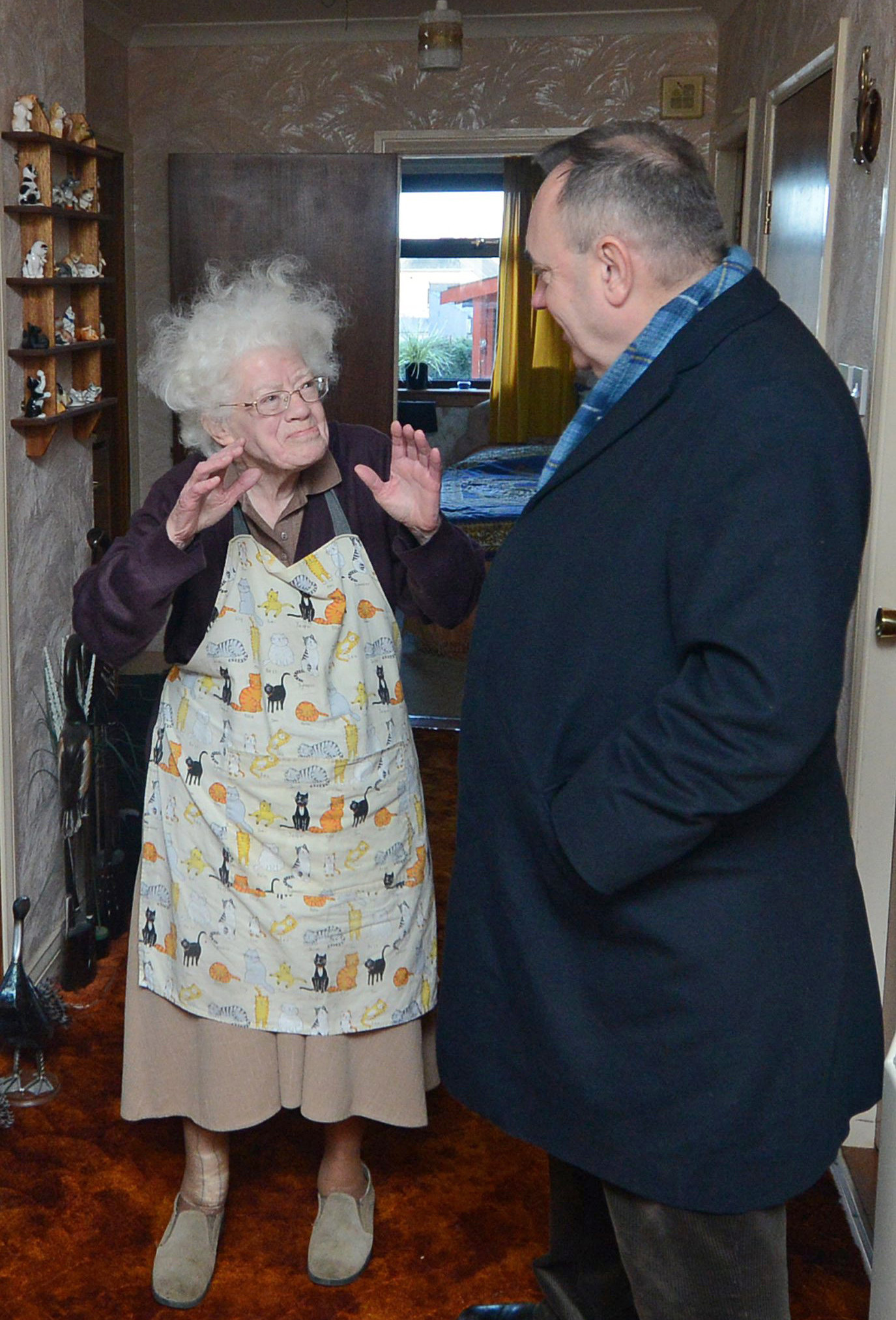 In days gone by, Salmond was a fringe MP and an ignorable nuisance in Westminster, but now he is one of its biggest names. Not only does that mean he and his party are able to wield more influence than ever before, it also means he's landed a plush new office in the sought-after One Parliament Street building.
"I now understand why I became first minster and privy councilor and all the rest of it – it's how to get a great office in this place," he says, grinning. "It's made it all worth it."
He remembers things being quite different as "a nonentity" in 1987, before he embarked upon what he fondly remembers as "a one-man campaign of parliamentary disruption" – including the infamous incident when he was ejected from the chamber during the 1988 Budget.
In the parliament post office, he laughs as he roleplays a Tory MP storming out of the post office in the late '80s in disgust at his presence there. "I didn't mind – I got to the head of the queue," he says.
"When I arrived here, I diligently set about being a member of parliament … but after a few months I realised the impact we were having politically was zero. I decided that if I was going to make an impact I had to find a way to do it, I had to seize every opportunity I possibly could, and that's what I did."
Each story Salmond tells puts himself at the centre of the action. At one point he tells a story comparing the SNP's tactics of seeking gradually more powers for Holyrood to the guile of Julius Caesar. Another anecdote involves a quiet meeting with Margaret Thatcher in the late 1980s when she was attempting to win over SNP support.
"She handed me a glass of whisky, and said 'Freedom and whisky go together'– a quote from Burns, I couldn't believe it. Then she said 'Alex, you know I've always admired the Scottish National Party', and I replied 'Well, prime minister, I'm actually quite surprised to hear you say that'. She said: 'You've pursued your aims in an entirely constitutional way, never flinching from the ballot box regardless of electoral disappointment.'"
It's not difficult to see where the current crop of SNP MPs got their inspiration for causing mischief in Westminster. The battle for Labour MP Dennis Skinner's usual seat in the Commons attracted much comment from parliament's traditionalists, as did SNP members upsetting the Speaker by breaking convention to applaud speeches. Salmond, with his decades of experience in trouble-making in parliament, hints there will be more to come.

"If clapping's good enough for the Scottish parliament and the United Nations it should be good enough for here," he says. "But is it worth upsetting the speaker? Not really – we'll pick our fights."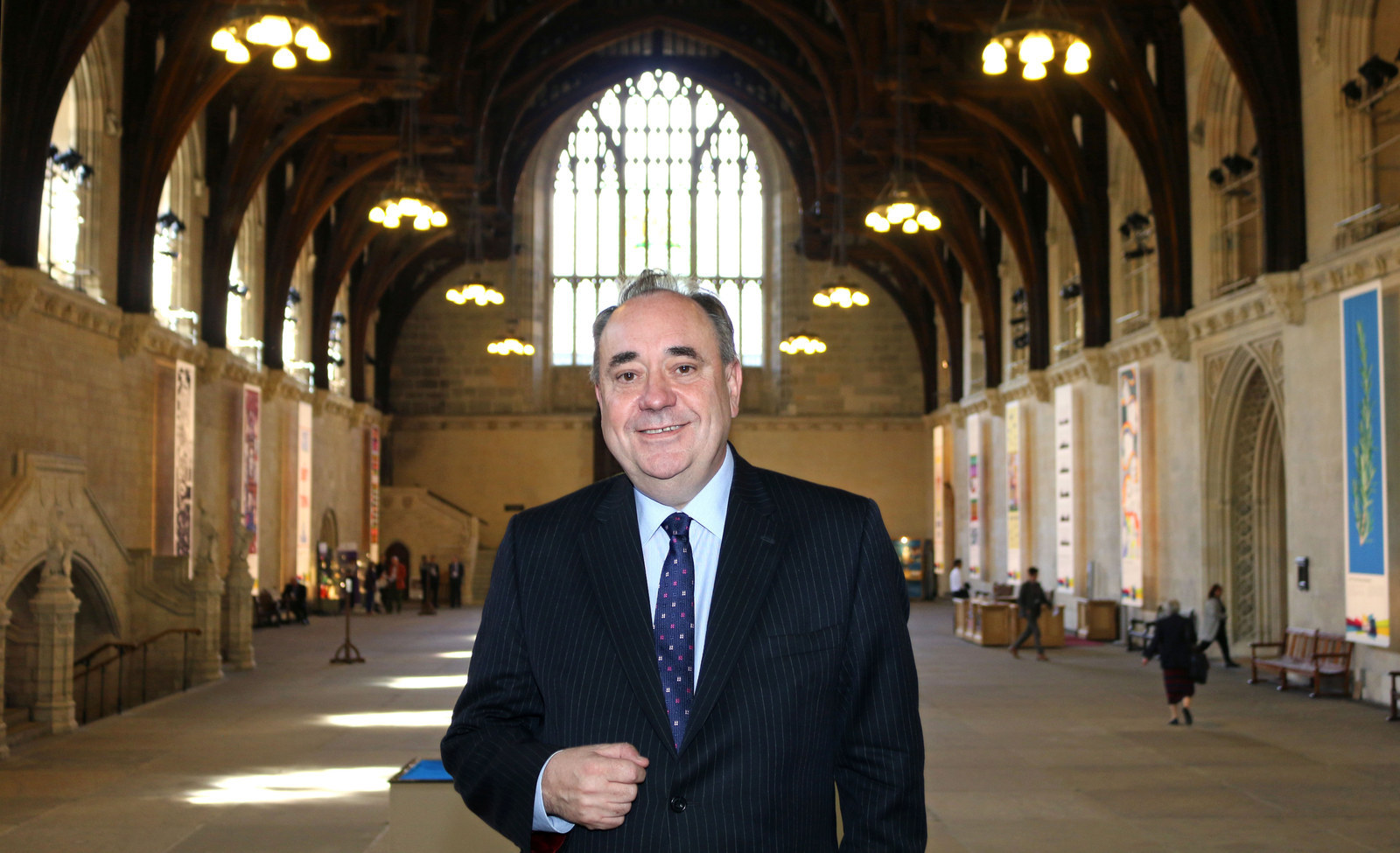 Although not leader of the Westminster SNP group, the former first minister is far more familiar to the public than than the likes of Angus Robertson or deputy leader Stewart Hosie, especially after his profile got an unlikely boost from Conservative election campaign posters that portrayed him as the most sinister man in Britain. "I liked that pickpocket one," he says. "I looked like that Milk Tray guy – I was pretty debonair in that one."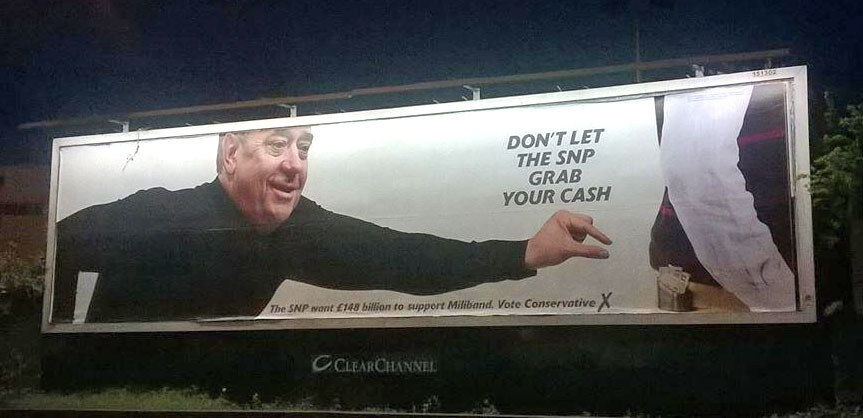 Nevertheless, he claims that despite that personal campaign against him, he remains popular in England – particularly in London, where he now spends half his time.

He claims to be particularly well-liked by London cabbies, who, he adds approvingly, are usually willing to take his Scottish notes (unlike a North London chemist which recently rejected Salmond's money, but he says he didn't cause a fuss). He says cabbies have even asked that he stands for London mayor, but he has no plans to take up their offer – "I can confirm that BuzzFeed exclusive," he says – instead backing Labour's Diane Abbott.

"I have a strong taxi driver support base – they really want a taxi driver's candidate, but I have to gently explain to them my political career isn't going to move in the way of mayor of London. Besides, I've already said to my friend Diane Abbott that if she needs my support, she can have it. Mobilising Scottish expats wouldn't be a bad idea."
As we walk from room to room, it's clear Salmond is on friendly terms with several Labour MPs and ex-MPs, despite him being one of the biggest catalysts in the party's destruction north of the border. Chris Bryant, Labour MP for Rhondda, shouts "Good to see you back!" at Salmond – before adding a quieter, "Well, sort of..."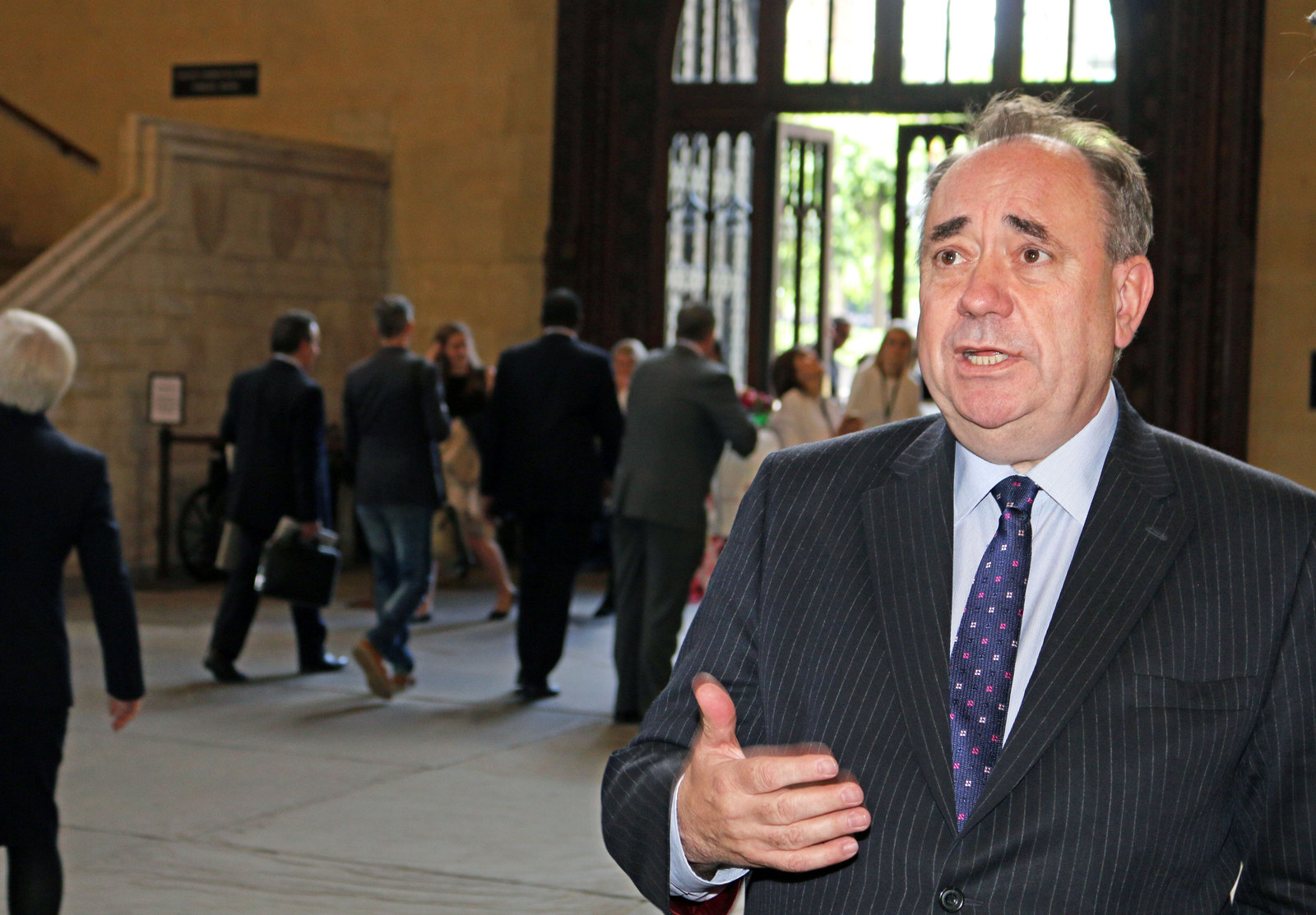 Walking through parliament, he continually refers to me as "the Solero guy", on account of this article, which revolves around a 1999 photo of him feeding a young woman an iced lollipop. He seems genuinely perplexed as to why the image has resurfaced after 16 years, and asks why I have been "harassing this poor woman", who was recently tracked down in Australia by The Herald.

"I can't really remember [feeding her the Solero]," he claims, unconvincingly. "It was a hot day, in the '97 or '99 campaign – you'd know better than me. Anyway, I bought all of my staff an ice lolly and the photographer there suggested I fed some to the woman in the photo. I remember that Mrs Salmond wasn't best pleased – I tried to hide those newspapers."

Salmond boldly claims that the Solero picture is "one of three bad photos" that have ever been taken of him – but unfortunately refuses to say what the other two are.
Although he's unlikely to be brandishing the campaign Solero again, the SNP team will soon be back on the campaign trail for next year's Scottish election, when the party will almost certainly increase its majority in Holyrood. However, Salmond, who is currently both an MP and an MSP, confirms for the first time that he is to stand down from the Scottish parliament where he served as first minister for seven years.
"I'm not standing again," he says. "It's quite possible to do the two parliaments thing effectively, but for the overlap period only. It shouldn't be long-term. Plus there are lots of talented people who deserve a chance. If something exceptional came up then who knows, but my intention is not to stand."
The SNP recently polled on 60% for the Scottish election, and Salmond is both delighted by his party's seemingly unstoppable rise and amused by the collapse of Scottish Labour.
He has "no sympathy" for the opposition party's lone MP, Ian Murray – who Salmond says recently sent him a letter begging he stops mentioning the Labour MP in the chamber – and jokes that outgoing party leader Jim Murphy and his chief of staff John McTernan have actually been his "secret agents" for decades.
"John McTernan, it's time to expose him – he's a long-term sleeper," says Salmond, with a laugh which echoes throughout Westminster Hall. "I've had him in various places over the years … He came back to Scotland to assist the dramatic surge in the Yes vote in the referendum campaign, and then went on the become chief of staff for Jim Murphy – another one of my long-term agents – to cause the nine-tenths decimation of Labour.
"Agents Murphy and McTernan deserve the Order of Wallace, which I'll soon be sending them, for their service to the nation."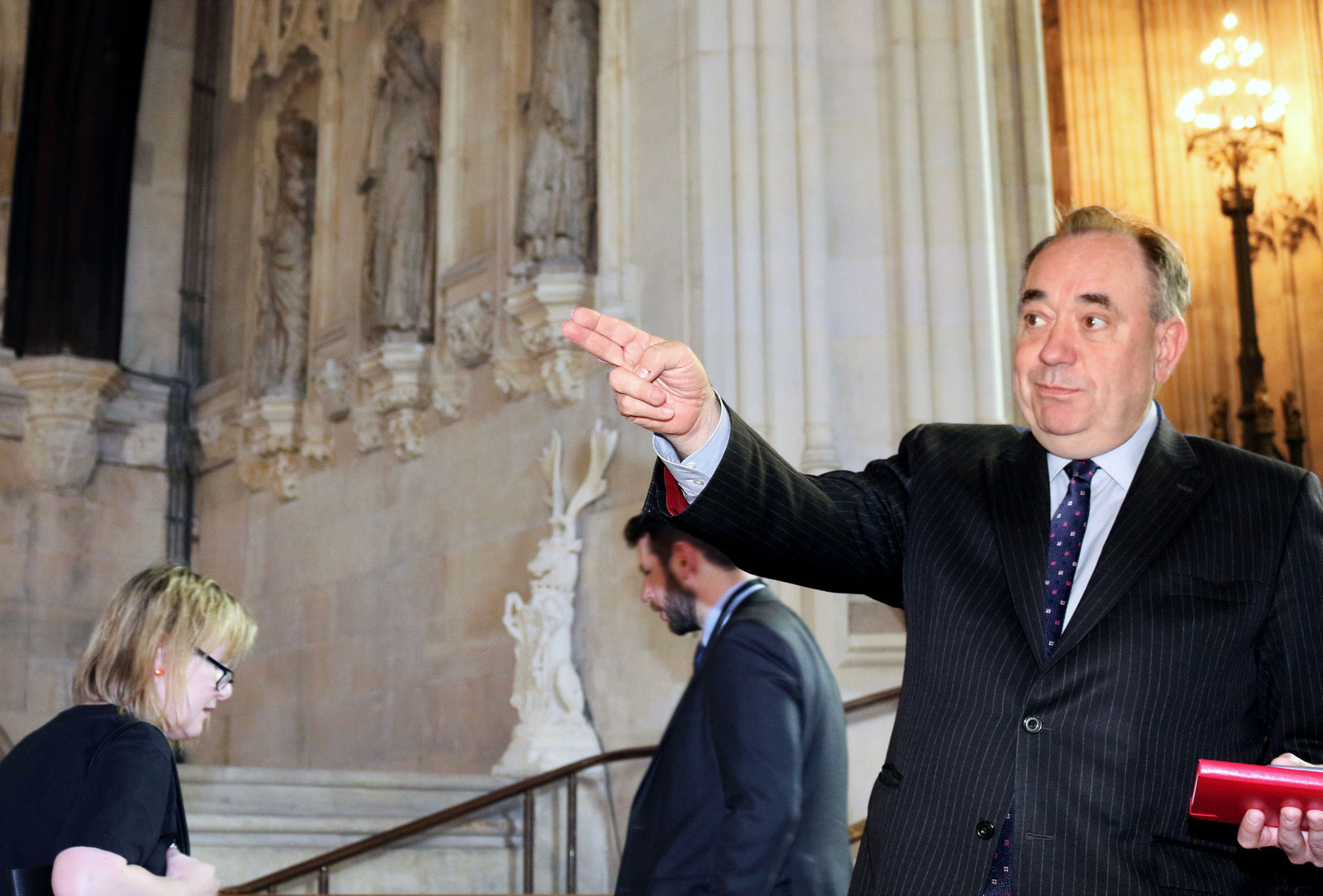 However, he believes the person most likely to take over from Murphy, Kezia Dugdale, is a "good prospect" who will go far in politics, but "perhaps not in her present party" – adding that he would be delighted to accept her into the SNP, like so many other Scottish Labour voters.
Similarly acerbic comments are reserved for his political enemies. Sir Nicholas Macpherson, the top civil servant at UK Treasury is dismissed out of hand for a perceived role fighting independence: "[His] grasp of history is about as good as his grasp of economics … Apparently his father is a very nice guy, but it's not all about a case of like father like son."
He's still singularly focussed on politics, even out of work: his favourite website is UK Polling Report and occasionally visits Scottish legal blog Lallands Peat Worrier. Traditional news outlets don't get a look-in – the most mainstream outlet he mentions is The Racing Post.
As for noted pro-independence blog Wings Over Scotland, Salmond believes it sometimes "takes conspiracy theories to the end degree" and is uncomfortable at the decision of Stuart Campbell, the site's owner, to adopt the persona of a reverend: "I'm innately suspicious of someone who calls himself a reverend who isn't."
He also has little time for the editor of The Spectator, who mocked him for drinking pink champagne in mid-afternoon: "What's his name, Fraser Nelson, knows nothing about football so it wouldn't enter their heads that I was celebrating a Heart of Midlothian victory. I usually drink straight champagne of course, but pink seemed appropriate for that day."
The two pieces of unconditional praise Salmond offers during our tour are to Nelson Mandela – whom Salmond met in parliament in 1995, when he discovered that the South African president was "a big Braveheart fan" – and to his successor as SNP leader and first minister, Nicola Sturgeon, who recently impressed an international audience on The Daily Show with Jon Stewart.
"Oh, I'd have loved to do the Jon Stewart show – but Nicola did so well, and we always knew she would," he says. "Quality is quality, and if you have quality it shows. Once, when I was on Have I Got News for You, the guys were taking the mickey out of a charity record I did when I sang 'The Rowan Tree', but the whole audience applauded. Not mimic applause, enthusiastic applause.
"Why? Because what Ian [Hislop] and Paul [Merton] don't understand, with their backgrounds, is that audiences love a trier. They absolutely love a trier. Within the first few sentences, similarly, the American audience sensed Nicola's huge quality."
As Sturgeon leads the SNP through the Scottish election campaign and beyond next year, Salmond's attention, as foreign affairs spokesman for the SNP at Westminster, will turn to the referendum on the UK's membership of the EU.
He has proposed "a Scottish campaign" – not, he insists, an SNP campaign – that will be completely separate from David Cameron and George Osborne, whom he clearly both distrusts and dislikes. He wants the campaign to argue a "positive case" for Scotland to remain in the EU with a "non-political figure" as its leader – although it is plain to see that he also plans a central role for himself.

"There's no way we could fight a campaign on the basis that Cameron's going to fight it – there's more to Europe than the microscopic world view of the prime minister," he says. "We'll have a campaign which says what Europe should be doing and inspires people in a positive way – that will have to be a Scottish campaign.
"Who will do the Euro campaign's Yes broadcast? George Osborne? That would be a blow in the solar plexus for the Yes campaign in Scotland."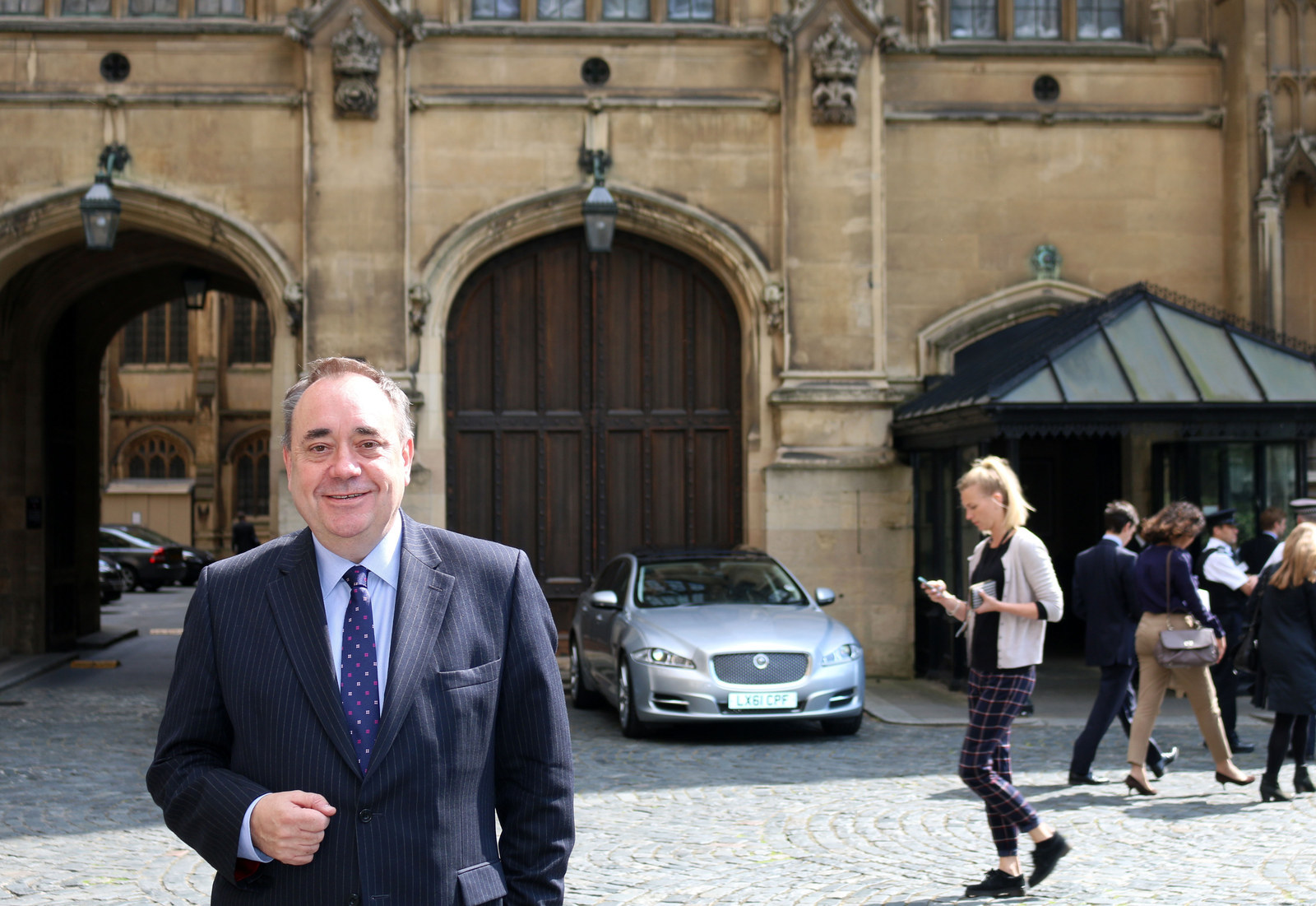 Salmond is uncomfortable on the same side of the EU argument as his independence referendum foe David Cameron. He predicts that in the EU referendum the prime minister "will cheat, as he did last September", warns the UK public to be wary of any "vow" offered to them by UK party leaders, and maintains that there was a "conspiracy" against the Yes side last year.

He also appears to support the "secret oilfields" theory put forward by some Scottish nationalists who think oil companies downplay the amount of oil in Scottish waters and make the country's economy appear weaker than it is.
"Secret oilfields is not a conspiracy, it's just a fact," he says. "Oil companies have hidden oilfields for generations – I don't think they were hiding them specifically for the referendum, they were just hiding them. What good does it do to exaggerate your resources when you're asking for tax concessions?"
Salmond, who turned 60 last year, is still intensely passionate about politics and believes he is yet to make his true mark in history. He shows no interest in retiring from the political scene like fellow Scottish political heavyweight Gordon Brown, and says his wife, Moira, is keen for him to keep working.
"She's happy to get me oot the hoose," he says, although he adds that she complains to him on a daily basis about the 5p "plastic bag tax" Salmond's government introduced in Scotland last year.
As our tour of Westminster comes to an end, Salmond takes me to the gift shop to browse the selection of House of Commons socks, chocolate coins, and Margaret Thatcher toby jugs. He's clearly fond of Westminster and enjoys being here, but he is adamant he's not about to get comfortable.
"My position here is not long-term – it's more medium-term," he says, his mind turning to a future in which there are no Scottish MPs in Westminster.
"A number of people will determine how long that is – one is Nicola Sturgeon, and the other is the Scottish people. But what's happened recently has made me believe independence is not a matter of if, but when.
"The destination is set. We're now just arguing about the timetable."