UKIP MEP Says Refugee Crisis Is A Conspiracy To Make Europe More Multicultural
"They should stay in the first country they land in – Turkey's a great country, it's lovely," said David Coburn.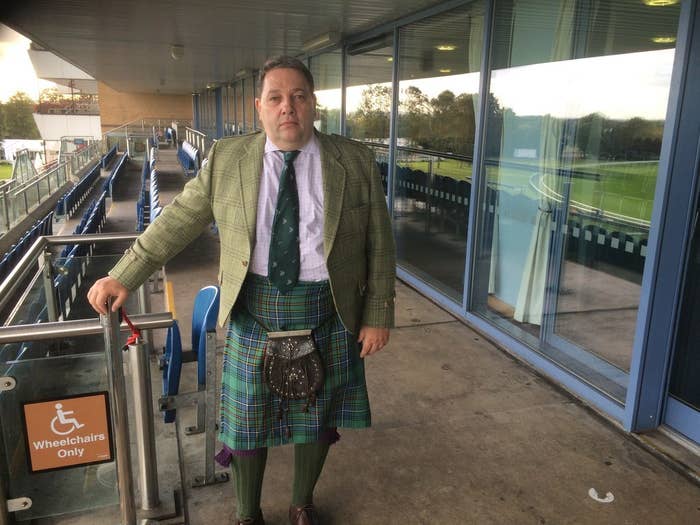 The refugee crisis is a conspiracy to change the demographics of Europe in order to make it "more multicultural", a UKIP MEP has said.
Speaking at UKIP's conference in Doncaster, David Coburn told BuzzFeed News that "someone" in the EU is taking advantage of the refugee crisis to actively change the religion, race, and languages of the continent by redistributing new arrivals across Europe.
"They're trying to change the demographics of Europe, someone has this idea," said Coburn, who represents Scotland in the European parliament. "They want us to be multicultural, multi this or that – no one's asked the British people if that's what they want.
"I am certain someone has an idea in their head about this. If you want to change the demographics of Europe then be honest about it. These people can be safe in Turkey, then they can go home. They should go to the first country they land in. Turkey's a great country, it's lovely."
Coburn said that, instead of accepting refugees into the UK, the government should build camps – "good ones, not louse-ridden slums" – on the border between Turkey and Syria, where, he said, they would be happier and share religion and customs with the locals.
"What would be a more logical thing to do [than accepting refugees into the UK] is build camps on the Syrian-Turkish border," said Coburn. "They'd be happier there – it's co-religious, they have the same customs, and they can go home when it blows over.
"But someone in Europe has an idea about this and it is nothing about helping poor people."
Coburn is also concerned that some of the refugees may be part of ISIS and will attempt to change the British way of life which he, as a gay man, is frightened about.
"Many of these people, as we've heard, are ISIS," he said. "I don't know about you but I am a homosexual and I do not want to be stoned to death. I want my country to remain the way it is now. I don't want the state religion to change. I don't want the way this country is run to change. I want people who accept our values."
Asked if he would repeat the pledge of Scottish first minister Nicola Sturgeon and accept a refugee into his house, Coburn said he simply doesn't have the room. "I'd have to move out," he replied.
"I've had loads of people crashing on my floor for years but quite frankly I'd rather choose who I had over. But most importantly, put them somewhere safe where they are.
"This isn't making them popular to the indigenous people of Europe."