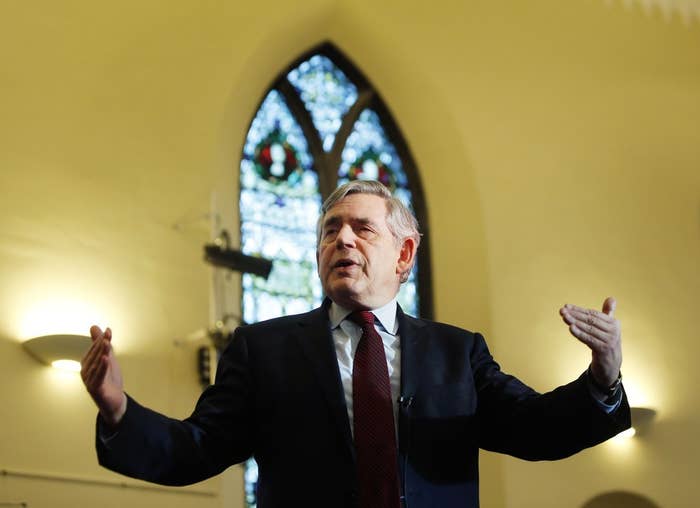 Gordon Brown has accused the Conservatives of being "English nationalists" intent on whipping up anti-Scottish feeling ahead of the general election.
The former prime minister, speaking at an event in the Old Kirk in his hometown of Kirkcaldy, said David Cameron has become solely focused on anti-Scottish tactics after failing to convince voters of Ed Miliband's inadequacy.
"They initially wanted a referendum on Ed Miliband, that's what they wanted to do," said Brown. "But he has proved he is a man of principle and integrity, and he has shown on the television debates and his speeches that he is the right person to be the next prime minister."
Brown said the Conservatives are unable to defend their record on the NHS and living standards so instead have to rely on their "friends in the press" to make the election "a referendum on a Labour party controlled by the SNP".
"That's why you see all these posters up in England, not in Scotland, these posters about Ed Miliband being in the pocket of Alex Salmond or Ed Miliband being a puppet on the string of Nicola Sturgeon," he said.
"The Conservative party have retreated to the most base tactic imaginable," he continued. "The purpose is to whip up anti-Scottish feeling in England to bolster their vote against UKIP in England."
Brown insisted there is "no deal, no coalition pact" between Labour and the SNP.
Not only do the parties disagree on social justice issues, he said, but Labour could not deal with a party that "wants to break up the country".
He added: "Instead of defending, as they should, the United Kingdom and the common interest between Scotland, England, Wales and Northern Ireland, the principle of sharing which makes it possible for us to allocate resources across the UK, [the Conservatives] have retreated to becoming the party of English nationalism against Scottish nationalism.
"They want to give the Scottish National party a boost in Scotland at the expense of a Labour party.
"We will not allow this to become a debate about English nationalists against Scottish nationalists."