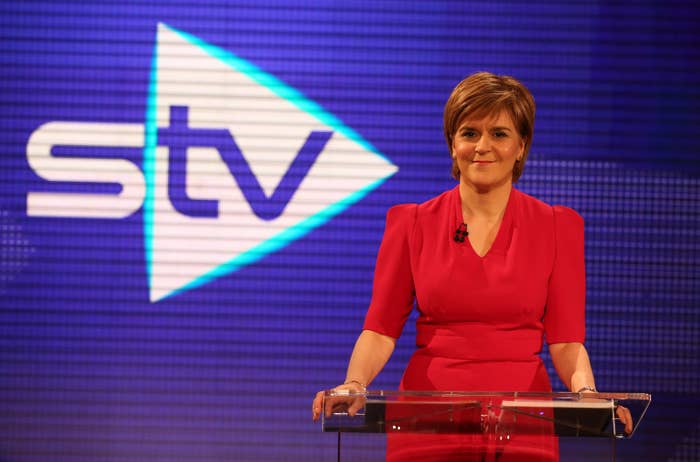 The Scottish broadcaster STV has been accused of having an "SNP love-in" over plans to hold a welcome reception for Nicola Sturgeon's party on the first night of its annual conference in Glasgow.
The SNP conference, which started on Thursday morning and runs through to Saturday, will be celebrated at STV's headquarters next to the SECC conference venue.
STV's reception comes after the SNP was accused of "silencing" one of the broadcaster's journalists. Two SNP MPs – Pete Wishart and John Nicolson – allegedly complained to STV over its digital editor, Stephen Daisley, who was subsequently banned from writing articles for the website.
Scottish Labour and the Scottish Conservatives told BuzzFeed News that STV had not thrown welcome parties for any of their annual conferences in recent years.
A senior Scottish Conservative source said: "This seems like a proper love-in between the SNP and senior executives of one of the nation's two national broadcasters. To my knowledge, no other Scottish political party has been thrown such a bash by STV – certainly not the Scottish Conservatives."
One Scottish Labour source told BuzzFeed News: "Given the attack on STV content by senior nationalist MPs in recent weeks, the decision to roll out the carpet for the SNP at a reception will raise eyebrows.

"It is incredibly concerning that MPs John Nicolson and Pete Wishart have made it their mission to talk down the Scottish media industry, and guests at the reception should make this clear to the SNP."
However, an STV source said the broadcaster did throw a reception for the Liberal Democrats when they held their party's national conference in Glasgow in 2013.

BuzzFeed News understands a similar party was held by STV at the SNP's conference in Aberdeen in 2015. Senior news editors are understood to have discussed the creation of a Scottish six o'clock news programme with party figures such as new deputy leader Angus Robertson MP, culture committee member John Nicolson MP , and former cabinet minister Alex Neil MSP.
The broadcaster was also criticised last year for hosting a hogmanay show presented by Sturgeon alongside her mother and sister.
A spokesperson for STV said: "As part of STV's ongoing engagement strategy we host regular events for politicians from all parties."