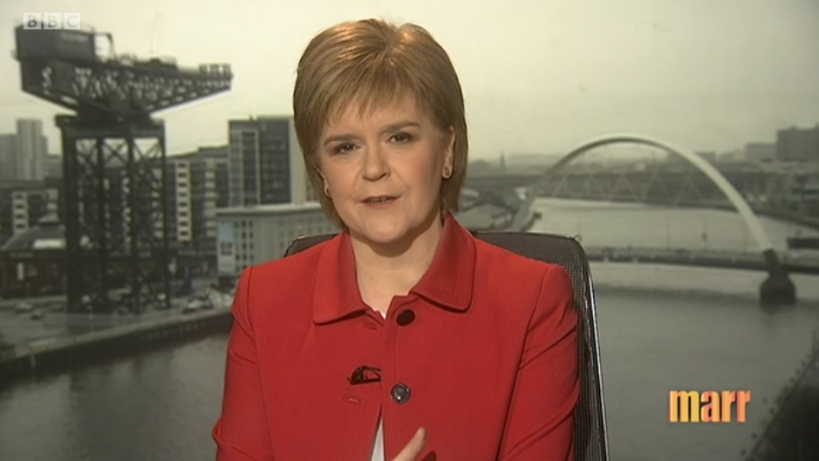 People in Scotland "almost certainly" demand a second independence referendum if the UK votes to leave the European Union, Nicola Sturgeon has said.
The first minister, appearing on The Andrew Marr Show the day after David Cameron announced there will be a referendum on EU membership on June 23, said it would be "inescapable" that Scottish independence would become more likely if Scotland was taken out of the EU against its will.
Sturgeon will be campaigning for the UK to stay in the EU but, asked if a vote to leave the EU would trigger another independence referendum, Sturgeon replied: "Almost certainly, I think that would be the demand of people in Scotland.
"Let me say very clearly, and I've said this to you before and I'll say it again today, I hope this scenario doesn't arise. It's not the scenario I want to see arise, I hope the UK as a whole votes to stay in the EU for a whole variety of different reasons.
"But if you cast your mind back to the Scottish referendum ... the No campaign then said that if Scotland voted Yes our membership of the European Union would be at risk. That was rubbish then but that was a key argument.
"If a couple of years later we find ourselves, having voted to stay in the European Union, being taken out against our will, I do think there are many people, including people who voted No in 2014, who would say the only way to guarantee our EU membership is to be independent. That, I think, would be inescapable."
Sturgeon was asked if that would lead to border controls between Scotland and England, and she replied that would have to be debated after the event. She went on to say she personally knows people who would become pro-Scottish independence, who previously opposed, should there be a vote to leave the EU.
"I take nothing for granted about Scottish opinion in this referendum, although all the polls would suggest there will be a significant vote to stay in the European Union, but I think Scotland's always seen itself as a European country. My view, as you know, is that we would be better served as an independent member state among all the other independent member states.
"If we were to be taken out of the European Union when we had expressly said we wanted to stay in that would trigger a demand for a second independent referendum. I know people, and I'm getting anecdotal here, but I personally know who voted No in 2014, who were passionate in their No vote in 2014, who would change their minds if we were in this scenario.
"That, I think, is just something which is inevitable."