SNP MP Fears A Nuclear Weapons Convoy Could Crash And Destroy His Constituency
A nuclear security expert told BuzzFeed News the risk was so small it's "hardly worth considering".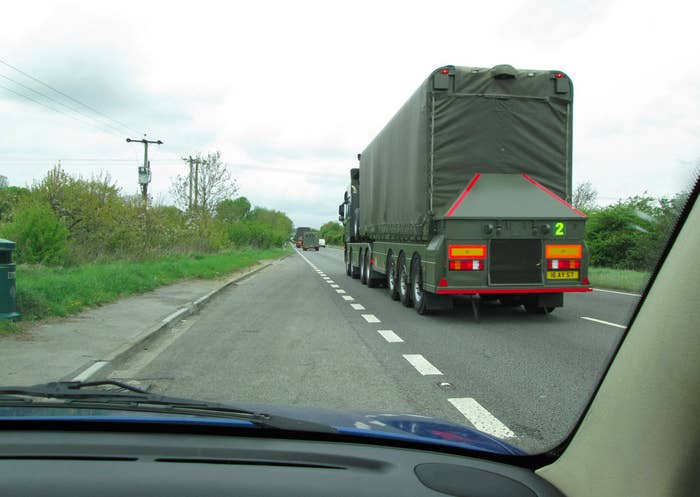 A road accident involving a nuclear weapons convoy vehicle risks "flattening" large parts of Scotland and killing thousands of people, an SNP MP has claimed.
Owen Thompson told the House of Commons that nuclear convoys frequently travel through his constituency of Midlothian and he said they pose "more of a risk" to people in the UK than terrorism.
Nuclear warheads are transported on UK roads around once every two months between nuclear bases in Scotland to arms factories in Berkshire for general maintenance. The MP has called on the Ministry of Defence to bring an end to convoys in residential areas or risk a nuclear disaster which could see a "substantial loss of life".
However, an expert in nuclear security, Dr Robert Downes, told BuzzFeed News the risk of the kind of accident Thompson is fearful of is so small that it's "hardly worth considering" and that only the "extremely unlikely" event of an aircraft crashing into a convoy could potentially set off a warhead.
"These convoys are dangerous, highly visible, and not only a risk to the level of accidents but they are a moving target for terrorists," said Thompson. "Some may claim this is alarmist, but it has been said such an attack has the potential to lead to the damage or destruction of a nuclear weapon within the UK."
The campaign group Nukewatch UK tracks the movement of the convoys and, earlier in January, recorded footage of the convoy going past the city of Stirling. Thompson, citing a UK government report from 2013, said local emergency services would be ill-equipped to deal with an accident, fire, or terrorist attack on the vehicles near a built-up area.
"If a [terrorist] incident should occur, or if there was a fire or major explosion, local authorities may not be fully prepared to deal with the immediate aftermath," said Thompson. "In this scenario, you have lethal plutonium billowing around your constituency and local people at the mercy of a response team based in Bath."
He added: "At worst, if there was a fire and major explosion, my constituency and neighbouring areas could be flattened."
Downes, from King's College London's Centre for Science and Security Studies, said there was "an extremely small risk" that the kind of accident Thompson voiced his concern about would lead to the destruction of parts of Scotland, but said there is a chance it could release a small amount of radioactive material.
"It's extremely unlikely that if there was a crash that the warhead itself would go off," said Downes. "In 2005, a government study said there's a possibility an aircraft could be crashed into one of these convoys which could trigger a nuclear explosion of some kind but the likelihood of that happening is so improbable it's hardly worth considering.
"What is a potential concern is that if one of the trucks crashes and the warhead is damaged, they do contain some radioactive material," he continued. "If a warhead is damaged, and some of the explosives which surround the core go off, you could end up with some radioactive material being spread over a small area.
Downes added: "This would release some alpha-radiation which isn't particularly damaging, though if you ingest it that could cause significant damage".
Thompson's call to end the road transport of nuclear weapons will be debated in parliament on 4 March.