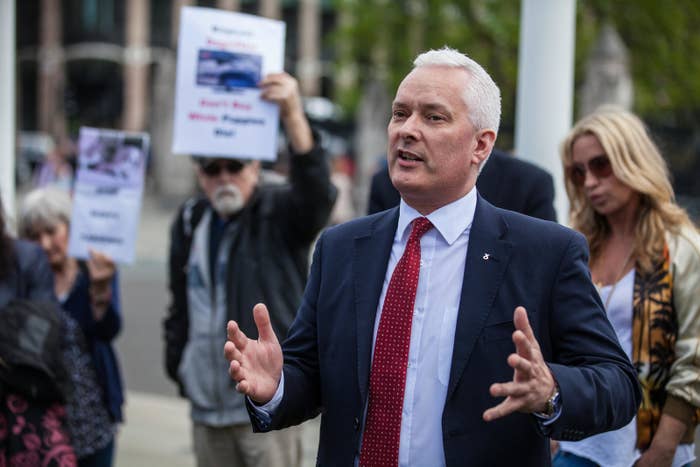 Members of an SNP branch have lodged an official complaint against their own SNP general election candidate over concerns that he may have misused taxpayer-funded parliamentary resources.
Dr Paul Monaghan, who was elected SNP MP for Caithness, Sutherland, and Easter Ross in 2015, has been accused by his own local members of using his constituency office for an SNP campaign meeting in a potential breach of the rules.
Monaghan has been one of the most controversial of the 56 MPs the party returned to Westminster in 2015, frequently making headlines over ill-judged tweets such as one that compared the Tory government to the Third Reich.
One member who wished to remain anonymous but provided BuzzFeed News with evidence of her membership of the Sutherland branch said Monaghan is disliked by many local members who were upset he was reselected as their candidate.
The SNP member officially complained to parliament's Independent Parliamentary Standards Authority (IPSA) about Monaghan's office manager's alleged use of his constituency office for a campaign meeting before the dissolution of parliament.
Monaghan denies breaking any parliamentary rules, but has previously been criticised for displaying SNP materials in his taxpayer-funded constituency office in Brora in the Highlands of Scotland.
"I feel that members and the public in general are very sceptical of Paul now," said the local SNP member. "I, for one, could not have voted for him if I had known everything about him that has come out of the wash since his election.
"In this situation, he's decided rules don't apply to his campaign, and that I disagree with – I am annoyed that my tax money is being spent running an office that is being used by party members as a campaign room."
Monaghan will go into next month's election with a majority of 4,000, but Liberal Democrat sources have marked out the constituency as a potential gain in part because of Monaghan's frequent controversies.
The SNP candidate has accused the BBC of shrinking Scotland in its weather map to make it appear less significant, referred to the union jack as a "butcher's apron", and got mixed up between Iran and Iraq.
The local SNP member who lodged the complaint added: "I am not sure how or if I'll vote at the general election, which is sad for me as since I was old enough I have always been keen to go out and vote SNP."
Before the dissolution of parliament, a spokesperson for IPSA confirmed receipt of the complaint from a member of the public and that the complaint would be reviewed before the launch of a possible investigation.
"The compliance officer for IPSA has received a complaint from a member of the public regarding Dr Paul Monaghan," said the IPSA spokesperson. "The complaint will be reviewed and any investigation which is opened will be announced on the compliance officer's website."
Monaghan told BuzzFeed News: "I can confirm that my constituency office has never been used for a local branch SNP meeting."