SNP Activists Are Patiently Waiting For Brexit To Go Wrong Before IndyRef2
"We have to live in the real world," one activist told BuzzFeed News. "A referendum will happen. When? Who knows."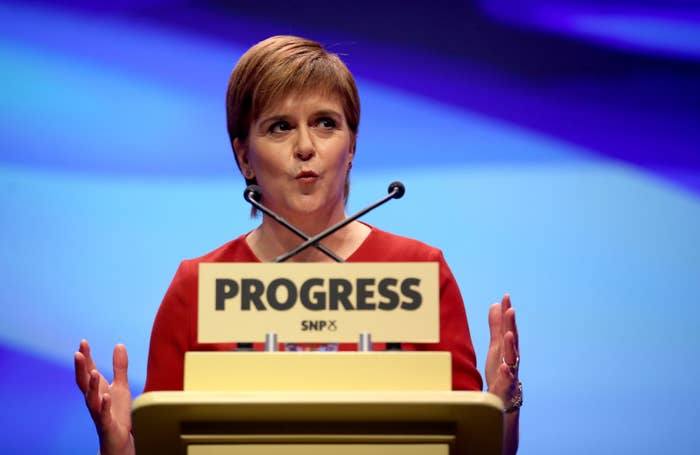 "Some people say that we should put independence on the backburner – why would we ever?" asked Mhairi Black, the UK's youngest MP, to the SNP conference during her blistering speech on Tuesday morning, which saw her take aim at Jeremy Corbyn, the UK government, and the media.
"We should never be scared to talk about anything in society. The idea that because we had one vote on the matter, we can never exercise our democratic rights on the matter again is utterly ridiculous. If you believe in the United Kingdom so much then why be afraid to ask the people of Scotland the same question again?"
Black's question was aimed at the people in Scotland, such as Scottish Conservatives leader Ruth Davidson, who believe there should be no second independence referendum after the vote in 2014. However, at an SNP conference that made clear the party is in no rush to ask the Scottish people to vote on independence again, it could also be asked of Nicola Sturgeon.
The conference was the first meeting of the party since it lost 21 seats in June's general election, which led to to the first minister postponing her timetable for a second independence referendum in the wake of the Brexit vote.
While the party was not expecting an apology from the first minister like the one Theresa May offered to her party at the Conservative conference, there was clear disappointment that the independence dream has slipped a little bit further away.
Almost every speaker on the main stage mentioned independence, but there was little discussion in the hall about how to advance the detailed case for it or about when a second vote should be held. Sturgeon reminded the conference her mandate for a vote was won "fairly and squarely", but admitted: "We may not yet know exactly when the choice will be made, but we can, we must, and we will always make the case for independence."
BuzzFeed News spent Tuesday talking to delegates at the conference, and while they were largely upbeat and felt unfairly represented by reports that the party was licking its wounds after the election, some delegates, when asked if there had been enough discussion about independence, were looking for more. However, most accepted that a vote would not be won right now – and are happy to wait for their expectation that Brexit will be a disaster to be fulfilled.
"No, definitely not, and I think that's deliberate," said SNP delegate Sandra Taylor when asked if there had been enough discussion of independence. "They're concentrating on getting themselves organised for the next time, which may not be next year or whenever – they're organising for a little while in the future, and it feels to me that it's being deliberately not mentioned.
"I understand that position, I can't help thinking that [Sturgeon] said she'd do another IndyRef, an election came along, and lo and behold 13 Tories got in – that wasn't coincidental. They're saying now, let's be responsible, show people what sensible and achievable things we can do, and move forward."

Jim Softley, from the Tinto SNP branch in South Lanarkshire, said: "To be honest, I wasn't expecting a lot of debate on independence – that's on the backburner a wee bit until we know what the Brexit negotiations look like. Nicola Sturgeon's position is right – we need to wait and see what happens, and I'm a firm believer in having a bit of patience."
SNP delegate Ricky Bell added: "Nicola has outlined the continuation of a secure government looking after the people of Scotland, as well as outlined the future of independence and saying that will come when the time is right. People have to trust our leaders to make the right decision, and there's no point calling a referendum when Nicola doesn't think we can win it."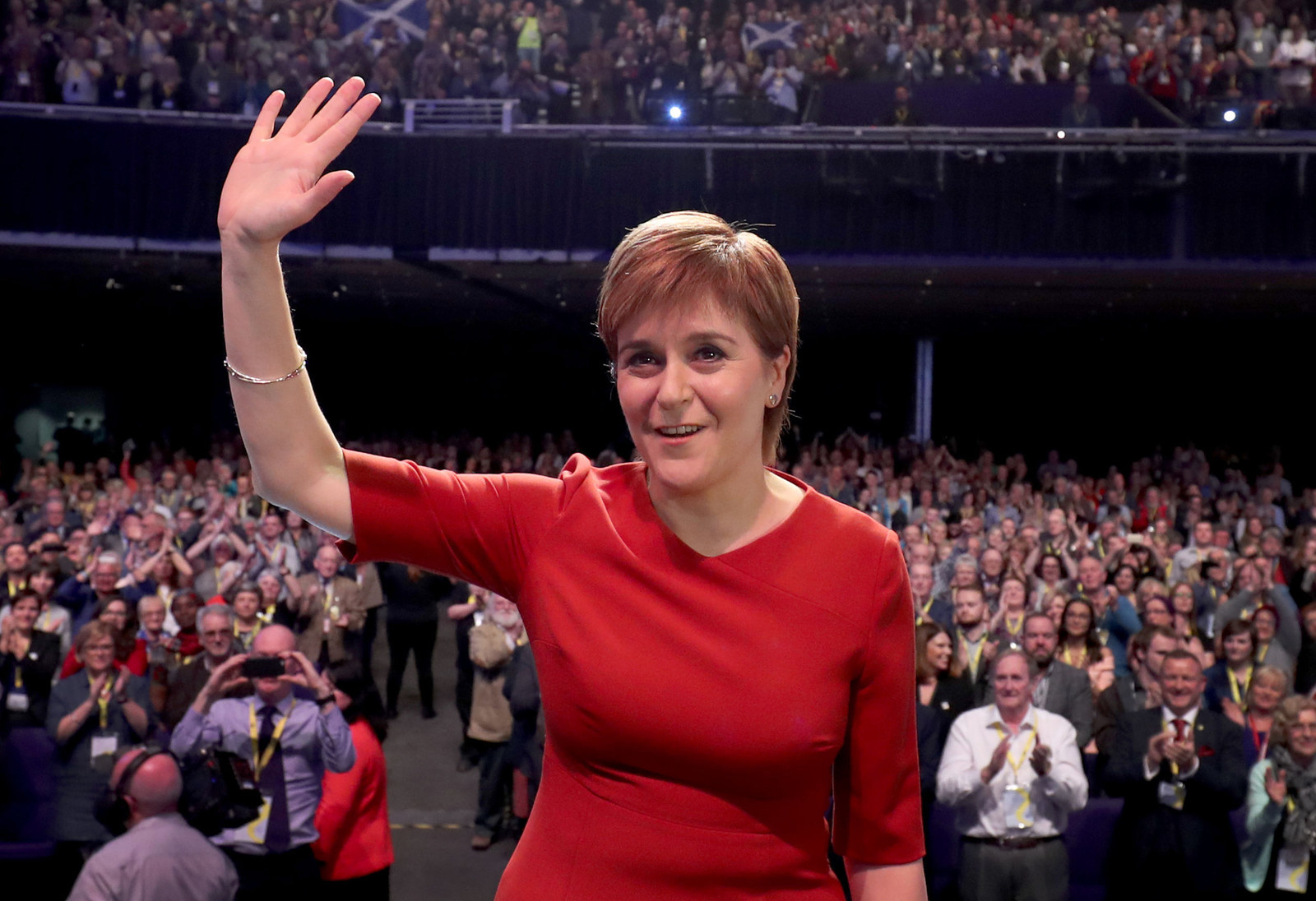 The only urgency detected among delegates is a creeping concern that Jeremy Corbyn's Labour is beginning to get its act together in Scotland, particularly after the general election and if pro-Corbyn former trade unionist Richard Leonard becomes the leader of the party. Party staff told BuzzFeed News Leonard's opponent, Anas Sarwar, would be far easier for them to deal with due to his privileged background and connections with New Labour.
The concern is that, if the trend shown in polling continues that the SNP bleeds support to Labour – particularly among young voters, whose support for Corbyn's Labour doubled during this year's general election campaign – it could threaten the pro-independence majority in the Scottish parliament in 2021's election, and kill off any chance of a referendum until 2026.
While Labour's recovery in Scotland is far from fully fledged, SNP delegates admit Corbyn's a far more serious proposition than he was at the start of the year, and Sturgeon herself told voters that the SNP was the true Corbynite party in Scotland on the eve of the election in June showing that the party had identified that voters were being swayed by the Labour leader.
"I think people take Jeremy Corbyn more seriously, generally, than they did at the start of the year," said SNP delegate George Bruce. "But it's good that there are political forces out there which help hone our vision – whether it's a bad government or bad opposition, bad policy makes bad policy. It's a good thing Corbyn is taken slightly more seriously. I don't think it's good to have any serious politicians taken as jokes, and the foreign secretary is a good example."
A further concern is that the further the SNP gets away from the independence referendum on 2014, the less cohesive and motivated its enormous activist base, which was energised by the independence movement, becomes. Deputy leader Angus Robertson pleaded with people watching his speech in the hall and at home to get involved in their local branches, and a resolution was passed at the conference to hire organisers in each branch to harness activist bases.
"I think the movement in the SNP in the past few years has been such that people assumed that we would just win things," said SNP activist Ross Deans. "Realistically, Labour in Scotland didn't increase its share of the vote that much but there was a huge drop in voter numbers. When you think someone's going to win again, you think, rainy day, I don't know if I can be bothered voting, I won't worry about it. I think that was part of the problem we had – voter apathy. They've been asked to go to the polls so many times over the past few years."

Sturgeon unveiled a number of eye-catching policies during her speech – journalists pointed out there were seven mentions of the phrase "announce today" in the text, showing she was keen for the speech to be considered substantial and policy-heavy – including the creation of a state-owned energy company and free sanitary products for girls and women in education from next year.
This quiet SNP conference was the start of a new phase for the party, which has been in campaign mode since 2011 when it announced the independence referendum and has had at least one major vote every year since 2014, to settle down, convince people they're good at governing, and quietly wait for Brexit to unfold before capitalising on it for the next independence referendum.
Speaking after Sturgeon's speech, activist Graham Hobson said: "It was progressive, enthusing, and it sets out the stall of the direction for the future for Scotland. There were so many radical approaches and Scotland is leading the way for the rest of the UK to follow. I heard sufficient about independence because we have to live in the real world. It will happen. When? Who knows."
The bad news for 23-year-old MP Mhairi Black is that whether she likes it or not, independence is "on the backburner" in the SNP for the time being. But as Robertson told the crowd to one of the biggest reactions of the day: "There will be a referendum on Scottish independence."
Last week at the Conservative conference, Theresa May held Ruth Davidson's arm aloft and shouted that they had "saved the union". The SNP has had a setback, but remains certain the prime minister will – when the time is right – be proven wrong.