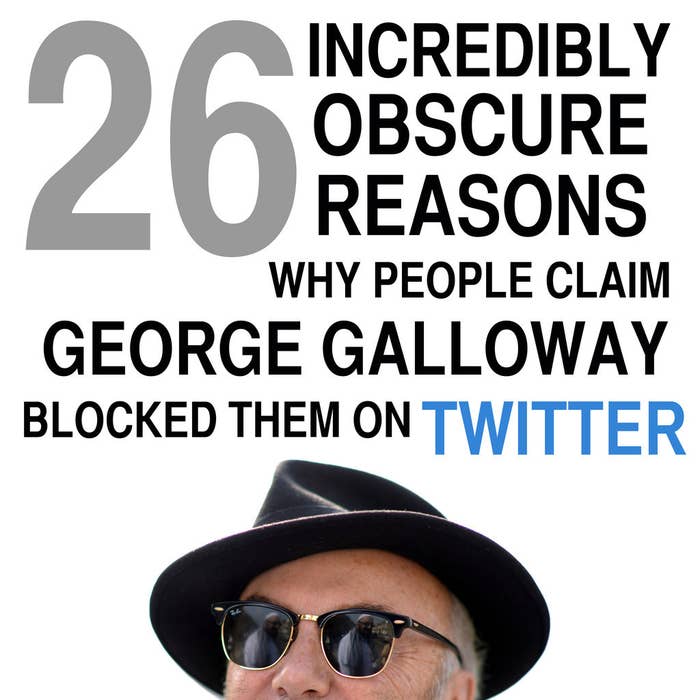 This is George Galloway, and he absolutely loves blocking people on Twitter.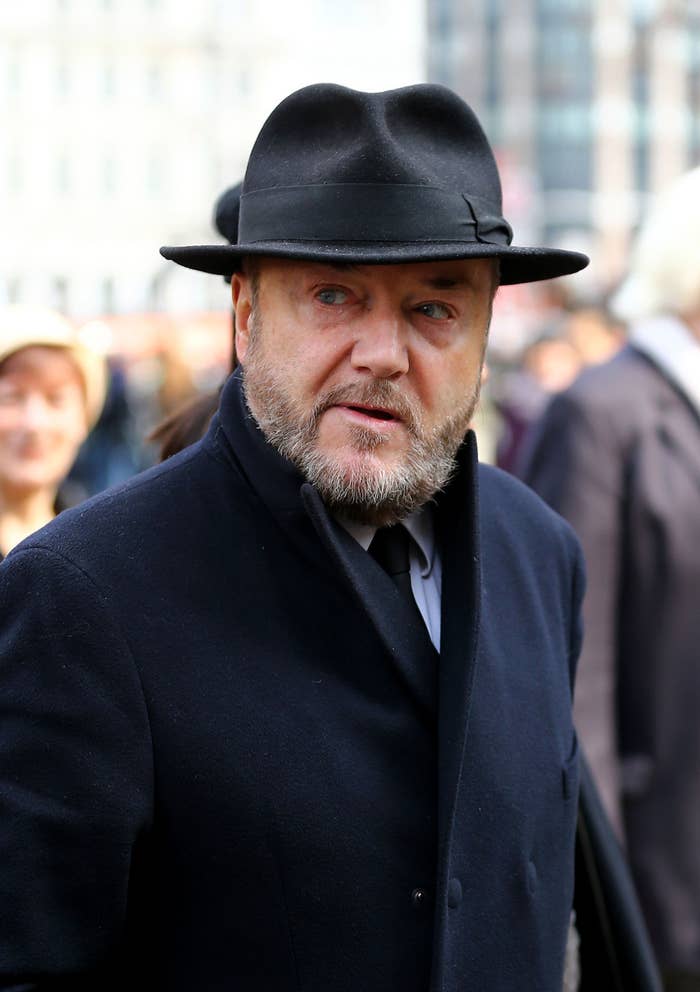 Galloway, the leader of the Respect party and election candidate in Bradford West, has blocked hundreds – possibly thousands – of people.
We asked you to send us the reason you think you were #BlockedByGalloway.
1.
"I told him his hat made him look like the German doctor who did Autopsy Live on Channel 4."
– Alex Brown
2.
"I think it might have been this in my case."
3.
"I called him a tool."
– Thomas Phipps
4.
"I responded to his request for a plumber."
5.
"I asked him whether he preferred free Wi-Fi over a free Palestine (he was tweeting about obtaining internet access somewhere)."
– Anon.
6.
"I tweeted this, and I got blocked."
7.
"I felt it was inappropriate for me not be blocked by him, and politely asked him to do the honourable thing. Within about 10 minutes he obliged. I am now at peace with myself and can now get on with my life."
– Martin
8.
"Blocked for this."
9.
"Called him a twat, but didn't @ him in the tweet. Must have a lot of time on his hands."
– Ed Longden
10.
"I was blocked by George Galloway for tweeting 'PARK LIFE' at him."
11.
"For taking the piss out of his hat."
– Phillip Simmons
12.
"I sent him this picture."
13.
"Shortly before Christmas, Galloway tweeted something like 'Have you read my website?' to all his followers. I replied, 'No,' to which he responded by saying I was banned from visiting anyway as I worked for The Sun, and that I was blocked as well."
– Kevin Schofield
14.
"Blocked for this."
15.
"I was blocked by George Galloway for booing him on Twitter this evening."
– Peter Clarke
16.
"This."
17.
"I was blocked by George Galloway after he said that a TV show he was watching was the funniest thing he had seen on TV for the last 10 years. I sent him a link to the infamous 'cat incident' and said that it was funnier and he blocked me."
– Douglas Fleming
18.
"For meowing at him."
19.
"Because I questioned why he was on tour in the Isle of Wight when he is the MP for Bradford West."
– Luke Rigg
20.
"I offered him a bowl of Whiskas."
21.
"Because I reported a denial made by a spokesman of something cybernats said he said in a debate."
– Asa Bennett
22.
"Mine."
23.
"Before a TV debate, I exchanged a couple of jokey tweets with a Yes supporter that mentioned leotards. After the debate I decided to follow Galloway and discovered that I was blocked."
– Bruce Gilmour
24.
"For no reason at all."
25.
"I did a nice sketch."
26.
"I just asked him to."