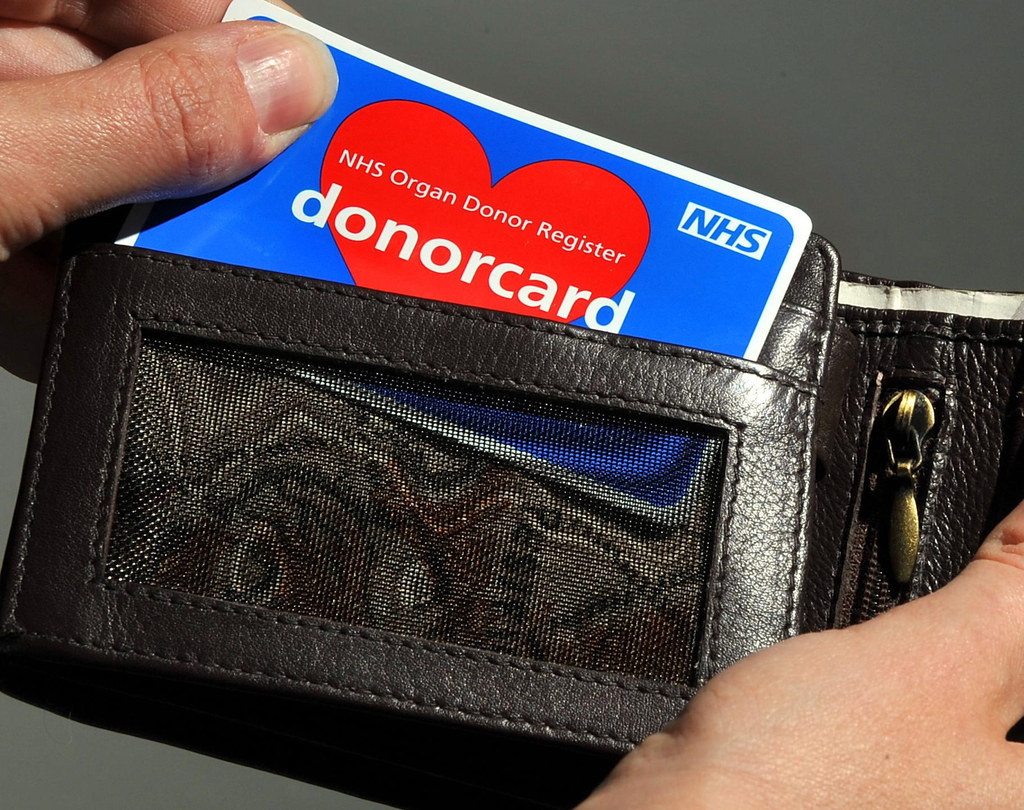 A senior kidney doctor said she was "disappointed" by the Scottish government's failure to back an opt-out organ donation bill and that "people are dying" while waiting for transplants.
On Wednesday the Scottish government rejected a Labour bill that would have started the process of creating new legislation for opt-out organ donation, but said it will consider bringing forward its own bill on the issue after May's election.
The Labour bill called for a switch from the current "opt-in" donation system to one in which parts of a dead adult's body could be used without their prior permission, or with the permission of their families. It was defeated by three votes.
Dr Sue Robertson, a member of the the British Medical Association's Scottish council and a kidney doctor in Dumfries, said she believes the bill could have been accepted by the government and passed before the Scottish parliament breaks up for the Holyrood election next month.
"It is disappointing that the Scottish government was not persuaded to support the general principles of this bill," said Robertson. "We believe that it could have been appropriately amended at stage two and passed by the end of this parliamentary session.
"However, we welcome the government's commitment to bring forward a consultation on further methods to increase organ donation and transplantation, including opt-out, in the next parliament. We would urge the Scottish government to make this work a priority.
"People are dying whilst waiting for organs, so it essential that swift action is taken to increase the number available for transplant. We must do all we can to help transform and save more lives."
Scottish Labour has singled out one SNP MSP for "petty" tweets in which he blamed Labour shadow cabinet minister Jackie Baillie for putting off wavering colleagues from voting for the bill.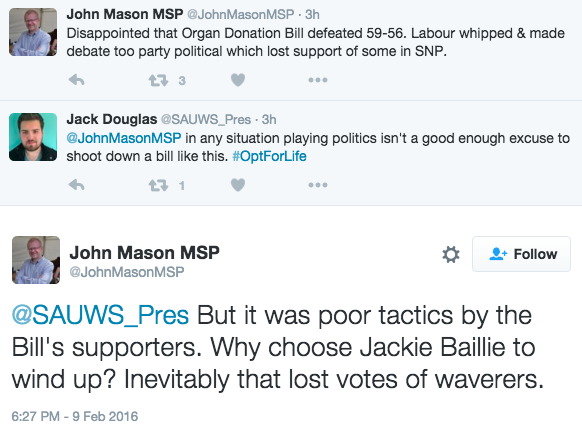 Scottish Labour MSP Anne McTaggart, who brought forward the bill, said: "This is a new low for Scottish politics. This bill offered hope for families across Scotland who are waiting for an organ transplant.
"People's lives are at stake, so you would expect MSPs to put aside petty politics and personality clashes to do the right thing. When the opportunity came to be bold and make a transformative difference to the lives of hundreds of Scots, the SNP government was found wanting.
"This is important – politicians shouldn't make easy promises if they won't follow through with tough decisions."
Mason did not respond to a request for a comment, but an SNP spokesperson said: "SNP MSPs had a free vote on this issue and voted according to their own views on the bill. There is, however, a consensus from MSPs across Scotland's political parties that we should do all we can to ensure that donor organs are available for those who need them.
"That's why if re-elected the SNP government will consult on options early in the next parliament – including the development of a soft opt-out organ donation system."