Scottish Labour Has Suspended Nine Councillors For Doing A Deal With The Tories
Update: The entire Aberdeen Labour councillor group has been suspended after it pressed ahead with a coalition with the Conservatives against party rules.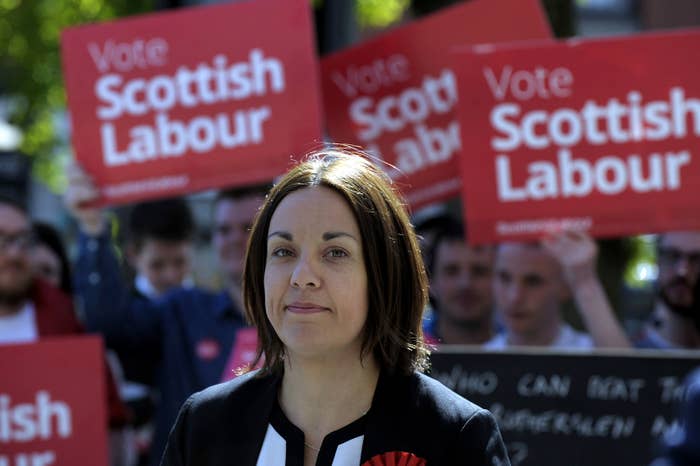 Scottish Labour leader Kezia Dugdale has suspended her party's entire councillor group in Aberdeen after it entered a coalition with the Conservatives in direct defiance of her instructions.
It emerged on Wednesday morning that, in contravention of a Scottish Labour ruling, the local Labour group in Aberdeen was seeking a deal with Conservatives and independent councillors in an attempt to stay in power in the city.
Scottish Labour's governing body, the Scottish executive committee (SEC), previously ruled that no deal could be done with the SNP or Conservatives because it would "result in further austerity being imposed on local communities".
However, the local Labour group ignored the ruling. Following a speech in Glasgow on Wednesday, Dugdale made clear that, if the group went ahead with the deal with the Conservatives, it would be disciplined.
A Scottish Labour spokesporson later confirmed that the nine councillors had been suspended with immediate effect for breaching party rules after they failed to stand down from the coalition by a deadline of 5pm.
"What will happen later today is that, if [Aberdeen Labour] choose to proceed with a deal with the Tories and the independents, we will be writing to Labour in Aberdeen making clear they are in breach of the Labour party rule book and we will take the associated necessary disciplinary action alongside that," said Dugdale earlier in the afternoon.
"I stand firmly behind this idea ... that the Tories are backing austerity and we shouldn't be dealing with any party that's going to force cuts upon the poorest people in this country."
A Scottish Labour spokesperson said all nine councillors had been suspended with immediate effect, pending an investigation, and confirmed that there are therefore no Labour representatives on Aberdeen council.

Dugdale's warning to Aberdeen Labour came after a speech in which she heavily criticised both Ruth Davidson's Scottish Conservatives and Nicola Sturgeon's SNP, insisting a vote for Labour would "break the hold of nationalism".
The Scottish Labour leader refused to answer a question from BuzzFeed News on whether Jeremy Corbyn will receive her backing as leader if he loses, dismissing the question as "a little bit tiresome" and distracting from the real issues.
"Don't vote for the SNP to sit on the opposition benches, where they will seek to exploit every piece of Tory cruelty to make the case for independence," said Dugdale during her speech.
"And don't forget that a vote for Ruth Davidson's Conservatives is every bit an endorsement of the rape clause and hard Brexit, as it is opposition to independence."
Dugdale added: "Vote Labour. Vote for the values we've always held, those Labour values of openness, cooperation, solidarity, tolerance, and mutual respect – which are needed now more than ever before."