Scotland's Next Big Hip-Hop Artist Also Runs His Local Food Bank
"It's a great time for music and activism – I just hope we can all pull together and really make a change," award-winning artist Ryan McGeady told BuzzFeed News.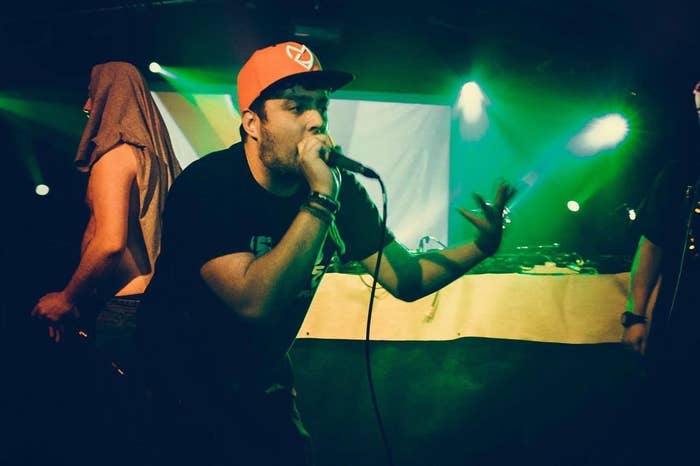 Ryan McGeady, the winner of best hip-hop artist at last week's Scottish Alternative Music Awards (SAMA), has told BuzzFeed News about his other life, in which he runs his local food bank in Glasgow.
McGeady, known as Kid Robotik, runs the food bank in the Drumchapel area of Glasgow helping to train volunteers, organise fundraising drives, and raise awareness of the bank to make sure it reaches the people who need it most.
McGeady, 26, won the SAMA as a solo artist but he's also part of a hip-hop collective, called TogoFam, that released an album earlier this year, with all proceeds going to the Drumchapel food bank.
"I've been writing music for half of my life now," McGeady told BuzzFeed News. "I was 13 when I first picked up a pen and started to write poetry. I first got into it as a way to cope with adolescence – I was never exactly the most popular kid at school, but I wasn't exactly an outcast either.
"I never knew how to fit in or how to feel. Writing gave me a new sense of freedom. It was around this time my older brother put me on to hip-hop music and so it just kind of stuck. Also I'm a terrible singer, so it was rap or nothing."
McGeady's mother helped establish the Drumchapel food bank and the rapper, who was then unemployed, started helping as a volunteer before getting more and more involved. His time at the bank, as well as his experiences with drug addiction and mental health issues, helped shape his work and social activism.
As volunteer coordinator at the food bank, McGeady ensures everyone who volunteers there knows how best to help the people who need it and leads drives to raise funds for and awareness of the service.
"It's an absolutely horrible state of affairs [that food banks exist in modern Scotland] but unfortunately it's a necessity," said McGeady. "For some people this is life and death, so we need these services here to make sure they have a safety net when things get tough.
"In today's current political and economical climate every single one of us is just one bad day away from having to access a service like ours, myself included. What I will say, though, is through the service we provide we have helped so many people who had slipped through the cracks.
"As well as providing food we also help people with debt advice, mental health issues, and budgeting advice with the help of other organisations. So as much as it sucks, it's also a great thing."

McGeady said he was "absolutely shocked" but "over the moon" to be recognised at last Thursday's SAMAs, which celebrate the best emerging artists in Scotland across seven different categories.
His work is increasingly focusing on social issues in Scotland, but up until now has largely revolved around his own experiences of poverty, mental illness, drug addiction, and the feeling of alienation he's encountered in his mid-twenties.
"I was raised to be very politically and socially aware but I tried to keep that away from my music," said McGeady. "Since working at the food bank and being so close to these issues, it's hard for it not to bleed into my art. I've spoken about poverty in my music and it's something I plan to tackle further on my next projects."
He added: "I've always been very open about my battles with mental health and drug abuse, so these themes pop up a lot. On my last project I tackled the issues of being in your mid-twenties: losing old friends, struggling to find your place, losing family members, and generally just feeling absolutely lost in the world."

McGeady has taken inspiration from fellow hip-hop artist Darren "Loki" McGarvey, who has become a well-known social commentator in Scotland in the past few years and this year published his first book, Poverty Safari.
McGeady said hip-hop is becoming an increasingly important vehicle for young Scots to express their anger towards society and the government, and for educating all Scots on what it's like to grow up in poverty in modern Scotland.
"I think with hip-hop anywhere in the world, there will always be ties to politics and activism," said McGeady. "It's a genre of music born out of rebellion against the status quo and in Scotland there have always been artists who talk about these issues – most notably Loki.
"He really brought politics and social issues to the forefront of his work and influenced a whole generation. Also, guys like Respek BA, and more recently Danny Kelly, Zesh, Oddacity, Young Brido, and many more, have challenged the government and social issues.
"The younger generation have really taken to talking about their experiences of growing up in poverty in Scotland. It can only be a good thing – the more people share their experiences, the better understanding the general population will have about these issues."
He added: "It's a great time for music and activism – I just hope we can all pull together and really make a change."