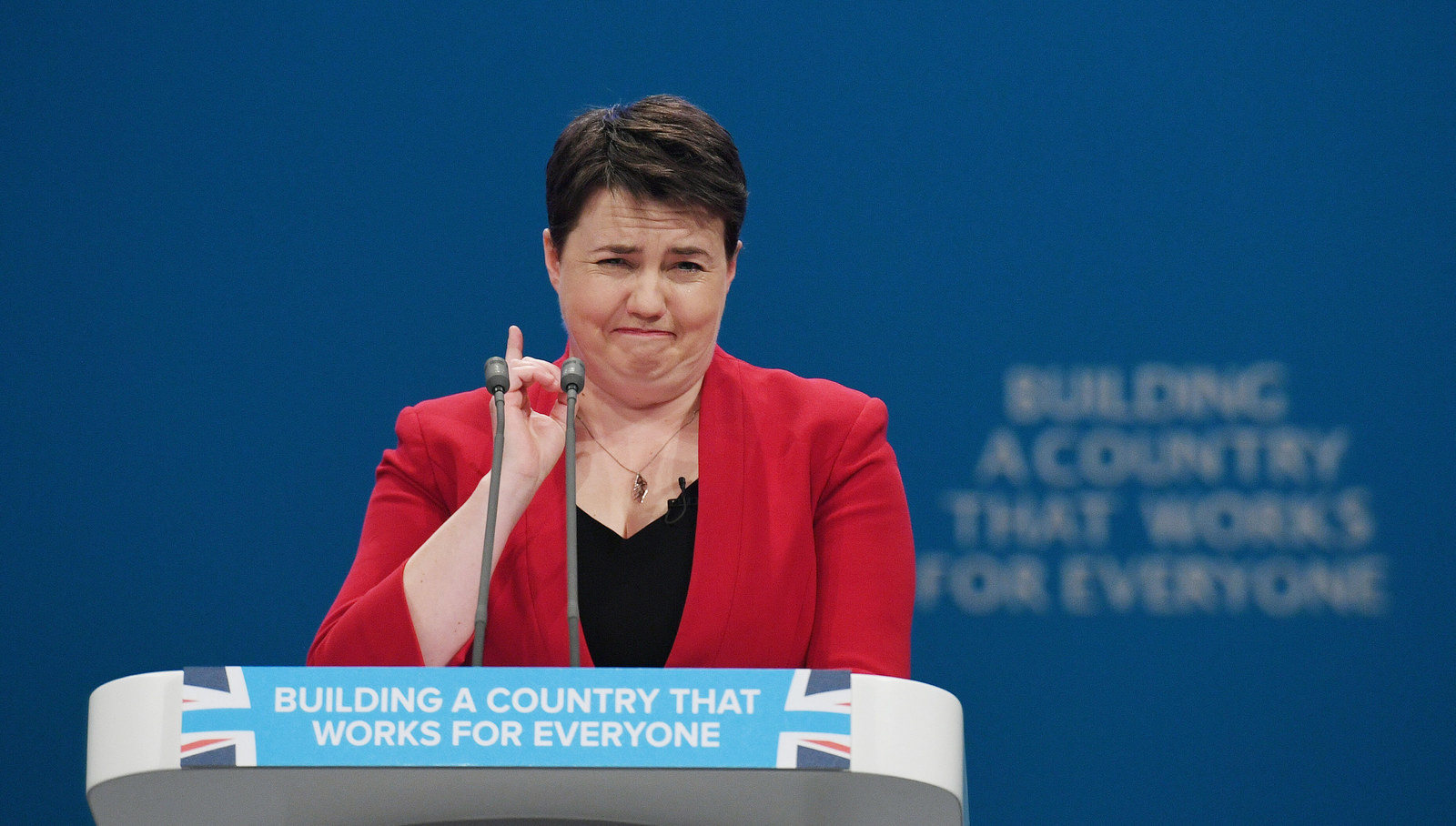 Ruth Davidson has told the Conservative party that it needs to "man up" and recover from the "nervous breakdown" it's been suffering from since Theresa May lost her majority at the general election earlier this year.

The Scottish Conservative leader, tipped by many to replace May as leader of the UK Conservative party, said the leadership speculation since June's election needs to end and hinted that she would have sacked foreign secretary Boris Johnson for his interventions on Brexit over the past week.
During the event, Davidson repeatedly refused invitations to directly criticise Johnson for his actions ahead of the conference when he was accused of breaking the ministerial code by setting out his own vision of Brexit.
However, she hinted that she would have sacked the foreign secretary for his interventions over the past week, in a veiled message to her MSPs.
She said: "Because I have a lot of my MSPs at this conference, if any of you think of writing anything, without telling me, that's counter to Scottish Conservative policy, you are out on your ear because nobody is unsackable."
Davidson also told the Red Box fringe event at the party's annual conference in Manchester on Monday afternoon that she couldn't see herself standing to be UK leader no matter how much she is urged to by the party membership.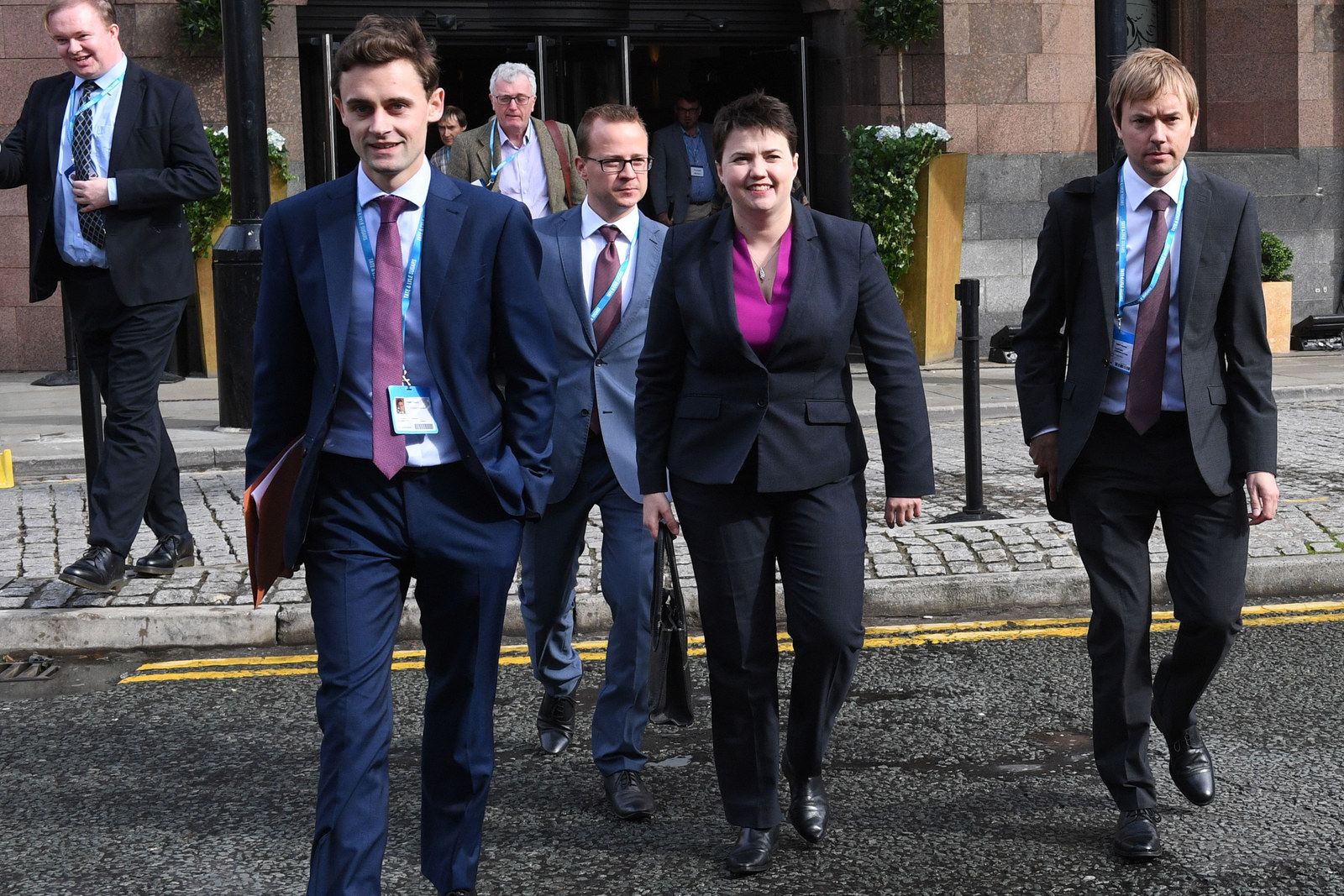 On being told by the chair of the event, Matt Chorley from The Times, that many Conservative members are looking for her to launch a leadership bid and "save the party", Davidson denied that was the case before adding: "I don't think the party needs saving – I think it needs to get over its current nervous breakdown and man up a little bit."
She added: "I absolutely understand [that] we underperformed at the election. We didn't do as well as we thought we could do or as well as we should do or, with our level of resource – both in personnel and in effort and monetary resource – you would expect us to do.
"And it's absolutely right that we look at the reasons for why and that we try to sort them all out. But there is a point you have to lift your eyes to the horizon as well, and I hope we come out of this conference and that's where we're for."
A recent poll by YouGov placed Davidson as the second-most popular choice among Conservative members, behind Boris Johnson, to replace May as leader with the foreign secretary on 23%, Davidson on 19%, and Conservative MP Jacob Rees-Mogg on 17%.
However, the Scottish Conservative leader poured cold water on speculation that she will become leader, saying that she is focusing her attention on becoming first minister of Scotland in the next Holyrood election in 2021.
"I honestly can't see it, I honestly can't," said Davidson in reply to a question on whether she will stand for the leadership. "I'm really lucky in that I'm regularly behind the door at Number 10, but it honestly looks like the loneliest job in the world – it really does – and I think it must be like that for the leader of any G7 nation or big country or whatever.
She added: "People ask me and they can't believe I don't want the job – they really don't – but I do want the job of becoming first minister of Scotland and that's what I'm working towards in 2021."