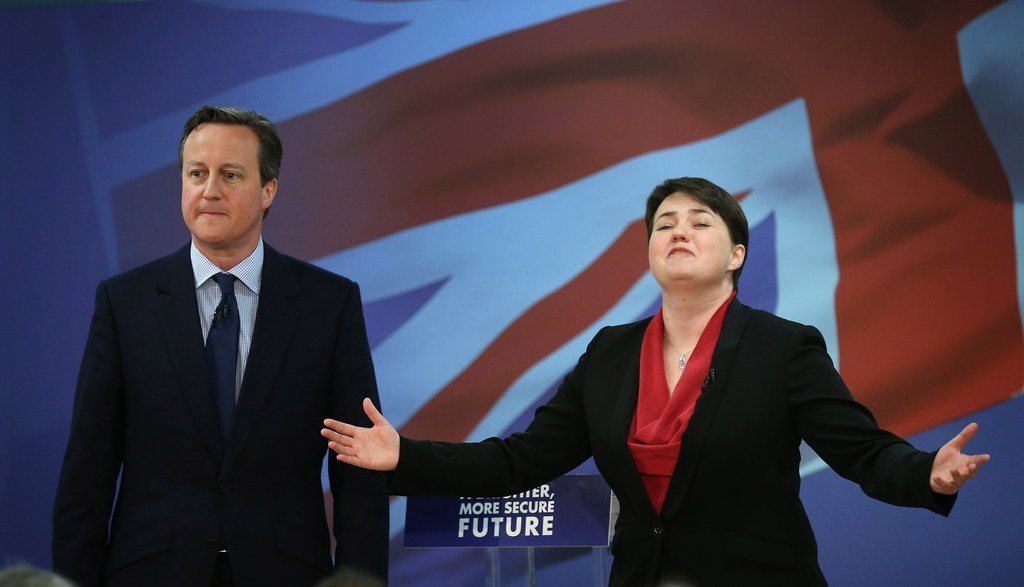 Ruth Davidson has ruled herself out of becoming the next Tory leader, saying she has "absolutely no interest" in the job.
The 37-year-old Scottish Conservative leader is credited with signs of recovery for her party in Scotland, with some polls suggesting it could overtake Labour in the Holyrood election in May.
She has been tipped as the next leader of the UK party by David Cameron who, when asked in May if Davidson could succeed him, said: "Indeed. I don't put a limit on her ambition. I think she is extremely effective."
Appearing on the BBC's Daily Politics on Tuesday, Davidson said she would not be the next Conservative leader despite being told her most recent betting odds were as short as 50/1 and that her party typically elects outsiders as leaders.
"I like the fact that I appear to be twice as likely to become the next leader [as Tory MP Jacob Rees-Mogg] despite the fact I'm not an MP and I don't sit in the House of Commons," said the Scottish Conserative leader. "I will rule myself out, I have absolutely no interest in the job."
Asked who she thought could be next leader, Davidson said there was a range of candidates but the only person she named was current secretary of state for Wales Stephen Crabb.
"[Crabb] is somebody I have a real friendship with in politics which is quite unusual actually," said Davidson. "His gifts, his warmth, and his life story brings him much closer to the people of Britain and I think he's a very good communicator. I would like to see him get a very big job in government."
She added: "I think what's really interesting about this is how many people you could see walking up the road to Number 10 whereas you can't see that, I would suggest, of the current Labour leader."
Chancellor George Osborne is the current favourite to succeed David Cameron with odds of 2/1.