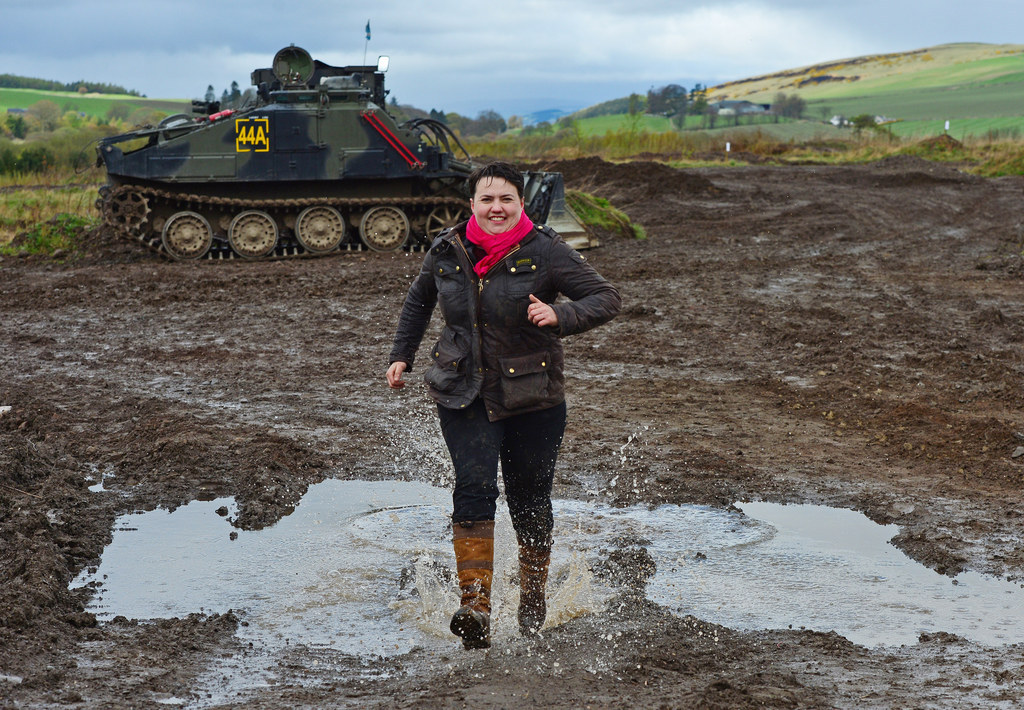 The Scottish Conservatives will reject the "cosy consensus" on free university tuition and back a "graduate contribution" to be paid by Scottish students after they're employed, Ruth Davidson has said.
In a speech to the Joseph Rowntree Foundation in London on Monday evening, the Scottish Conservative leader criticised former first minister Alex Salmond for committing the Scottish government to free tuition, calling it "a middle-class freebie, tarted up as an egalitarian policy".
Davidson said she would use funds raised from the graduate contribution to give higher-education bursaries to less well-off students. The most recent figures showed that Scottish students were racking up record levels of debt as the amount paid out in bursaries continued to fall.
"You may have seen the photos: Not long before he left office, our former first minister – never one to hide his hubris – arranged for a monument to be built at Heriot-Watt University in Edinburgh praising his decision for government to meet the cost of tuition fees in Scotland," said Davidson at the annual Rowntree poverty lecture.
"Well, what he didn't mention was how the cost of that free tuition led to funding for further education being slashed, with a reduction of 152,000 places as a result. Classic SNP: a middle-class freebie, tarted up as an egalitarian policy, slashing funds for less high-profile areas – and slaps on the back all round."
"Well, I reject the cosy consensus in Scotland, led by the SNP and Labour, which congratulates itself on providing 'free tuition'," she continued. "My view is different: I would bring in a graduate contribution – no upfront fees and not anywhere near as high as here in England."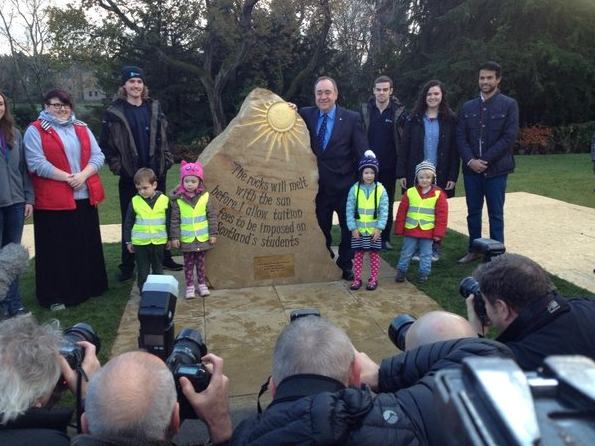 Elsewhere in her speech, Davidson said she would provide more childcare to 1- and 2-year-olds in disadvantaged homes, called for a review on the pay of senior bosses, and said the Scottish Conservatives would put more money into further education colleges.
"I would use those funds [the graduate contribution] to back bursaries for poorer students, and I would reverse the SNP cuts on further education colleges," said Davidson. "I reject entirely the snobbish view that values higher education much more than vocational and practical training. Do the Germans think like this? Of course they don't. It is time we redressed the balance."
Commenting on Davidson's poverty lecture, the SNP said the Scottish Conservative leader couldn't "hide" from the record of Cameron and Osborne on poverty and said Davidson's graduate contribution would hit deprived students the hardest.
"Ruth Davidson has a cheek talking about poverty when the Tories are hounding disabled welfare claimants and hammering low-income families through their austerity policies," said SNP MSP Joan McAlpine.
"A record number of 18-year-olds from deprived backgrounds applied to university this year – but Ruth Davidson wants to hit those students with a tax on their education by bringing back tuition fees. The SNP government has established a £100 million fund to tackle the attainment gap and has legislated to widen access to education – which the Tories voted against.
"Ms Davidson might think she can hide from the record of David Cameron and George Osborne but the people of Scotland know exactly what the Tories stand for."