Rape Victims Could Soon Have To Provide Proof If They Want Child Benefits
Rape charities have condemned measures which could see women who become pregnant through rape have to prove it to the government.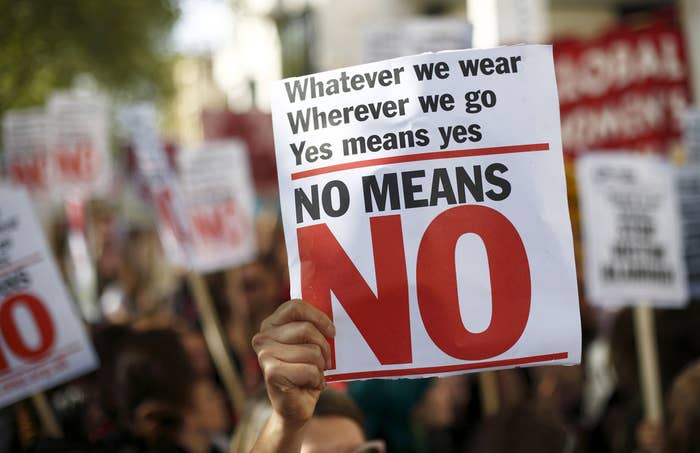 Women who become pregnant through rape could soon be made to provide proof of assault to the Department for Work and Pensions in order to claim child tax credits.
In Wednesday's budget, chancellor George Osborne announced that parents will no longer be able to claim tax credits for any more than two children after April 2017 as part of a range of cuts to welfare.
Included within the measure was a detail that the DWP will develop "protections" for women who become pregnant and have a third child "as the result of rape, or other exceptional circumstances".
Opposition MPs, including the SNP's Eilidh Whiteford, said this was an "appalling" measure that would lead to women who have been raped having to provide proof of their assault to the DWP and putting themselves through "another traumatic ordeal".
"How does the DWP intend to establish a child has been born as a consequence of rape?" asked Whiteford in the Commons on Thursday.
"Will there be a box to tick on the form? Will a criminal conviction against a perpetrator be required? We know rape is one of the most unreported and poorly prosecuted serious crimes in the UK – most surveys suggest that 85% of women who are raped just don't report it for a whole variety of reasons."
Rape charity Survivors' Trust told BuzzFeed News the proposal shows a lack of understanding about how women deal with rape.
"It is highly inappropriate that a woman would need to prove she was raped for benefits relating to any children she may have," said a charity spokesperson.
"This ignores the complexity of disclosure and common feelings of guilt and shame people have. Victims of rape often feel that they will not be believed, and this is a huge barrier to disclosure, with approximately 13% reporting to police.
"Women will suspect that the person they have to tell to get the benefits will not believe them and that they are simply wanting to access benefits = punishment not protection."
The national spokeswoman of Rape Crisis England and Wales said the proposal appears to be "unworkable" and questions how the government will maintain the victim's confidentiality.
"How will women who have had a third child as a result of rape be required to declare this sensitive information?" said Katie Russell. "How will their confidentiality be protected and upheld? If DWP staff are receiving such disclosures, what kind of specialist training and support will be provided to them? Will women be required to produce evidence that their child was conceived following a rape and who will assess this evidence?
"Given that many of the women we work with at Rape Crisis have only sought the kind of confidential, independent and specialist support we offer after years or even decades, and have sometime never told even their partner or closest friends of their experiences, it seems unlikely that many sexual violence survivors will be willing to disclose to a government official."
A Treasury spokesman said the details of the proposals will be set out in the near future.
"As part of the reforms to the welfare system set out in the Summer Budget, we are absolutely clear there needs to be adequate protection for victims of rape and other exceptional circumstances," said the spokesman. "The details of these protections will be set out in due course."
The budget will continue to be debated in the Commons until next week.