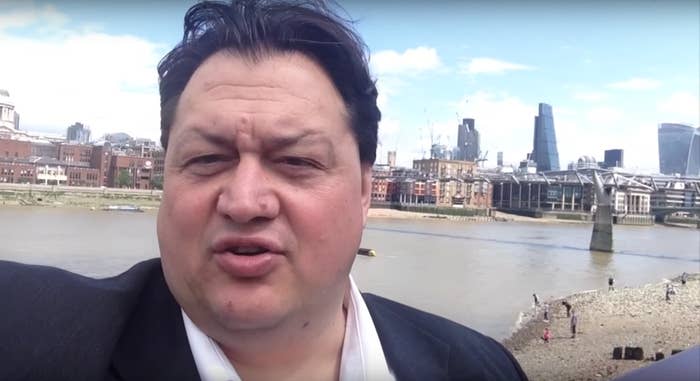 A pro-EU campaigner is about to embark on a 3,000-mile march in an attempt to persuade people in Britain to vote to stay in Europe.
Alexander Olteanu, a business teacher who was born in Romania but is now a British citizen, will walk 10 miles every day for over 300 days to spread his message about why the UK is better off inside the EU.
The march will begin in Edinburgh next week and end up in Coventry shortly before Christmas. Olteanu will rely on the kindness of strangers for financial support and shelter as he makes his way through the British Isles talking to people in schools, libraries, and universities.
"What we're trying to do is get away from money coming from millionaire sponsors like Aaron Banks and be a real grassroots movement," Olteanu told BuzzFeed News. "We're going to listen to people and open up debates on what they say. Why send 8 million flyers to peoples homes which just end up in the bin anyway?"
Olteanu, who has set up the grassroots "Stronger United" campaign for the referendum, will visit all four countries of the UK during his walk. He will arrive at the final stop on December 21, six months after the likely date for the EU referendum of June 23.
"Whenever the referendum happens we want to finish the march in the UK to set up a network here and then extend it to Europe," said Olteanu. "We have an extremely powerful anger against the establishment in Europe and the US which is being exploited by right-wing people, which we can't allow to happen."
The campaign, which will depend on £5 donations from the public alongside sales of books and T-shirts with the Stronger United logo on them, wants to break away from what it calls the "false dichotomy" of David Cameron's "Stay" campaign or UKIP's "Leave" campaign.
It rejects any campaign funded by big business and Olteanu has chosen to begin the march in Scotland because he admires the level of engagement that came about with the country's independence referendum in 2014.
"There has been experience of a referendum [in Scotland] and people already know how important it is to vote in them," he said. "We want just as high a level of participation in the EU referendum as they did in Scotland, and here it will be easier to explain ourselves to a pro-Europe population."
Olteanu hopes the campaign will "snowball" to the extent that he will be able to hold a conference at the final stop in Coventry to discuss where it will go next with the "Britain-wide network" he plans to create.
He said he's aware there are "less tiring" ways to campaign but believes the physical exertion he's willing to put in will help get his message out, saying: "The walk, the effort we're putting in, is what we hope will galvanise people.
"The effort to contact people in their communities is so important. We're self-funded and we want to make this an expression of grassroots organisation – the walk is the symbolism of that."
He added: "Anyone can take a bus."