16 All-Male Panels At The Tory Party Conference Talking About Serious Stuff
We're less than two days into the Conservative conference in Manchester, but lots of men have already talked about things with other men.
1.
This Countryside Alliance event where the boys discussed why people who shoot animals are "the real conservationists".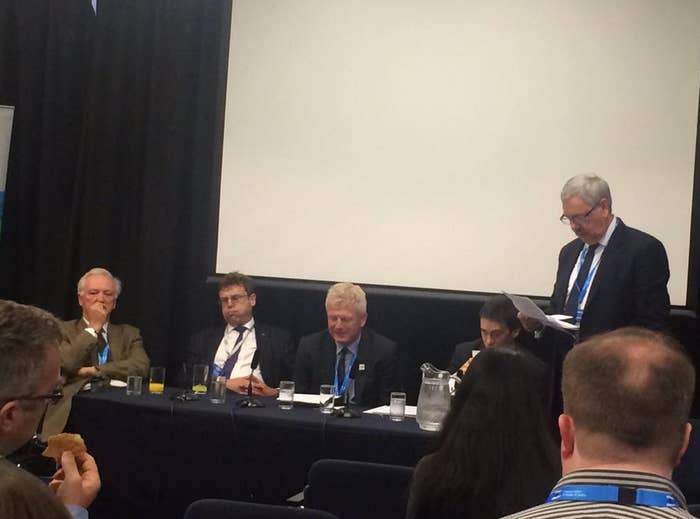 2.
Look at all of these men talking about money.
3.
Here are the fellas talking about a campaign to make people walk more.
4.
This Campaign for Real Ale fringe meeting where the lads had some banter about beer and pubs.
5.
This event was hosted by the CPS think tank, where six men all talked about Europe like great big bloody blokes.
6.
Here are some legends in deep discussion about #fotbot.
7.
These men talked about technology and machines. It was like Top Gear. Fantastic.
8.
Here are four massive lads taking action on housing.
9.
These gents led the discussion at the LGBTory fringe.
10.
There are structural challenges facing charities, but don't worry – these chaps have it all in hand.
11.
Here are some gentlemen discussing the exclusively male issue of council tax.
12.
This event from Conservative Home looked particularly fun and testosterone-filled.
13.
Here are lots of men watching a smaller number of men talk about the "northern powerhouse".
14.
These chaps are sorting out local government for everyone.
15.
Men. Finance. Technology. Lovely stuff.
16.
Finally, here are some men thinking in their "think tent".
The Conservative party conference is now looking forward to two more days of men talking about things.
News moves fast. Keep up with the BuzzFeed News daily email!