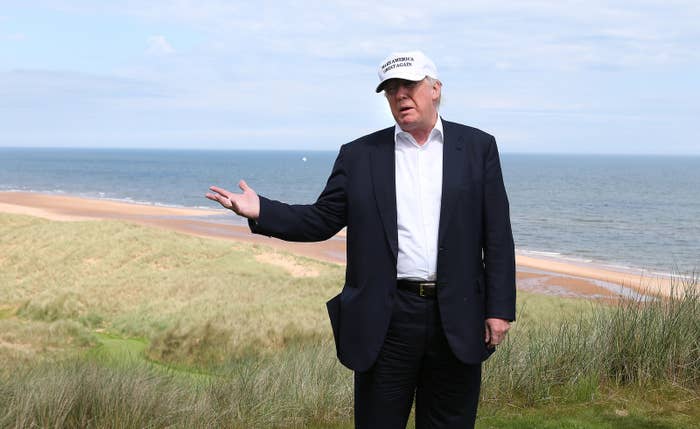 Pro-independence Scots have reacted with delight after Donald Trump said Scotland leaving the UK would be "terrible", confident that the US president's opposition will be a huge boost to their cause.
On Tuesday, a rambling transcript of a Wall Street Journal interview with Trump was released by Politico in which Trump revealed his concerns about what Scottish independence would mean for the Open golf championship.
"Is Scotland going to go for the vote, by the way?" the US president asked a Wall Street Journal reporter. "You don't see it. It would be terrible. They just went through hell. They just went through hell."

Trump, who established two championship golf courses in Scotland, added: "One little thing, what would they do with the British Open if they ever got out? They'd no longer have the British Open. Scotland. Keep it in Scotland."
Figures from the pro-independence Scottish National Party told BuzzFeed News they were confident that, rather than harming their cause, Trump's comments will boost support for independence due to his unpopularity in Scotland.
Although Trump's mother was born in Scotland, the US president has sparked protests in the country – thousands of people took to the streets shortly after his inauguration early this year to call him "an absolute roaster" and "a bawbag".
Alex Salmond, the former leader of the SNP and former first minister, told BuzzFeed News that Trump was "a complete and utter nincompoop" and that the president's opposition to independence would boost independence support.
"Donald Trump's opposition to independence should seal the deal for the SNP – and to do it on the basis of Scotland losing the 'British Open' is typical," said Salmond. "The tournament is actually called The Open and the headquarters of the R&A is in St Andrews which last time I checked was in Scotland."
The former SNP leader added: "The Grand Canyon is a minor crevice compared to the vast chasm of ignorance of that man. The President of the United States is a complete and utter nincompoop."
SNP MP Tommy Sheppard told BuzzFeed News: "It's almost impossible to see how the cause of Scottish independence could be harmed by the Donald's opposition to it. I expect this will encourage decent thoughtful people to give it some consideration when they might not have done previously."
SNP MSP Mark McDonald added: "I rather suspect, unlike when the UK government begged Obama to intervene in the 2014 referendum, they would probably have begged Donald Trump to keep his opinions to himself on the matter. I can't see this getting put on a leaflet any time soon."
SNP MSP James Dornan tweeted "woohoo" in reaction to the news that Trump was against Scottish independence.

Dornan later told BuzzFeed News: "Like many on the Yes side I'm delighted to see Trump's statement that Independence is bad, very bad, maybe the baddest thing ever to happen to that great country of England since the Boston Tea Party."
He added: "Since being elected President Trump seems to be on the wrong side of every major issue and this comment just highlights how out of touch with political reality he is."
Former SNP MP John Nicolson said: "I'm delighted to see President Trump assume the leadership of Better Together in plenty of time for the next independence referendum campaign. I feel certain he will deliver for them the vision, integrity and intellectual clarity which were so badly lacking last time round."
SNP councillor Mhairi Hunter tweeted that Scottish independence doesn't feel that warmly towards Trump either.
Irvine Welsh, the author of Trainspotting, tweeted that Trump's opposition was "an utterly irrefutable and totally compelling argument" for holding another referendum on Scottish independence.

Another politely reminded Trump that it's not for him to decide if Scotland has another independence referendum, and called him a "baw juggler".