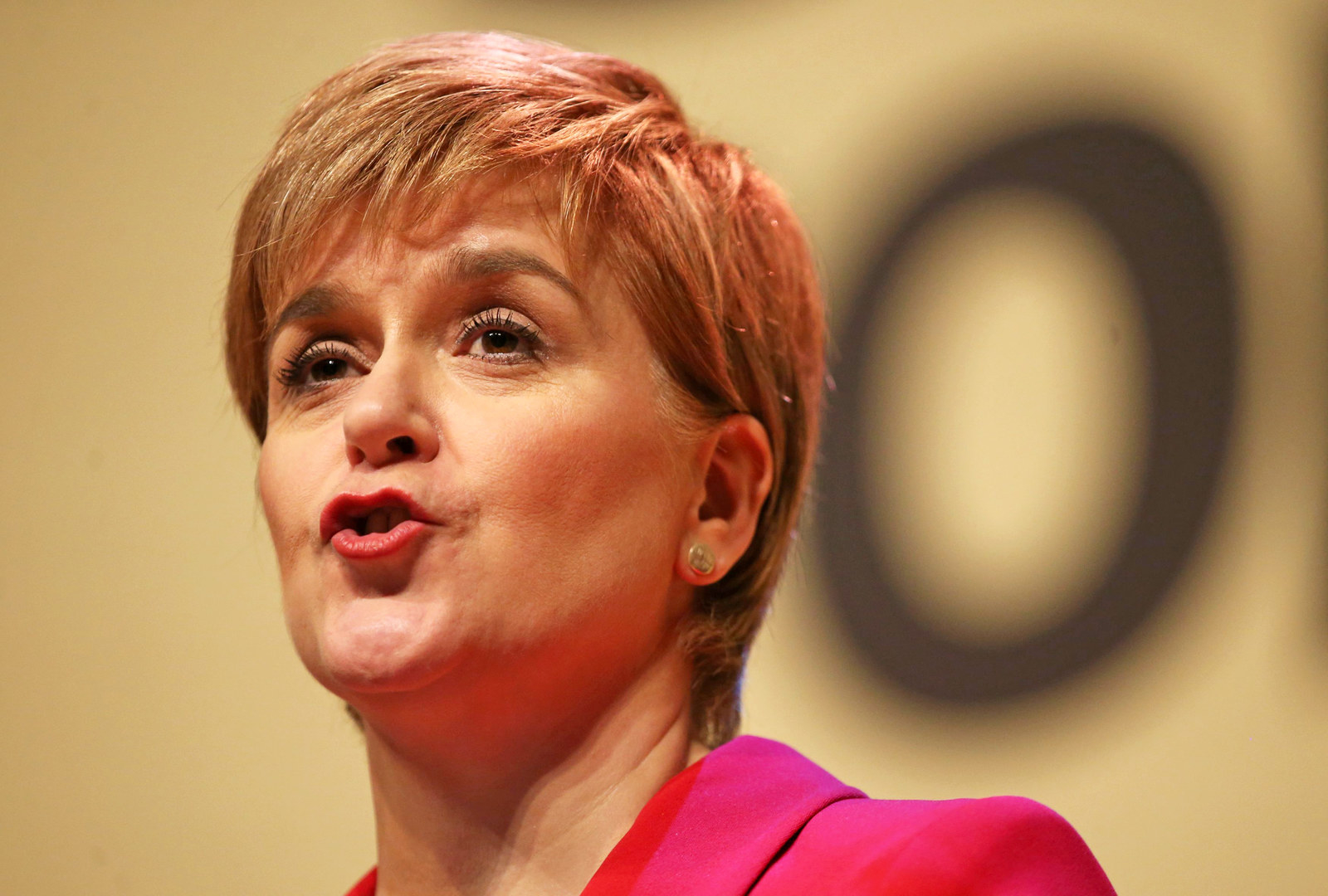 Nicola Sturgeon would seek to help Jeremy Corbyn become prime minister and support him on an "issue-by-issue" basis in the result of a hung parliament in next week's general election, she has said.
As the polling gap between Labour and the Conservatives narrows, there has been increasing speculation about whether the SNP would lend its support to Corbyn and strike some form of deal to make him prime minister.
Labour has formally ruled out an official coalition or deal with the SNP, and Scottish Labour leader Kezia Dugdale told BuzzFeed News on Friday that there would be categorically "no need for discussions or compromises" between the parties in the event of a Labour minority.
Dugdale accepted that a minority government would only work if the SNP supported legislation such as a Labour budget – but dared the anti-Conservative Sturgeon to vote against Labour and ultimately "let the Tories back in".
Speaking on BBC Radio 4's Today programme on Friday morning, Sturgeon said she'd expect "all sorts of talks" between her and Corbyn in the event of a hung parliament and predicted Scotland would end up being "pivotal" in the outcome of the election.
"I've said very clearly, I said this many times during the 2015 election, that if there was to be a hung parliament – if the parliamentary arithmetic allowed it – then I would want the SNP to be part of a progressive alternative to a Conservative government," said the first minister.
"Not in a coalition, I don't envisage any formal coalitions, but on an issue-by-issue basis to put forward progressive policies and see a progressive agenda. We see some of the parties in this election, not least Labour, putting forward policies that the SNP has already implemented in Scotland."
Asked if it would be democratically acceptable for the SNP to have a hand in governing of the entire UK despite only standing candidates in Scotland, Sturgeon said such a result would mean that voters in the whole of the UK had decided that they wanted neither of the two main UK parties to "govern with a free hand".
She added: "When I look at the polls right now, I certainly see in the rest of the UK a significant narrowing of the polls, but my reading of the polls is that Theresa May and the Conservatives are still on track to win this election. But they're no longer certain to get a bigger majority in this election.

"In that scenario, Scotland becomes centre stage and potentially has a pivotal and decisive role to play. It could be the case that what determines whether or not Theresa May has a bigger majority is the outcome of the election in Scotland."
Senior SNP sources are privately playing down the prospect of there being a hung parliament next week, with one telling BuzzFeed News: "I just don't think a hung parliament is on the cards – I'm not hearing any talk in SNP circles that any serious preparation is going into the possibility."
Speaking shortly after Sturgeon in Edinburgh on Friday morning, Dugdale told BuzzFeed News that Corbyn will offer the SNP nothing in the event of a Labour minority but will expect the party to support Corbyn's budget.
The Scottish Labour leader "categorically" ruled out Corbyn offering to legislate for a second referendum on Scottish independence as a bargaining chip for the support of the SNP in the House of Commons.
"The reality is that in a Labour minority government situation there would be a Labour budget underpinned by the commitments we have in the manifesto and it would be there and presented for the SNP to vote for or vote down," said Dugdale.
She added: "There's no need for negotiations or compromises. I want a Labour government, if I can't have that it'll be a Labour minority administration, and the SNP have to decide to back that or back the Tories. It's no more complicated than that."
Asked if that would mean that Labour ultimately relied on the SNP to pass legislation, Dugdale said: "We're not relying on them, that's how a Labour minority administration would work – in the same way the SNP deny they were in any sort of coalition with the Tories between 2007 and 2011.
"I want a Labour government, that's what's on the agenda next week, and if people want that they have to vote for it – every vote for the SNP is wasted in that regard."
A source close to Labour leader Corbyn told BuzzFeed News: "We have been clear – no coalitions and no deals."