Nicola Sturgeon Has Criticised The EU For Its Silence Over Catalonia Violence
The pro-EU leader said that it had failed to live up to its founding values of "human dignity, freedom, democracy, and equality".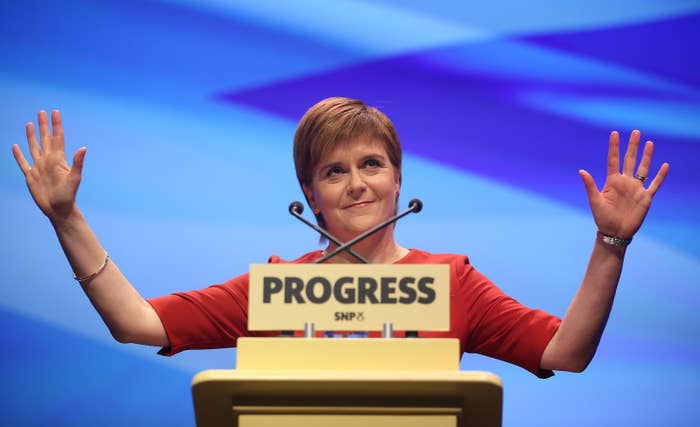 Nicola Sturgeon has condemned the European Union for its silence over the police violence that marred the referendum on Catalonian independence.
In her keynote speech to the SNP conference in Glasgow, the first minister of Scotland said the EU had failed to live up to its values of "human dignity, freedom, and democracy" by neglecting to criticise the violence surrounding the vote.
During her speech, the first minister also announced Scotland will create a nationally owned power company by 2021 and introduce free sanitary products in schools next year, and reiterated that she has a mandate for another referendum on independence in Scotland before the next Scottish election.
Sturgeon opened her speech by holding up a packet of Strepsils, mocking prime minister Theresa May's speech at the Conservative conference last week, which was repeatedly interrupted by her persistent cough.
On Catalonia, which voted on independence in a referendum deemed illegal by Spain, Sturgeon said that while she is pro-EU and wants Scotland to be a full member should it choose to become independent, the EU failed Catalonia last week.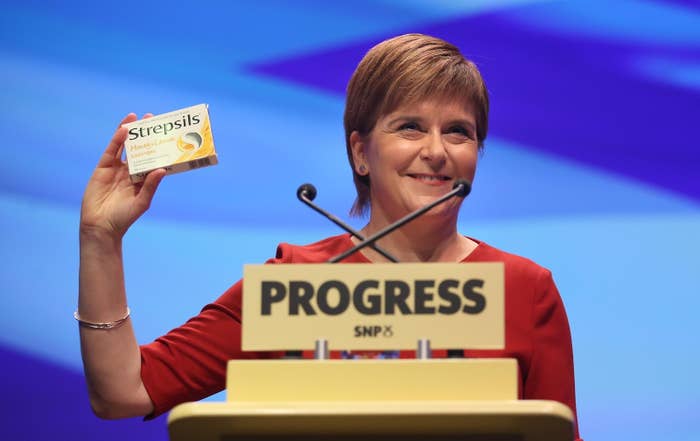 "We do want Scotland to stay at the heart of Europe, but that does not mean we think the EU is perfect," she said. "Sometimes it fails to live up to its founding values of human dignity, freedom, democracy, and equality.
"When the people of Catalonia – EU citizens – were violently attacked by police just for trying to vote, the EU should have spoken up, loudly, to condemn it."
The first minister went on to say that she wants the Spanish and Catalan governments to open up a dialogue about the way forward, saying Spain must "respect democracy and the right of the people of Catalonia to determine their future".
On her own case for independence, the first minister failed to offer any further clarity on when there might be a second referendum on independence but insisted she still has the power to call one before the next Scottish election in 2021.
The first minister previously rowed back on her plan to hold another Scottish referendum after the SNP suffered heavy losses in the general election in June, going from 56 Westminster seats in 2015 to 35 in this year's vote – with 12 seats in Scotland going to the pro-union Conservatives.
However, the deputy leader of the SNP, Angus Robertson, who lost his seat in June's election, hinted to the conference ahead of Sturgeon's speech that the party intends to hold the next independence referendum by 2021.
"We have a mandate to give the people that choice – that mandate was won fairly and squarely, but exercising it must be done with the interests of all of Scotland at heart," Sturgeon said. "People want clarity about Brexit first. We respect that.
"But to all of you here in this hall and across our country who are impatient for change, let me say this: We may not yet know exactly when the choice will be made. But we can, we must, and we will always make the case for independence."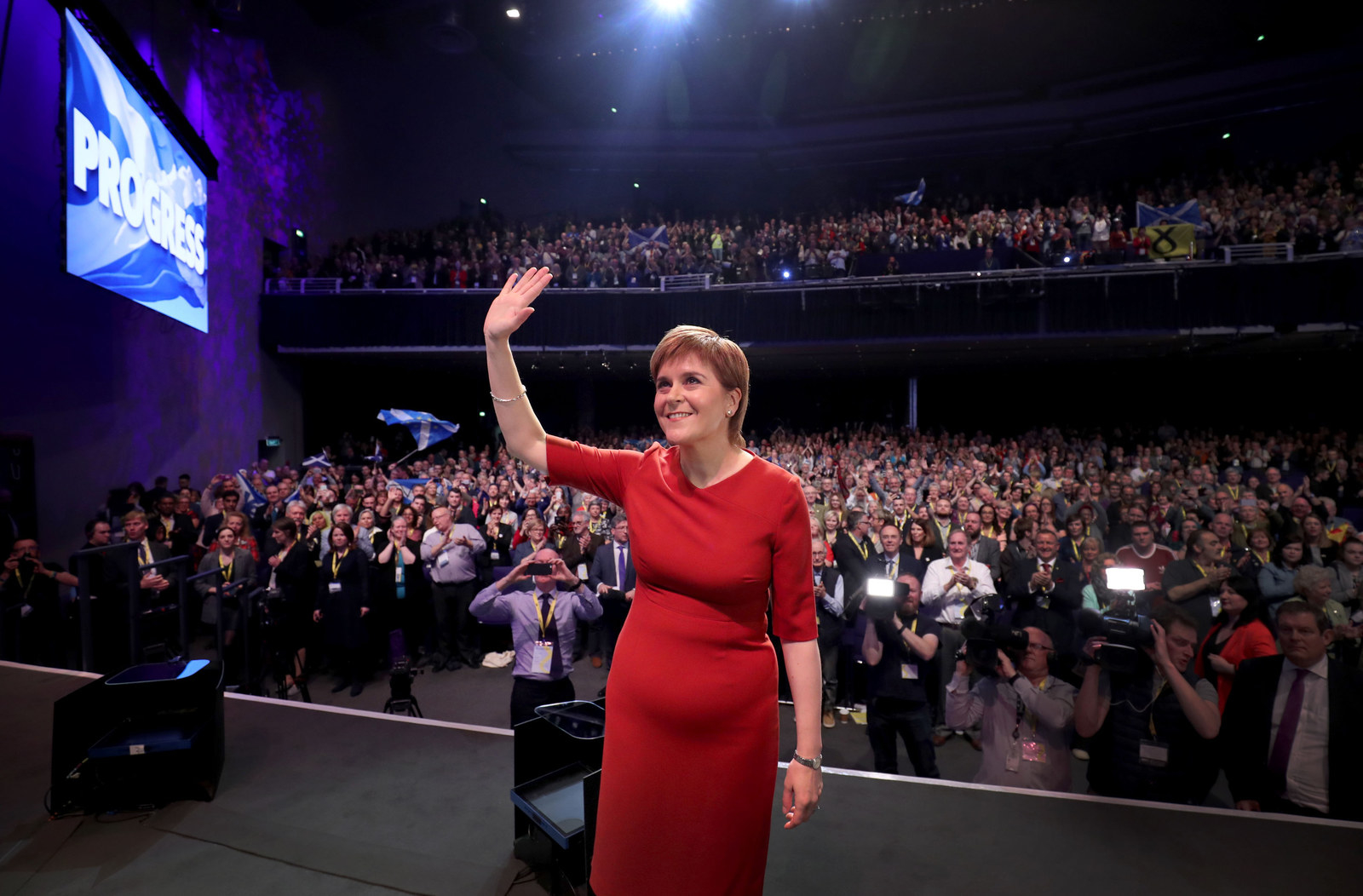 She added: "With the UK government so engulfed in chaos and taking the country down a path of self-imposed decline, the need to do so has never been greater. So let us make our case with conviction."
The policy that gained the warmest reception in the conference hall was the first minister's announcement that, before 2021, the Scottish government will create a state-owned energy company to offer cheap electricity to Scots.
"In our manifesto last year, we also pledged to explore the option of a new publicly owned energy company," she said. "The idea, at its heart, is simple. Energy would be bought wholesale or generated here in Scotland – renewable, of course – and sold to customers as close to cost price as possible.
"No shareholders to worry about. No corporate bonuses to consider. It would give people – particularly those on low incomes – more choice and the option of a supplier whose only job is to secure the lowest price for consumers.
"Conference: We will set out more detail when we publish our new energy strategy. But I am delighted to announce today that – by the end of this parliament – we will set up a publicly owned, not-for-profit energy company."