Nicola Sturgeon Attacks Jeremy Corbyn's "Unreliable And Unelectable" Labour Party
The first minister strongly criticised Corbyn at the opening of her party's conference.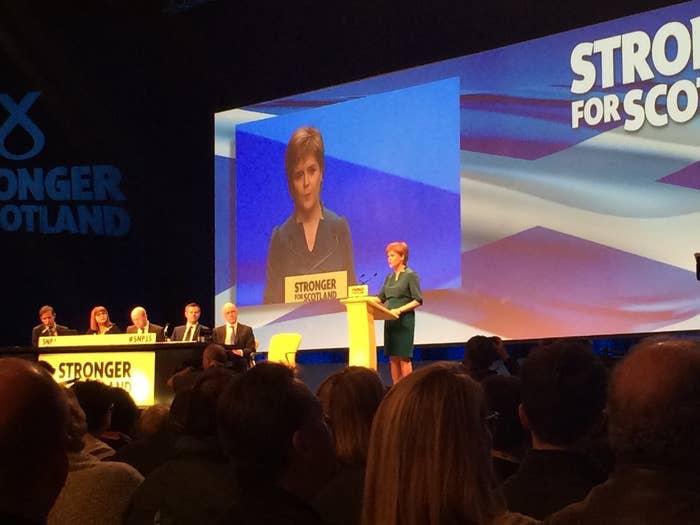 Nicola Sturgeon has launched a stinging attack on Jeremy Corbyn, calling his party "unreliable, unelectable, and unable to stand up to the Tories".
In her welcome address to the SNP conference in Aberdeen on Thursday, the first minister said that since Corbyn became Labour leader he's been unable to unite his party behind him, and her party has been left as the only "principled opposition" to the Conservatives.
"You know, there is much that I hoped the SNP and Jeremy Corbyn could work together on," Sturgeon told the conference audience. "But over these last few weeks, it has become glaringly obvious that he is unable to unite his party on any of the big issues of our day.
"When he says he opposes Trident, he is attacked, not just by the Tories, but by his own shadow cabinet. When he says he opposes the welfare cap, he is opposed, not just by Iain Duncan Smith, but by his own shadow justice secretary," she said.
Sturgeon pointed to confusion over Labour's policy on nuclear weapons, Syria, and the economy, claiming her party has become the only "united, strong" opposition to David Cameron and George Osborne.
"Whether on the economy, or Trident, or even the question of whether UK forces should take part in airstrikes on Syria, Labour is a party divided and in disarray. In fact, the only thing clear about Labour – and it becomes clearer by the day – is this: Labour is unreliable, unelectable and unable to stand up to the Tories."
The SNP conference continues until Saturday.