Police Say There's Insufficient Evidence To Charge Lord Sewel Over Drugs Claims
Sewel resigned from the House of Lords after the Sun on Sunday obtained film of him allegedly taking drugs with prostitutes.
Lord Sewel, the Labour peer caught in a tabloid newspaper sting, will not be prosecuted for drug-related offences, the Metropolitan police has confirmed.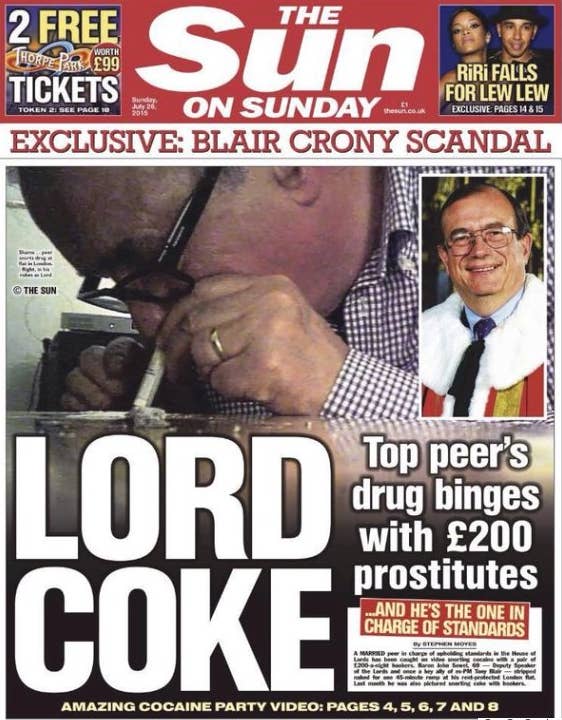 In July, the Sun on Sunday published footage which it said appeared to show Sewel snorting cocaine in the company of prostitutes. The following day, sister paper The Sun's front page featured a photograph of the former deputy speaker of the Lords in a bra.
He subsequently resigned from the Lords and apologised for the "pain and embarrassment" he had caused. He hoped his resignation would "limit and help repair the damage I have done to an institution I hold dear".
Following the resignation, the Metropolitan police confirmed it was looking into "allegations of drug-related offences", but a statement released on Tuesday afternoon revealed that following the investigation, insufficient evidence had been found to charge him.
"The Metropolitan police service launched a criminal investigation into allegations of drug-related offences involving a member of the House of Lords on Monday, 27 July," the statement said. "The investigation, led by officers from the special enquiry team of the homicide and major crime command, has now concluded.
"Following a review of all the material, including a forensic examination of an address in central London, there is insufficient evidence to proceed with this investigation and the matter is now closed."