Labour Leadership Hopeful "Tempted" To Keep The UK Inside The EU
"I don't think we should accept that we're on a definite path out," said Owen Smith.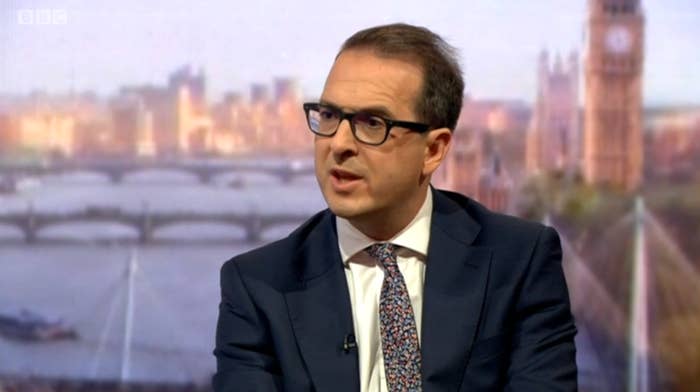 One of the candidates to be the next leader of the Labour party has said he'd be "very tempted" to overrule the result of last month's referendum and keep the UK inside the EU.
Owen Smith MP, who officially launched his bid to oust current leader Jeremy Corbyn on Sunday, also raised the prospect of holding a second referendum on EU membership after Brexit negotiations have been completed to make sure it's what people in the UK want.
Speaking on The Andrew Marr Show alongside fellow leadership hopeful Angela Eagle MP, Smith described himself as a "proud European" and said he believes the UK is "very much better off" inside the EU.
Asked if he would not trigger Article 50, beginning the process of the UK leaving the EU, Smith replied: "That would be very tempting for the Labour party because we are a party that believes in being at the heart of Europe, but I don't think it's a binary choice. The reality is we don't know what those terms are going to look like."
He added: "We need to negotiate right now. I don't think we should accept that we're on a definite path out. We need to make sure people are satisfied with that. We trusted people to take the decision, we can trust them again in 18 months' time to check if it was absolutely what they wanted."
Smith and Eagle are attempting to replace Corbyn after he lost a vote of no confidence in his leadership and suffered resignations from large numbers of his shadow cabinet team.

The two candidates agreed that it would be "better" if one of them pulled out of the race to become the "unity candidate" against Corbyn, but refused to set out the circumstances under which either would drop out of the race.
"I think we have to have the person who is most likely to beat Jeremy Corbyn and I think that's me," said Eagle while sitting alongside Smith.

"We're not going to do a deal on your sofa, beautiful though it is," she told Andrew Marr. "Jeremy's lost the confidence of the parliamentary party ... we may have an early general election, so let's do the leadership election and see what happens."
Making her pitch to be the next Labour leader, Eagle said: "I'm from northern working-class stock, my mum was a seamstress who didn't get the chance to go to university, I did because of Labour governments. That's why my whole political mission is to get working-class kids the right opportunities to shine. That's what I'm in politics for."

Smith replied: "It's time to go for a new generation of Labour leaders, men and women. I think perhaps in the past we've been a bit too timid around some of the ideas we've got in this country."
Later on Sunday during his campaign launch in Nantgarw in South Wales, Smith pledged to renationalise the UK's railways and introduce a "war powers" act to allow parliament to properly scrutinise a government that wants to go to war, and vowed that the Labour party will never split "on [his] watch".
The two candidates will attend a hustings in front of the parliamentary Labour party on Monday, and the result of the contest will be announced on 24 September.