Jim Murphy Will Stand For Holyrood Even If He Loses The Scottish Labour Leadership Election
"Win, lose, or draw, that's my plan," the MP told BuzzFeed News.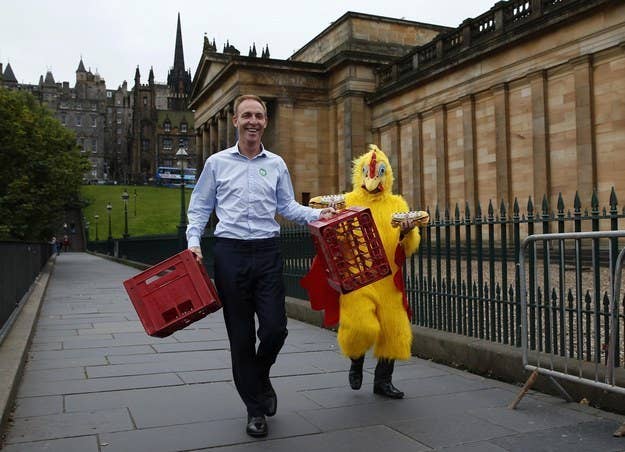 Jim Murphy will leave Westminster and stand for the Scottish parliament even if he loses the Scottish Labour leadership election, he told BuzzFeed News.
Murphy, the MP for East Renfrewshire, is still favourite to become leader, but Neil Findlay MSP, the candidate backed by the majority of Scotland's trade unions, has closed the gap to just 6%, according to polling seen by BBC Scotland.
However, Murphy said he would stand for a seat in the Scottish parliament even if it meant taking a relatively unimportant role in Findlay's Scottish Labour party.
"Win, lose, or draw, that's my plan," he said, although he is not yet concerned about losing the increasingly tight leadership battle. "I'm never complacent, but I'm not worried. We're having a contest, not a coronation, and I'm happy with how the campaign is going so far."
Murphy spoke shortly after delivering a speech backing the full devolution of income tax to Scotland – a measure that he opposed only three weeks ago.
"What's changed for me is that the Barnett formula is now protected," he said. "The worry we had was that [if] you devolve income tax but you don't maintain the Barnett formula, that would be a bad deal for Scotland. We can now support the full devolution of income tax."
Labour officially supports sharing income tax between the Scottish and UK parliaments, but Murphy is bullish about being able to stamp his authority on a Scottish Labour party that ex-leader Johann Lamont said was treated as a "branch office" by "dinosaurs" in the UK party.
He said: "Ed Miliband, Ed Balls, I get on well with them, but they can read about my policies in the newspapers like everyone else. I'm big enough and ugly enough, I won't be pushed around by anyone."
That, according to Murphy, includes the leader of the Unite union, Len McCluskey, who wrote a stinging attack on him, saying his election as leader would be "a death sentence" for Labour in Scotland.
"Len has the right to say what he fancies, and Scotland has the right to say that he's wrong," said Murphy. "I grew up in a Glasgow housing scheme – I'm chilled out about it."
Murphy "admires the energy" of the SNP and thinks he would work well with first minister Nicola Sturgeon as "she loves Scotland as much as I do", but was critical of the performance of his own party in Scotland.
"We've not been good enough, and we've not been Scottish enough," he said. "We have to change, and that's what I'm trying to do."
The new Scottish Labour leader will be announced on 13 December.