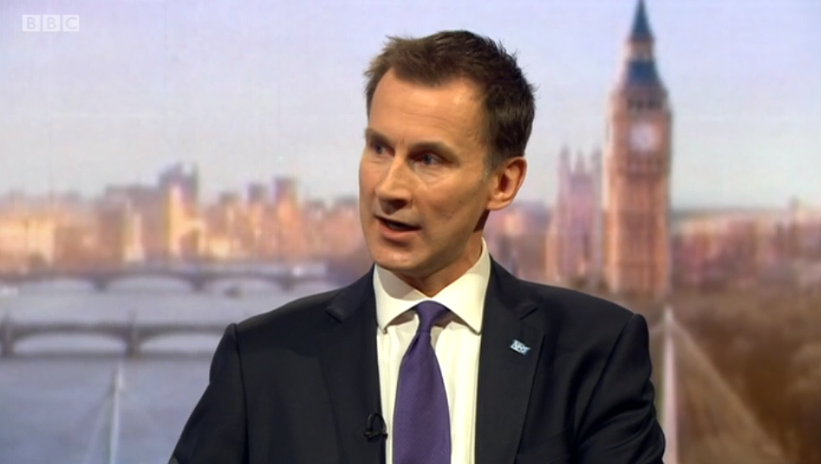 Jeremy Hunt has accused the British Medical Association of "distorting" his words to mislead junior doctors.
Appearing on The Andrew Marr Show on Sunday morning, the health secretary said history will show he did the right thing for the National Health Service despite his drive for a "seven day NHS" being so unpopular among junior doctors that 98% of them voted to take strike action.
Hunt was presented with a series of accounts from junior doctors which were highly critical of him but said anger among medical staff is caused by the media and the "irresponsible" BMA rather than his proposed new contracts which would change the "sociable working hours" of junior doctors.
"My language has been extremely careful because I've always wanted to make sure that people understand how hard junior doctors are working," said Hunt. "What I can't control, as you know very well, we have a free press and often my words are distorted by the BMA which is one of the cleverest trade unions in the book.
"They know in any argument between doctors and politicians the public are going to side with the doctors."
Hunt's interview has provoked an angry reaction among some doctors on social media, with Rachel Clarke saying it was Hunt who was trying to mislead people.
The proposed new junior doctors contract would treat evenings and weekends as normal working days. Thousands of junior doctors marched to Downing Street on Saturday against the proposed changes, which they say will stretch already overworked doctors.
The shadow health secretary, Heidi Alexander, wrote to Hunt on Sunday to urge him to make some concessions to junior doctors or scrap his proposed contract change.
But Hunt insisted that anger among junior doctors is caused by the BMA's misinformation: "One of the reasons for that anger, and there is anger there, is because they were told by the BMA that their pay was going to be be cut – it isn't," said Hunt.
"They were told they were going to be asked to work longer hours, they aren't, we're actually bringing down the hours they work. If you're told by your union that the health secretary wants to do these awful things of course you feel devalued."
The health secretary said doctors will realise he is doing the right thing.
"There are always battles along the way but I think what history will ask us is did the health secretary, did the government that's committed in its manifesto to seven day services, did they do the right thing for patients to make care safer and better?" said Hunt.
"If they did, in the end I think doctors too will say there was a big argument about it, but it was the right thing for the NHS."