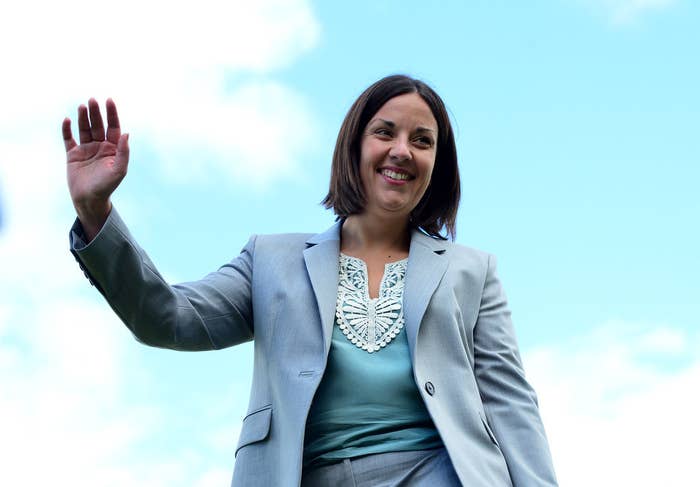 Kezia Dugdale will deploy Jeremy Corbyn to meet the public ahead of next May's Holyrood election and help her reach pro-independence Scots who had written off the party, she has told BuzzFeed News.
The Scottish Labour leader criticised Corbyn during his leadership campaign, saying his election would leave Labour "carping on the sidelines" in opposition. But now she wants to use his popularity to make people consider giving their vote back to Labour, starting with a trip to an Edinburgh beach to eat ice cream on Thursday in Corbyn's first visit to Scotland since being elected leader.
"Jeremy has something," Dugdale told BuzzFeed News at the Labour conference in Brighton. "He's got this massive reach, even into groups of people that you might otherwise think are disenfranchised from politics, and that's absolutely massive. He's antiestablishment, he's popular, he looks different from everyone else. Those things are massive assets."
Corbyn will make his first trip to Scotland as leader immediately after conference finishes on Thursday, before making two further trips to Scotland before the end of October. The party needs all the help it can get, as polls suggest it could lose a third of its seats.
Dugdale is looking forward to introducing Corbyn to the Scottish public, who she believes no longer have the level of anger towards Labour which often greeted previous leader Jim Murphy's more "antagonistic" style of politics.
"It's about getting out and about," she said. "Rather than doing very organised visits, I just want to go for a walk with Jeremy. I want to take him to Portobello beach and buy him an ice cream, just let him speak to people.
"It's early days – I've been leader for six weeks – but I do sense a bit of a difference in Scotland now, I've not yet been shouted down on the street. We [Dugdale and Murphy] have different styles. His style of politics is defined by an Irn-Bru crate – I'm not really into that type of antagonistic debate. I'm more comfortable having a chat over a coffee and trying to convince people that way."
Despite Corbyn's leadership, Dugdale – who is perceived as a Labour centrist – said she will resist following Corbyn's lead and taking Scottish Labour to the left.
With Corbyn's help, Dugdale intends to attack Nicola Sturgeon's SNP on issues such as gender equality and a refusal to use the new powers of the Scottish parliament. She said that by focusing so much on constitutional matters, Sturgeon is "wasting her talent".
"If she's serious about using the power of government to do good, show us what you're going to do with the powers which come in," Dugdale said. "Tax powers, welfare powers. Use them, take them. Why not use that as a means to demonstrate how independence would be so much better rather than sit back and pretend you can't do anything with with it?
"What a waste of talent. She's the most powerful woman in the UK. Fifty-six MPs, a parliamentary majority, all these powers with more coming in – god, I'd love to be in her position to make this country a better place. She sits back with her arms crossed and says we can't do anything with it. It's a travesty."
Dugdale also strongly criticised Sturgeon's record on gender equality, and said the SNP leader has "a lot to prove" if she is to be considered a feminist.
"I'm sick fed up of being told just because we have a female first minister that life is better for women in Scotland," said Dugdale. "A few times I've heard Nicola Sturgeon say she wants to live in a country where a woman can be anything she wants to be if she works hard enough. That's a cop-out. Women in positions of power need to say 'do you know what, there's institutional discrimination, and I'm going to break that down'.
"It's not enough just to say 'work harder', as if that's how she got to her position and everyone else can do the same."
Scottish Labour's preparation for May's Holyrood election begins with candidate selection, which will be voted on at the end of the year, and may include "a few" of the MPs who lost their Westminster seats in May. Corbyn will visit at least once a month in the lead-up to the election, but Dugdale insists she will not be overshadowed by the Labour leader.
"He's given me complete support and he's totally up for just letting me get on what I want to get on with. I'm in charge of Scottish Labour party, but it's fantastic to have someone like Jeremy there to support me."