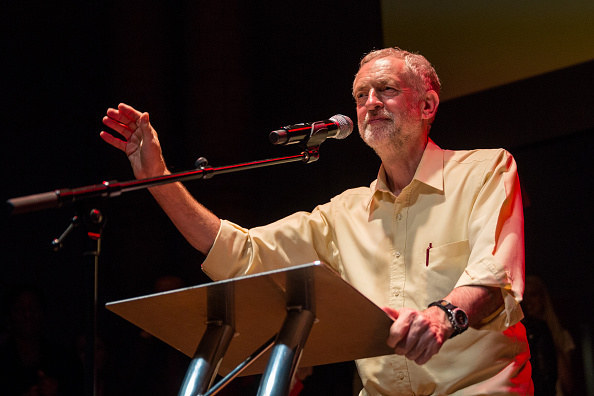 The new Labour leader, Jeremy Corbyn, has defended himself from criticism over not giving any of the four shadow great offices of state to a woman by saying there are actually six of them.
The four jobs – leader of the opposition, shadow chancellor, shadow foreign secretary, and shadow home secretary – are regarded as the four most senior roles in a shadow cabinet. All of them are occupied by men in Corbyn's new team, but Corbyn has claimed the shadow heath and education roles, occupied by women, also count.
Corbyn has appointed John McDonnell as shadow chancellor, Hilary Benn as shadow foreign secretary, and Andy Burnham as home secretary. Heidi Alexander is the shadow health secretary, and Lucy Powell gets the education portfolio.
The new Labour leader claims his shadow cabinet is the first ever to have more women than men, but Labour confirmed to BuzzFeed News that several of the posts are essentially junior ministerial posts, albeit with the status of attending shadow cabinet.
For instance, Luciana Berger has been given the title of mental health minister but is essentially a junior minister who will report to the shadow health secretary.
But on Monday, Corbyn dismissed the criticism and defended the overall make-up of his shadow cabinet. "You're living in the 18th century," he told reporters outside Labour HQ. "That's when the great offices of state were decided.
"We have a shadow cabinet of a majority of women covering all areas of policy and public life and I think it's a great team. And it reaches out to the entire party and I think that is a bit of an achievement, if I may so."
Corbyn's team underlined that point in a statement posted on Facebook:
For Labour our proudest achievement is the creation of NHS. We are the party that delivered comprehensive education. We are the party that founded the Open University, and that established and will defend trade union and employment rights.

The so-called 'great offices of state' as defined in the 19th century reflect an era before women or workers even had the vote, and before Labour had radically changed the state.
As details emerged on Sunday night of the four top roles in the shadow cabinet, many female MPs were angered by the lack of women in the top roles.
Labour's Jess Phillips called it "a bad day for equality".
The Labour Women's Network also tweeted about their disappointment, and this photo of Corbyn with a card pledging a 50/50 gender balance in his shadow cabinet.
Sky News' Darren McCaffrey, who was outside the room where the discussions took place, reported that the inclusion of Angela Eagle in the honorific role of shadow first secretary of state was a response to Twitter criticism of the male-dominated top jobs:
Then a male voice, it sounded like Simon Fletcher.

"We are taking a fair of **** out there about women.

"We need to do a Mandelson. Let's make Angela shadow first minster of state. Like Mandelson was. She can covered PMQs. Tom (Watson) knows about this. Do the Angela bit now."

Minutes later a text from a Labour source. Angela Eagle was to be shadow first minister of state. She would deputise at Prime Minister Question Time.
Later, Corbyn claimed it was the first ever shadow cabinet with a majority of women.
However, six of those women will actually be attending the shadow cabinet rather than being full members of it.
Looks like there are no comments yet.
Be the first to comment!