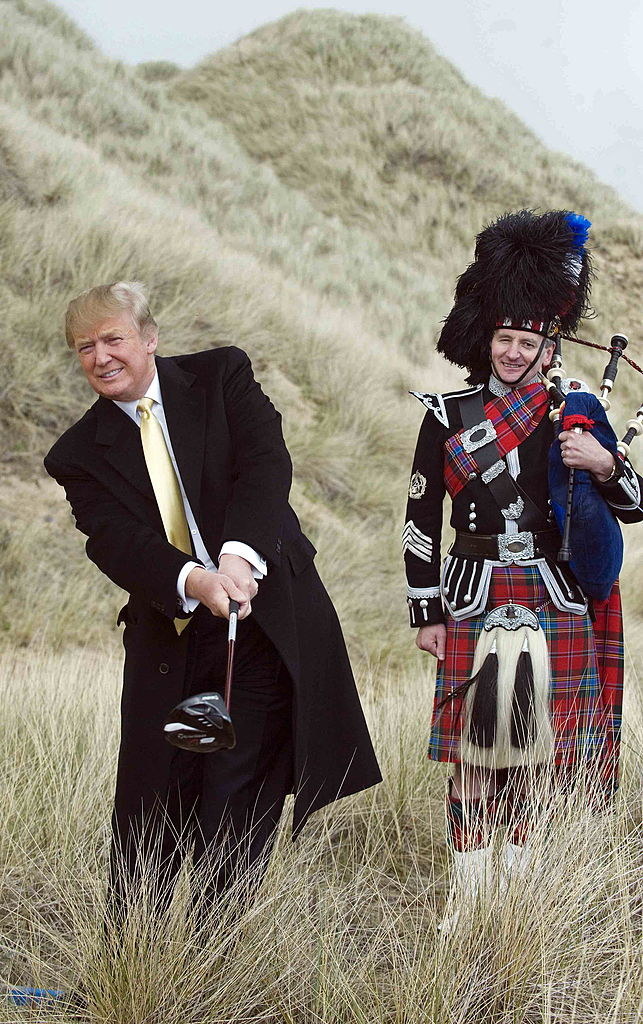 Donald Trump has told UK politicians that they should be "thanking" him rather than contributing to the anti-Trump feeling which has swept the UK since he said he would prevent Muslims from entering the US.
Since the US presidential candidate made his controversial remarks on Monday, 400,000 people have signed a petition to ban Trump from the UK, the first minister of Scotland has stripped Trump of a business ambassador role, and a university has revoked an honorary degree it gave him.
But, in a statement released on Wednesday night, Trump said he had "done so much for Scotland" with his various business investments in the country, and that British politicians who criticise him are "pandering to political correctness".
Trump, whose mother was from the Scottish island of Lewis, owns a golf resort in Aberdeen in the northeast of Scotland, but first minister Nicola Sturgeon stripped him of a business ambassador role on Wednesday, saying he was "no longer fit" to represent the country.
I have done so much for Scotland, including building Trump International Golf Links, Aberdeen, which has received the highest accolades, and is what many believe to be one of the greatest golf courses anywhere in the world. Additionally, I have made a significant investment in the redevelopment of the iconic Turnberry Resort, which will have massive ballrooms, complete room refurbishments, a new golf course and a total rebuilding of the world famous Ailsa course to the highest standards and specifications of the Royal & Ancient.

If they were going to do this, they should have informed me prior to my major investment in this £200 million development, which will totally revitalise that vast region of Scotland.

The UK politicians should be thanking me instead of pandering to political correctness. In fact, in an article out today, many police officers in London have come forward to confirm their fears of terrorism. I only said what needed to be said, and when I am elected no one will be tougher or smarter than me. I will work very hard and effectively to defeat terrorism.

I have respect for the Muslim people and have great friendships with many Muslims, some of whom I do business with --- but they themselves admit there is a major problem with radicalisation. As president, I will work with Muslim representatives to determine a solution to eradicate the terrorism that has plagued the credibility of the Muslim community.

Furthermore, as the definitive front runner (with large leads in every poll) in the race to become the Republican nominee for president of the United States, and as the person leading in the polls head to head versus Hillary Clinton, my focus is to make America great again!
The Scottish government said it wouldn't be responding to Trump's statement.