Scotland Could Be About To Get Its Own Flag Emoji
One step closer to independence?
It's been a long and exhausting campaign, but Scotland could finally be about to get its own flag emoji.

Under a proposed update by the unicode consortium – which decides the standard emoji keyboard worldwide – it may soon be possible to fully customise flag emojis in much the same way you can change the skin tone of some existing ones.
Scots have been left repeatedly disappointed by each emoji keyboard update that hasn't offered a saltire emoji – although Scotland's national animal, the unicorn, was included in an update in October last year.
According to the proposals, however, the new update would "allow for additional emoji for images of a flag associated with particular regions, such as emoji depictions of the flag of Scotland or California".
The update could also theoretically include Wales' and Northern Ireland's flags, although they're not mentioned in the proposal itself.
If the proposals are agreed upon by manufacturers, they would also allow you to change the direction your emoji is facing, and change the gender and hair colour of these emoji: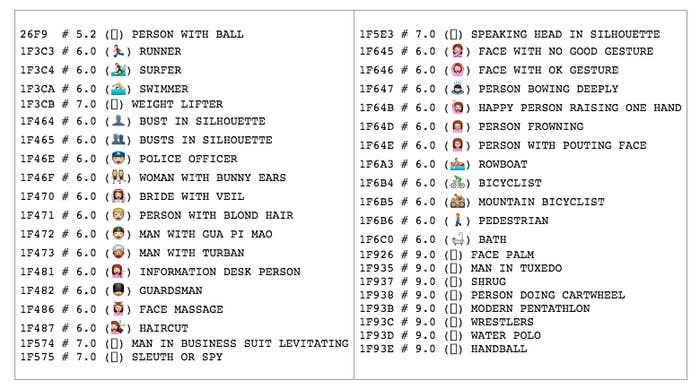 "The basic idea is like that of skin tone modifiers, used when a user selects an olive-skinned emoji on the keyboard," reads the proposal. "Internally that emoji consists of a base emoji followed by a skin-tone modifier that indicates that the base emoji should be olive-skinned.
"The olive-skinned emoji looks like a single character to the user, and behaves as a single emoji character in display, line break, and other processing."
The campaign for Scotland's emoji has reached all the way to the former first minister of Scotland Alex Salmond, who told BuzzFeed News in October: "I threw my weight behind the dot Scot campaign and I'll throw my weight behind this one.
"As you know, I'm a dab hand at waving a saltire both online and offline."