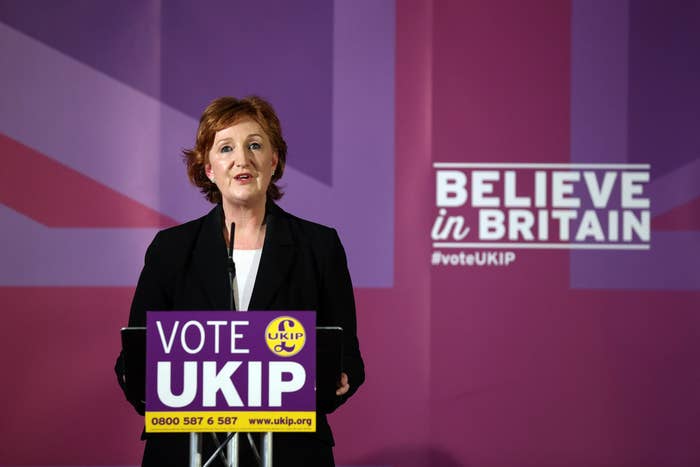 UKIP's deputy chairman has said her party's candidate selection process is broken, leaving her with the "depressing" task on going on TV to constantly defend outbursts from the party's members.
In a Reddit AMA, Evans, who was linked to an attempted leadership coup against Nigel Farage earlier this month, was also asked if she'd like to be be leader in the future, and replied: "Been there, tried that, something went wrong ;) ;) ;)"

In the Q&A session, Evans, who wrote UKIP's election manifesto, also revealed an internal cock-up deprived her party of new members following the general election, attacked "tea party types" for trying to pull UKIP to the right, and said she tried to put "more environment stuff" in the party's manifesto but was stopped by climate change sceptics within the party.
"I've been banging on about [candidate selection] for months," wrote UKIP's head of policy. "Not least because it's usually me who has to go on the telly and pick up the pieces afterwards. It gets a bit depressing, I can tell you!
"I think our candidate assessment process needs a thorough overhaul. It's clearly not working. I will keep going on about it until someone listens!"
In another answer, Evans claimed IT problems prevented UKIP from getting a membership boost following the election like Labour and the Lib Dems.
"Apparently, so I'm told, someone who I gather is no longer working for us decided to launch a new website two days before the GE which didn't work properly," wrote Evans. "Goodness knows how many potential new members we lost. An awful, wasted opportunity."
She also touched on "tea party types" – in an apparent attack on Nigel Farage's outgoing aides Raheem Kassan and Matthew Richardson – who she believes have attempted to outdo the Tories by taking UKIP further and further to the right.
"Sadly I think there are a few 'tea party' types who would drag UKIP back to being a right-wing 'more Tory than the Tories' party, yes," she said. "Personally, and especially given how our messages are resonating with former Labour voters, I sincerely hope that won't happen."
However, she said climate change sceptics within the party had prevented her from including more environmental policies in the manifesto, and from hiring an environment spokesperson.
"Personally I don't think caring for the environment and belief in man-made climate change, which many in UKIP are skeptical about are inextricably linked," she said.
"I would have liked to put more environmental and stuff in the manifesto but we don't have an environment spokesman and the manifesto was mostly tied into the policy areas we already have spokesmen and women for."
Evans also refused to rule out calling for a second EU referendum if her party isn't satisfied with Cameron's one, to be held before 2017.
She wrote: "I think if the forthcoming referendum is unfair or a fudge then we darn well can demand another!"