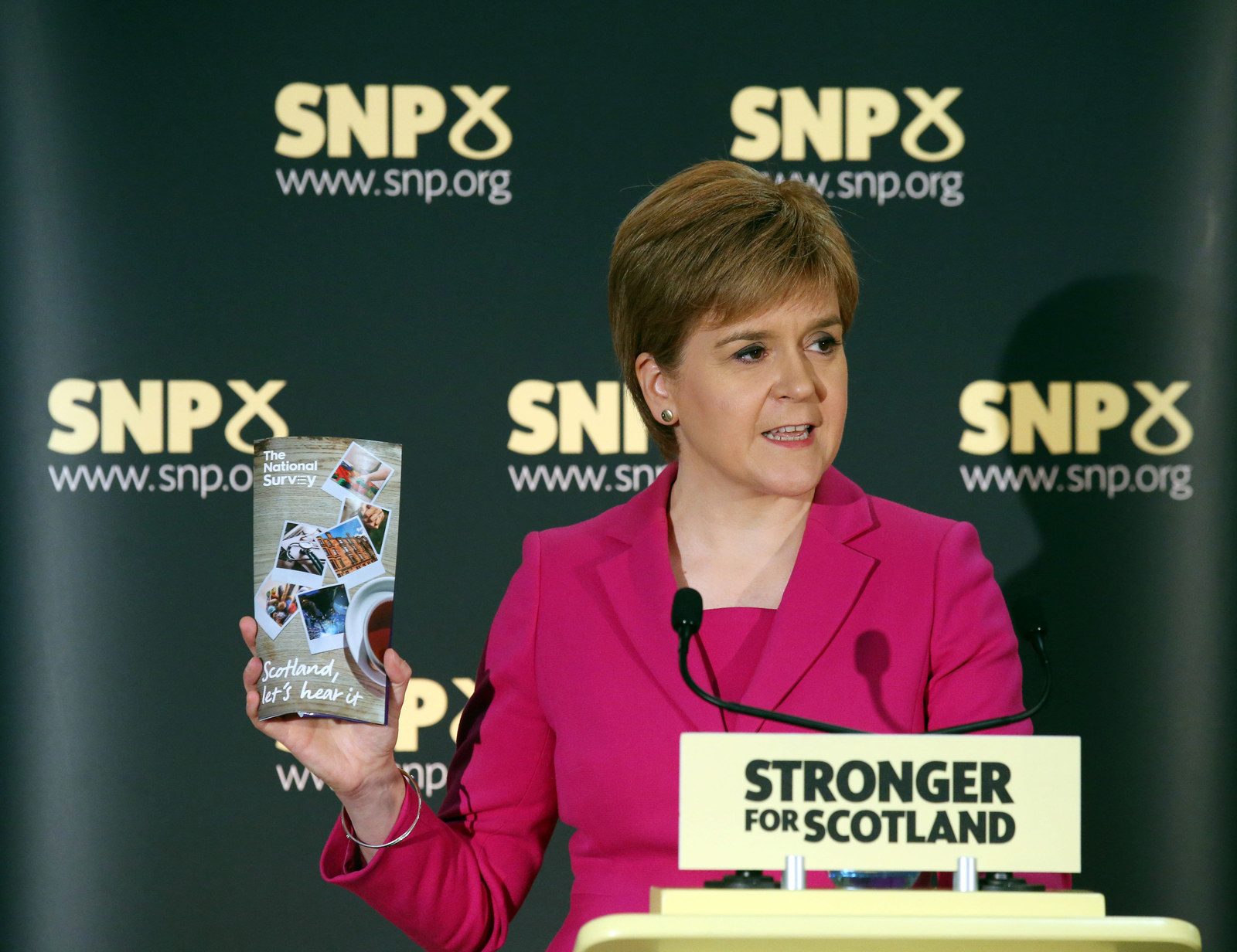 Nicola Sturgeon has pledged not to "duck the tough issues" that an independent Scotland would face as she launched a fresh push to convince Scottish voters that they should leave the UK.
The first minister said, before winning a second referendum, she would have to set out "clearly and convincingly" how an independent Scotland would tackle the £15 billion deficit revealed in Scottish government figures last week.
Speaking at a gathering of SNP politicians in Stirling, Sturgeon admitted the case for independence had "not yet been won", and launched an online consultation to help her party understand how Scots feel about leaving the UK.
"We will not duck the tough issues," said Sturgeon at the launch of the "new debate" on independence, condemning the "glee of the unionist parties" at damning Scottish government financial figures.
"According to them, [the GERS figures] seal the case against independence. Well, I beg to differ," she said. "Scotland's fiscal position is not a verdict on independence – it is an indictment of generations of Westminster government.
"But here's the hard bit – that facts only takes us so far. If we want to be independent, the legacy of that Westminster mismanagement will be ours to repair. So we must set out, clearly and convincingly, how we intend to do that."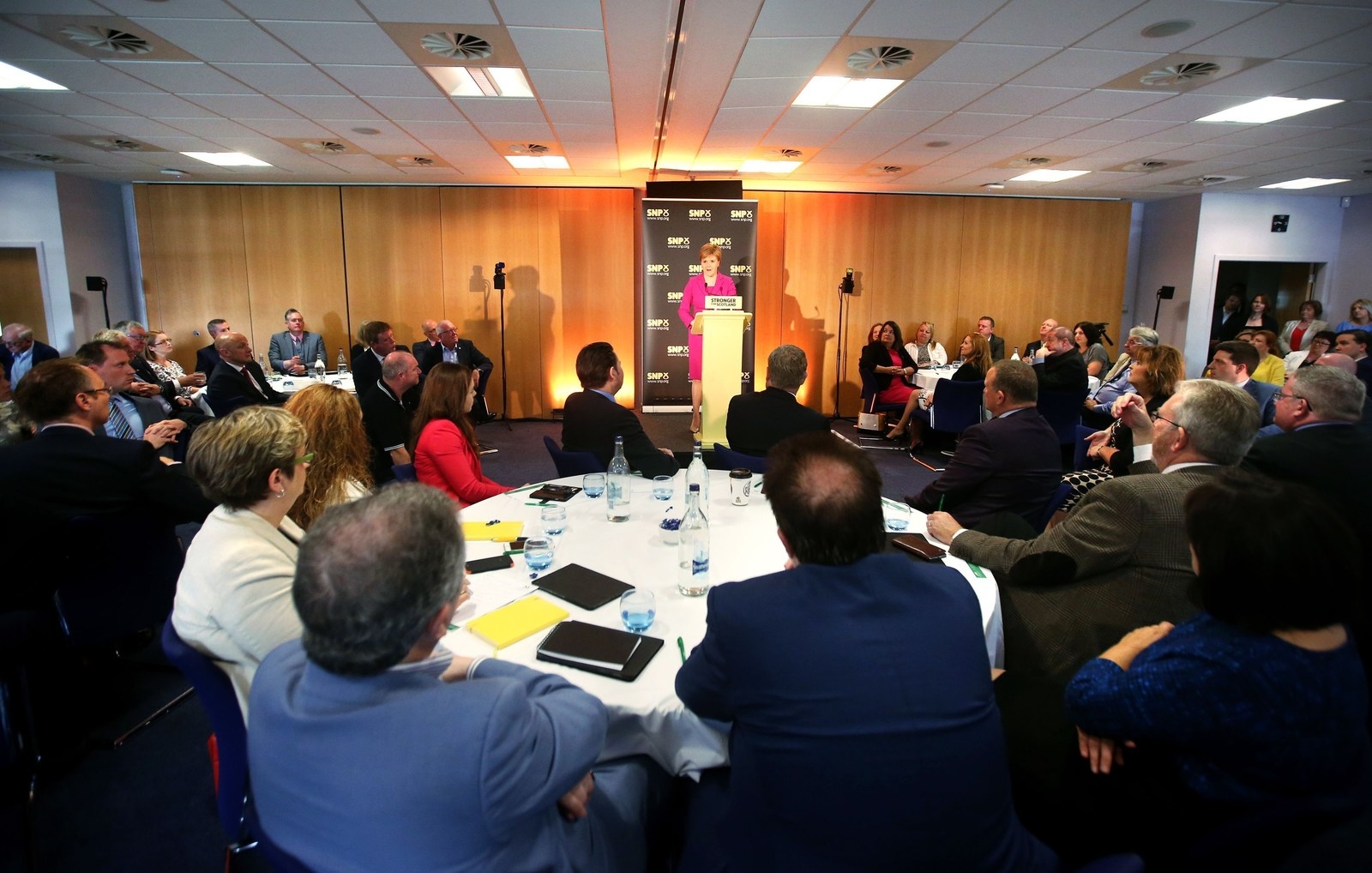 Sturgeon said part of the new drive for independence would include the creation of a "party growth commission", led by former SNP MSP Andrew Wilson, which will examine Scotland's finances and make economic projections in the context of independence.
The first minister "suspects" support for independence will be higher if the UK government doesn't retain the country's membership of the single market in its EU negotiations, telling Theresa May she lacks mandate for a so-called "hard Brexit".
Sturgeon added that the "chaos" within the Labour party would increase support for independence, claiming its "decision to press the self destruct button" could result in UK having a Conservative government for the forseeable future.
"Labour is in a state of utter chaos and collapse," said Sturgeon. "It has shown itself completely unable to oppose, let alone govern. The leader that their MPs refuse to unite behind is almost certain to be re-elected."
She added: "There is a very real possibility that we are witnessing the end of Labour as a force to be reckoned with in British politics – perhaps the end of the Labour party full stop."
As part of the "new independence initiative", Sturgeon launched a survey in the aim of speaking to as many as two million Scottish voters by St Andrew's Day at the end of November, and asked the gathered SNP parliamentarians to each hold a town hall debate over the coming months.
"Choosing independence would be a big decision, just as it would have been in 2014," said Sturgeon. "There would be many issues for people to weigh up, and I don't presume that case has yet been won."
But she added: "While I take nothing for granted, I suspect support for independence will be even higher if it becomes clear that it is the best or only way to protect our interests."
In response to Sturgeon's announcement, Scottish Conservative leader Ruth Davidson said the first minister was ignoring the job of governing in Scotland in order to "pursue her own narrow nationalist agenda".
"If she was really listening, she would know that most of us don't want to go back to another divisive referendum debate – we want Scotland to move on," said Davidson.

"And she would know that reheating the referendum debate will only add a further cloud of uncertainty over Scotland's future, just at the moment when we need a government dedicated to security and stability."
She added: "My party will demand that this increasingly arrogant nationalist government gets back to the day job it was elected to do – to improve our schools, our hospitals and to create jobs."